CoffeeTec is known as the "Amazon" of the coffee industry, providing new and used coffee roasters along with every piece of equipment you could possibly need for crafting your roast.  
Sure, everyone is in business to make money.  But we feel it's the philosophy of how to generate revenue that is most important.  Here at CoffeeTec, the mission is to help our clients in every way possible along their coffee roasting journey, achieving the success they deserve.  We're made up of professionals from all areas of the coffee industry with experience from bean to cup.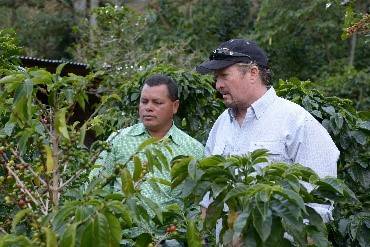 Pictured to left: CoffeeTec CEO Scott Plail with coffee farmer
With over 4 decades of building relationships and transacting in the coffee industry, we've traveled down the coffee roads from origin and production to complete plant development and relocation.  We bring all this experience into our relationships allowing us to alleviate any foreseen challenges that may arrive along the way.  Our success comes with experiencing our customer's successes.
CoffeeTec has been around for 47 years and starting with the likes of Alfred Peet (Peet's Coffee) and Howard Shultz (Starbucks) back in Berkeley many moon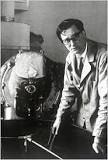 s ago.  Today, we still sell products to Starbucks and many other big names in the business.  As important, we also focus on entrepreneurs just getting started as well as those veteran roasters that need a helping hand, education, and critical advice.  This allows them to fine tune their roasts, become more efficient in all processing, and make critical business decisions in their coffee experiences.
Alfred Peet Founder Peet's Coffee
We provide help for your start-up, plant growth, expansion and even plant relocation.  For instance, we relocated a plant from London to El Salvador resulting in both clients being extremely satisfied with the entire experience.  Or a new roaster ship and install to Kenya, handling all African ISO requirements.  Our lead engineer takes on these challenge and definitely earns his pay!
VP Electrical Engineering Nick Holman & ISO Certificate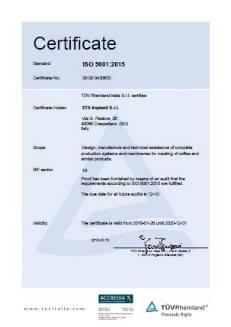 We search the globe for the latest coffee technology from the U.S. to Italy, Europe to Asia.  We attend major coffee shows and associations to find the latest and best equipment and practices for our customers so you don't have to.  This keeps you focused on doing what you do best:  growing your business.  We even have our own experts and engineers working to design the future products for the coffee industry. 

VP Research & Development,  Dr. JR Fabretti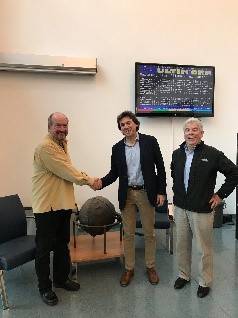 Fabrizio Brambati, President Brambati, Spa, Italy 
How Can We Help?
Start-up
Equipment Financing for easy entry
Plant design and layout
Equipment Maintenance
Experienced & Growing Coffee Companies
 Next level equipment purchase and acquisitions
 Used equipment selling
Space Optimization
Logistics and supply chain management
Plant design & layout
Optimization of Production
Silo and Conveyance
Equipment Maintenance and Repair 
Real-Life Experience
Case Analysis - New Roaster Installation
Definition of "Commissioning"
1. Give an order for or authorize the production of something such as a building, piece of equipment, or work of art. 
 2. Bring something newly produced, such as a factory or machine into working condition.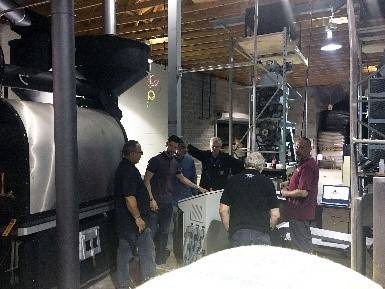 You have a new roaster being delivered or at least it is new to you.
What are the accurate power requirements? Does your facility accommodate, or does your city allow?
Do you have the required permits and possible ISO certification?
What are the gas requirements - volume, pressure, etc.?
Do you have the right afterburner for your location?
Are you ready to have your system commissioned? What the heck is commissioning? 
"We thought we had everything ready - power supply, gas supply, etc. Then Team CoffeeTec assessed the situation only to find out that our gas supply wasn't correct.  The city wasn't giving us the gas needed as we discovered they didn't understand the roaster specifications nor the regulators needed for our new equipment. And we were about to have coffee technicians flying in from halfway around the world to commission our new roaster.
CoffeeTec arrived several days prior to the techs acquiring the correct regulators, battling with the city and getting all the gas and power supplies right so that the equipment could be finely tuned and ran flawlessly so it could be commissioned for the production we were going to put through our plant. We thought we were ready, but weren't. CoffeeTec turned what could have been a disaster into a seamless experience."
With over 100 years of diversified coffee industry experience and a network wide and deep - we are fully prepared to help you including expert engineers in electrical, plant design and layout, silo and conveyance, installations and much more.  We are part of YOUR team, here to help and support your company in achieving ultimate success! 
Let us know how we can help you today.