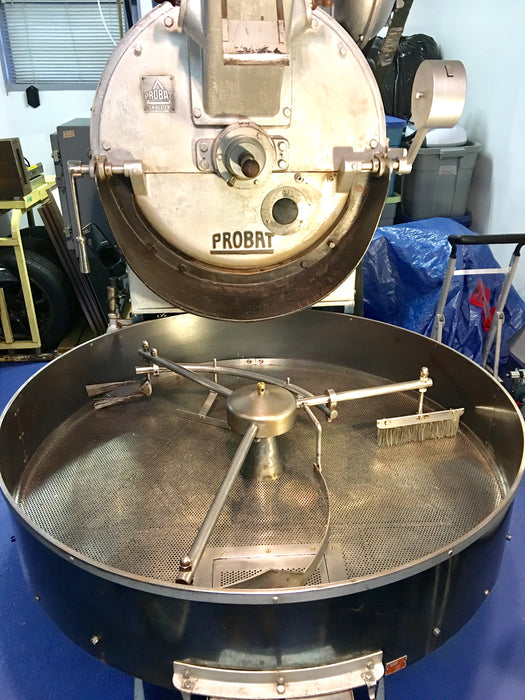 15 kilo Probat UG-15 - Excellent Condition - Used
Save

19

%
Original price
$69,900.00
Probat UG-15! These Simply Don't Come By Often!
Say "wow" to this beautiful, classic Probat UG Series 15 kilo Coffee Roaster. A baby grand of Probat for sure. Just check out the video! So clean, so amazing to be available for your consideration!
Here's a chance to own a rare piece of classic German engineering with over two centuries of manufacturing experience. This Probat UG-15n has survived its original gunmetal blue color finished since it was built in 1964, completely refurbished in 1991. It's fueled by Natural Gas & powered with 240v/60Hz/single phase.
SEE IT IN ACTION!


It loads 15 kilos a batch, pumping through up to 4x per hour. Indeed, a work horse roaster solely created to perform as you expected. It was purchased completely refurbished by PROBAT USA, Burlingame, California, under the management of Mr. Peter Von Gimborn in 1989-90 for Canada & USA Standards in 1991.
The unit was lightly used during the 12 years span where It processed approximately 576 bags of green coffee resulting in around just under 900 hours of use from 1991 to 2003 respectively. Last production roast was in 2003 up till the video test roast you see in this listing where the output was simply Probat perfect.
Current, one-time owner since refurb no longer in the business and wanting this sweetheart of a classic piece of Probat to go back to work in a roastery with pride of the Probat UG series machine.
It's ready for disassembly, freight prep, and relation to your roastery.
Details:

Capacity Batch: 15 kilo (33 pounds) or less, but it is best to not go less than 7.5 kilo or about 16 pounds unless you really watch closely. You will get up to 4 batches per hour.


Heating: Natural Gas, rated @ 115 BTU/hr.


Electrical:  240v/60Hz/single phase requiring 16 amps. Single motor runs drum drive & belts for cooler and roaster exhaust air.


Footprint: Allocate Space of 48"W x 79" H X 164"L.  (Roaster, cooler, and 60" long pipe attached to cyclonic chaff collector).


Additional Equipment: Comes complete with chaff collector/cyclone. w/bucket & 2 piece metal belt covers. Cyclone set up with connection for water quenching. Seller also including 5' stack.


This classic, hard to find UG-15 series machine simply wont' be around long!
CONTACT SALES DIRECT @ 650-569-0011 to discuss getting this to your roastery!
All roasters are sold as-is. Crating and Shipping not included in the listed price.
NEED TO KNOWS:
| | |
| --- | --- |
| CONDITION: | Excellent |
| LOCATION: | Northern Area |
| YEAR BUILT: | 1964 |
| LAST USED: | May 2003. Video shows recent recent test roast, roaster running perfectly. |
| LAST SERVICE: | Regular schedule |
| ORIGINAL MANUALS: | Included |
| BURNER FUEL: | Natural Gas |
| BTUs: | 115 BTU/hr. |
| POWER: | 240 Volt/60 Hz, Single Phase |
| INCLUDED EQUIPMENT: | External cyclone includes collection bucket.  |
| BATCH ROAST: | Green Coffee: 33 lb (15 kg) coffee per batch. Hourly capacity is approximately 130+ lbs. running 4 batches p/hr. |
| DIMS | 48"x79"x164"  |
ABOUT PROBAT
Since 1868, PROBAT has stood for pioneering solutions in the processing of coffee. They have become the world market leader in machinery and systems for the coffee and food industry. They boast consistently high-quality coffee, best life-cycle costs and performance, and individual
Probat's vision expresses what we plan to achieve over the coming years: Everyone, who wants to learn about roasting and processing coffee, asks PROBAT first.