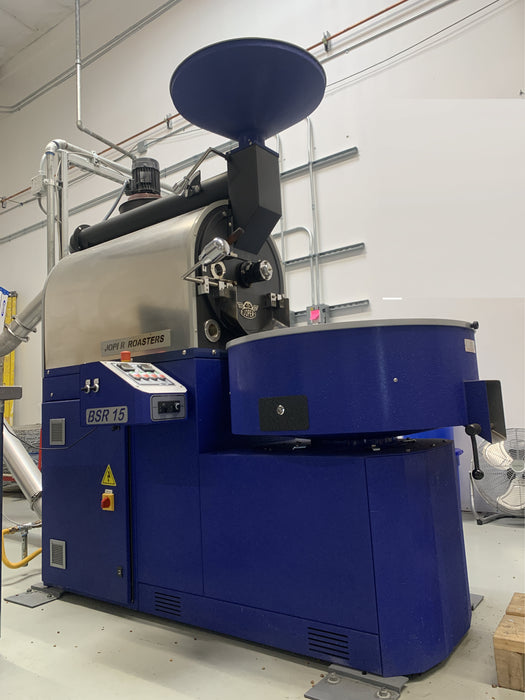 15k Joper Roaster - 2020 Model - Excellent Condition - Used
Sold out
Original price
$34,500.00
Sorry, this item is sold out. But we're here to help! We may have other equipment that isn't on the site yet, so let us know what you need and we'll help you find it.
Contact us
, USA 800-999-1600, International +1-650-556-1333


Cast Iron Construction! In the USA - Available to Ship NOW!



These incredible machines just don't come by often... This is a time-tested Cast Iron 2020 Joper BSR15 roaster with separate cyclone and a Cropster & Artisan connection for roast profile data logging. Patterned with attributes much like a Probat, but again with a cast iron drum. Also comes with connector ducting and stack (see pictures). It puts out a serious volume of coffee (130 lbs. an hour @ 4 roasts p/hr). 
Very little use on it over the past 2 years, maintained always, perfect running condition. No problems, no defects. Fueled by natural gas. Powered on 220v - 3 phase.
BONUS: It also has an optional VortX Model 800 Eco-Filter, currently attached. (see pictures) Same year, 2020, same minimal use on it. New VortX model 800 today are coming in around $19,000 plus freight - when available. This one has very little use and available to go - RIGHT NOW! This VortX price: $17,500. If you want it with this roaster, total price is $52,000 (plus crating and freight).
Here's the story:
Current owner started this coffee roastery 2 years ago to support her 2 local cafes which included the purchase of this new Joper 15k roaster.. She is selling the business due to major life change - now living in Europe and pursuing other business ventures.
THIS IS GOING TO MOVE QUICK!
CONTACT US IN DIRECT SALES @ 650-569-0011 FOR MORE INFORMATION. ADDITIONAL DETAILS AVAILABLE.


NEED TO KNOWS:
| | |
| --- | --- |
| MODEL: | 2020 Joper  |
| CONDITION: | Excellent Condition |
| LAST USED: | Currently in use, about a roast a week. |
| LAST SERVICED: | Current |
| FUEL: | Natural Gas |
| ELECTRIC: | 220 volt, 3 phase |
| INCLUDED EQUIPMENT: | Chaff Collector, Stack |
| OPTIONS: | VortX Model 800 @ $17,500.00 |
| LOCATION: | Southwest Coast USA |
| DIMENSIONS WITH ATTACHED CYCLONE: | 6'6"x8'2"x 7'4" (WxLxH) |
| MANUALS: | Included |
| ROASTING CAPACITY: | Up 33 lbs. p/batch running 4 roasts an hour = 130+ lbs. p/hr. |
FREQUENTLY PURCHASED WITH A ROASTER
HOW'S YOUR DESTONER? 
Don't let that one stone 
blow up your precision grinder!
AVOID UPCOMING COMPLAINTS OR VIOLATIONS
Control your roasting exhaust and be environmentally friendly!
ABOUT JOPER
JOPER is a Portuguese company with almost 60 years and very proud of their family tradition of 3 generations united for the same motivation: manufacture the true/real coffee, cocoa and dried fruits roasters and equipment for the food industry, planning and implementation of industrial facilities/roasting plants, upholding the principle of old school cast iron with the advanced technology.

We are one of the best brands in the world precisely because we work with high professionalism, quality, honesty and we captivate our clients also due to our experience, kindness, and well-known Portuguese tenacity.
We are different from the others!

JOPER roasters are proudly handcrafted in Portugal by master craftsmen, out of traditional high-quality durable materials such as cast iron and carbon steel.

Cast iron is proven to be the fundamental material for building coffee roasters – proof of that is the durability of the old roasters from several brands that used cast iron and the low quality of those that are recently built.

Cast iron has thermal inertia and an exceptional radiation capacity for heat retention. As a result, the heat is more even and stays longer than in any other material. Some of the cast iron properties make it the ideal material for making coffee roasters: its melting point is relatively low, has good fluidity, excellent machinability, resistance to deformation, wear, destruction, and weakening by oxidation. Therefore, it is perfect for building strong, robust, and durable roasters.

Obviously, they become much more expensive equipment economically, but JOPER is firmly committed to the construction of cast-iron roasters. JOPER is also the only one to manufacture the main bearing supports on the drum also in cast iron, precisely for the excellent efficiency and durability.

The result of almost 6 decades, and continuous improvement, JOPER roasters combine time tested traditional highly durable materials with the best industrial quality modern burners, motors, fans, and controls to produce an easy to use, flexible, quiet, low maintenance, energy efficient roasters capable of running 24 hours per day.