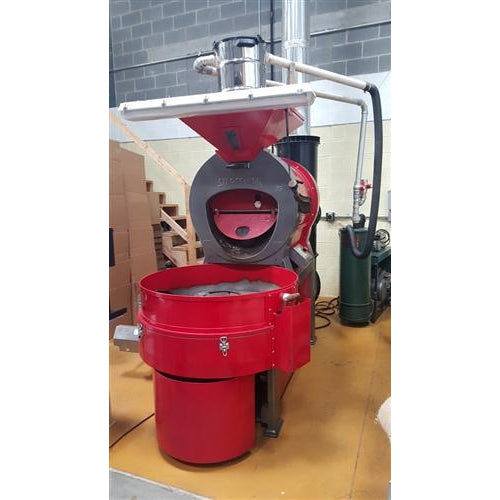 35 kilo: Sirocco SR 35 Roaster
Sorry, this item is sold out. But we're here to help! We may have other equipment that isn't on the site yet, so let us know what you need and we'll help you find it.
Contact us
, USA 800-999-1600, International +1-650-556-1333
35 KILO: SIROCCO SR 35 ROASTER  - this is the original totally SMOKELESS roaster - as this roaster was state of the art then and still is today. This roaster uses the burning of the chaff to additionally heat the roasting air - as once it is totally cleaned, it then is partially used to mix with fresh air to do the actual roasting. This roaster was taken out of service when the business accounts were sold - and it now in storage.Made in America. This roaster is one of 6 made here in California even before Loring and is different in that it is fully CAST IRON with both the cooler air and the roasting air being cleaned so that no afterburner on either function is needed.  230 V 60 Hz Single phase - as the single phase going in converts internally into 3 phase going out to each motor making the roaster totally adjustable to your needs.  Also the burner is fully modulating in order to maintain the exacting temperature required for incinerating the smoke and odor and the air to the roasting chamber is controlled exactly by the inlet of fresh air mixed with clean air from the main burner chamber. Total control.This roaster is fully running - but during installation - there will need to be some wrapping of a couple pipes with insulation as such insulation never got reinstalled during one of it's moves to a different building. This is a totally smokeless, chaff-less roaster in SOLID CAST IRON . . . this machine weighs a lot and is extremely quiet . . . but on the inside there is amazing qualities that may take years to full realize. This machine was created to prove a point that totally smokeless roasting was possible and even use the chaff as energy in energy savings making this the most economical roaster of all in the energy cost per pound of roasted coffee. No afterburner is ever needed due to the type of construction. I have investigated the insides of another sister roaster (of the same exact design) after 1,400,000 pounds of coffee and there was nothing in the drum to even clean - it was totally free of any build up - so this is truly a "self cleaning" roaster. This is the first of this brand to hit the "used" market as the seller has retired, sold his accounts and now enjoying retirement . . . so this is a total opportunity for the next generation. Machine was used in a Retail Store - until the last few months of it's use, when it moved into a warehouse where it is now stored. The Vacuum Loader is included. Ships from the Washington DC area. We encourage you to call and discuss - as we were extremely involved in the original design and creation. This has all the earmarks of the next future of coffee roasting.
Note: White Line in first photo is a hanging light fixture and not part of the machine - even though it is hard to tell from the camera angle
BROCHURE INFORMATION Seven Machines in ONE Body . . . that saves you precious space, expensive energy, reduces waste and totally quiet. When comparing, remember that you will never need to buy oxidizer, and a afterburner, since it is all included.  Afterburner Incinerator Chaff Collector Manually & Programmed Profile Controller Variable Air speed controller Separate Heat Controller Gas Modulating Controller Complete roasting process with all features built inside one machine. Gentle Cast Iron Roasting Environment Mechanically Fluidized Bean Movement Integrated afterburner and incinerator To Eliminate Smoke, Odor and Chaff Graphical Touch Screen With Profile Memory Oversized Inspection Ports Stirflex Cooling Tray Quick-Release Cooler With Removable Screen Maintenance Free Sealed Roasting Drum Built-In Stoner Boot Low Profile Infeed Hopper Web-enabled for factory assistance and diagnostics Automatic or semi-automatic operation for consistent batches Clear Process Information includes Bean Temp., Elapsed Time, Temperature change And Status
Specifications:
Model #: SR 35
Batch Capacity: 35 kg
Dimensions: 35" W x 112" L x 84" H
Cooler Diameter: 40"
Heat Specifications: Gas & 380k-760k
Weight: 3600 lbs