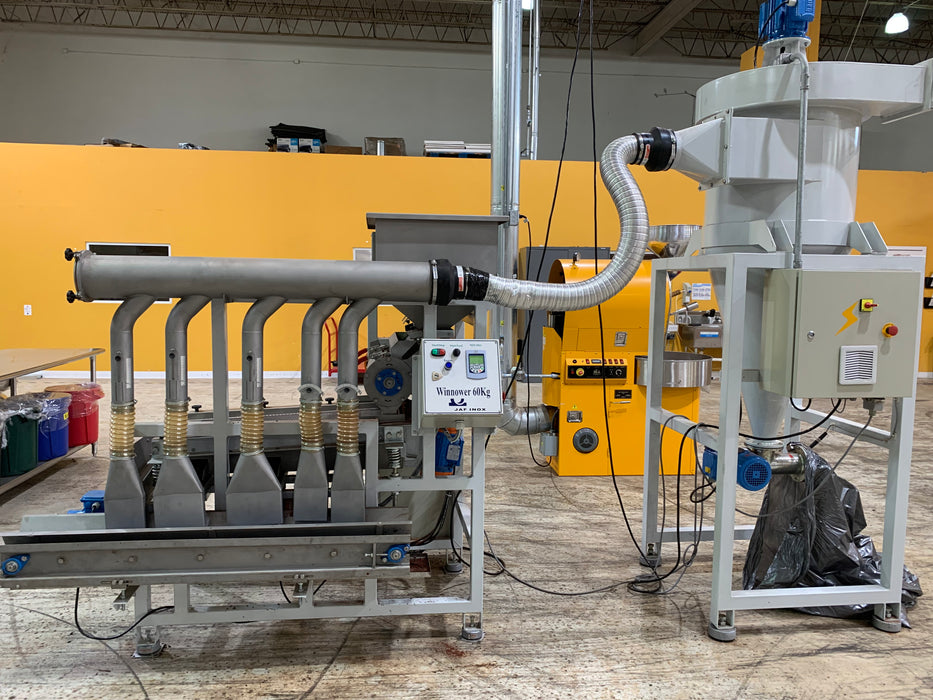 60 kilo Cacoa Bean Winnower - Excellent Condition - Used
Save

Liquid error (snippets/product-badge line 32): Computation results in '-Infinity'

%
 Separate the Skin and Shell Residue from your Cacoa Roast 
Talk about "space-age"! This incredible, state-of-the-art, machine looks like something right out of a sci-fi movie!

Say hello to a 2019 JAF INOX Cacoa bean sequential sieve Winnower. A "winnowing" machine is used to remove the shells from the beans to leave just the cocoa nibs. 
Original owner, very little use. Company changed operations and no longer needs this machine. Ready for immediate purchase and shipping.

Description
Compact winnower with silo, separates in 5 sizes. Full parameter control of vibration and suction enables efficient separation of skin and shell residue. Easy to modify the speed and intensity of the hammer mill. Adjust angle and intensity of each suction column individually, regulate volume and control feed: to suit your requirements. The winnowed nibs exit at the bottom while residue is collected into the silo.
The sequential sieves clean the beans without the risk of damage to nibs. (Roasted) cocoa beans are fed into the adjustable feed and broken by a hammer mill with adaptable angle, intensity and speed. After breaking, the shells are separated from the cracked nibs: variable amplitude of the sequential vibratory sieves thrash the cracked beans, whilst intensity controlled suction columns draw off the shell residue into the cyclone.
Specifications
Stainless steel
Capacities 60 kg/H & 120 kg/H
Fragmented by hammer mill
Separation in 5 sizes by vibratory sieves with mechanical vibration of 250 W
Unblocking of sieves with non-toxic spheres
Suction provided by cyclone
Controllable suction position, angle, intensity
Variable feed with potentiometer
Mechanical switch to protect operator
Complete access for cleaning
UL/CE components approved
CONTACT SALES DIRECT @ 650-569-0011 to discuss getting this to your roastery!
All equipment sold as-is. Crating and Shipping not included in the listed price.