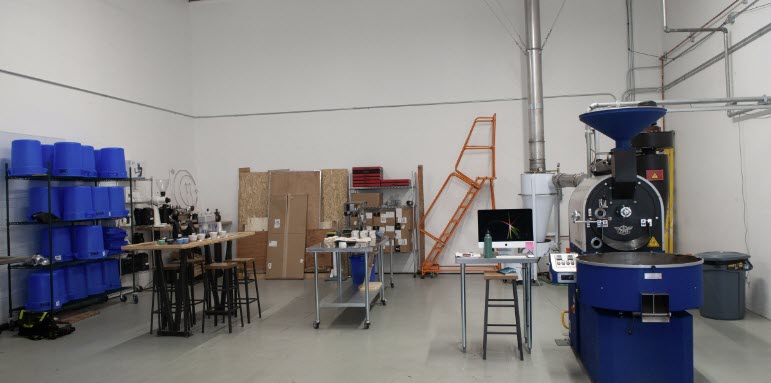 Complete Turn-Key 15k Joper Roastery Sale - Walk In & Start To Roast
Sold out
Original price
$127,500.00
Sorry, this item is sold out. But we're here to help! We may have other equipment that isn't on the site yet, so let us know what you need and we'll help you find it.
Contact us
, USA 800-999-1600, International +1-650-556-1333


15k Joper Roaster Leading the Way
PRICE REDUCTION!
With Revenue Producing Accounts!
Here's a sweet offering for sure. A fully equipped, fully functioning "green" coffee roastery that is ready to immediately take over, powered by a 2020 model 15 kilo Joper roaster connected to a model 800 VortX Eco-Filter (originally purchased through CoffeeTec)!
This is a perfect opportunity for entry into the coffee roastery business or a smaller roastery that wants to expand their operation with incredible ease and "turn-key" efficiency.
This 1650-square foot roastery provides everything you need to enjoy this incredible, exploding profession of coffee roasting — starting with a perfectly running 2020 model 15 kilo JOPER roaster that puts out a serious volume of coffee (130 lbs. an hour @ 4 roasts p/hr). This workhorse is accompanied by an impressive collection of equipment - VortX Eco-Filter, Stack & Ducting, Mahlkonig Grinder, Sealing Machines, Scales, Slayer Espresso Machine, Ikawa Sample Roaster, and much, much more.

Here's the story:
Current owner started this coffee roastery 2 years ago to support her 2 local cafes. Location was intentional in that San Jose is a dense high-tech and corporate area with unlimited sales potential. Apple Sphere, Apple Campuses, Google, Amazon, Adobe, Verizon, Facebook are all right there. And they love specialty coffee! This aggressive owner has spent serious effort on marketing and relationship building to grow and sustain the business: 
Secured multiple large corporate accounts with current negotiations for more
Has contacts to get into the above mentioned companies
Created an on-location roastery class
Online business sales through an e-commerce website
850 contact email list touched often
5500 contacts on Facebook
3700 followers on Instagram
...and is in negotiations to globally license the trademark for a substantial, on-going revenue stream.
She is selling the business due to major life change - now living in Europe and pursuing other business ventures.
Do the math -
The main pieces of roastery equipment alone valued over $70,000
Green inventory @ $18,000
Bag inventory @ $8,000
IP, Trademark, Website -
Office and Shop equipment -
Goodwill - 
A seasoned business opportunity in a location like this simply doesn't come around often. Purchase, walk in, roast, and enjoy a profitable business.
Let's dig in...
EQUIPMENT INVENTORY:
Facility
San Jose, California based
Permitted through San Jose City
Bay Area Air Quality Control Board permit
1650 square feet facility
2 years into a 5 year lease with an excellent landlord that wants long-term tenants - lease assumable
Great neighbors in the industrial park
Space and entire site fully ADA compliant (Americans with Disabilities Act)
Minimal competition
Major growth potential
Equipment - Roasting
15k Joper roaster, 2020 model
Apple 4k computer with Cropster
VortX 800 Eco-filter
Stack & Ducting
Ikawa Pro Sample Roaster
FR-900 Bag Sealing Machine
U-Line H-87 Impulse Foot Sealer
Bag formers
U-line & Ava Scales - multiple for coffee and packaging
Mahlkonig EK43 Grinder
Green loading carts
Slayer Espresso machine
Equipment - Office & Other
Cupping table
Pallet jack
Storage racks, file cabinet, buckets
Ladders
Office computer system
Wi-fi Router
Label printers
Chairs & stools
Microwave oven, refrigerator
Water heater
Wet/dry vacuum
Fans, mops, hoses, fire equipment, etc.
Sinks
Workbench
Foldable coffee crates
And more...
Inventory
Over 6000-7000 lbs. of green coffee - 14 Varietals - Mainly 2021 harvest
Over 10,000 bags - Sample, 1 lb., 2 lb., 5lb.
Company Swag
IP
Paper Moon Trademark
Graphic art package
Web page with active shopping cart (on Shopify)
And...  REVENUE PRODUCING ACCOUNTS!
This is a complete roastery equipment asset sale qualified for 100% financing! Click the FINANCE IT button up top and fill out an application in less than 60 seconds!
CONTACT US IN DIRECT SALES @ 650-569-0011 FOR MORE INFORMATION. ADDITIONAL DETAILS AVAILABLE.


THE ROASTER: 15k Joper Roaster / VortX 800 Combo
| | |
| --- | --- |
| ROASTER: | 2020 Joper Cast Iron |
| ECO-FILTER: | VortX Model 800 |
| CONDITION: | Both in Excellent Condition |
| LAST USED: | Currently in use |
| LAST SERVICED: | Current |
| FUEL: | Natural Gas |
| ELECTRIC: | 220 volt, 3 phase |
| INCLUDED EQUIPMENT: | Chaff Collector, Stack |
| MANUALS: | Yes, for both roaster and VortX |
| ROASTING CAPACITY: | Up 33 lbs. p/batch running 4 roasts an hour = 130+ lbs. p/hr. |