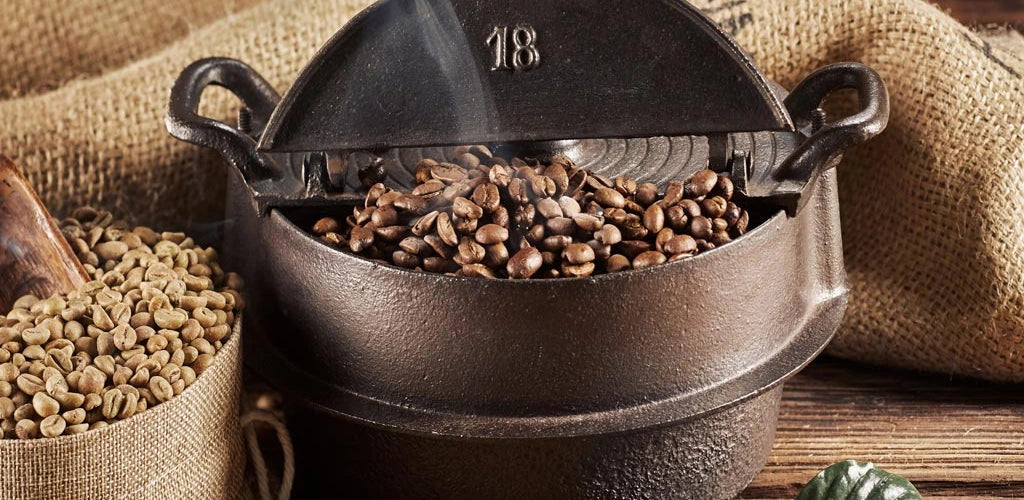 Is It Time For A Roaster Refresh?

When Business Expansion Might Just Require Equipment Reduction
If you're running a small coffee roastery or cafe and find yourself looking to expand to keep up with business — well, that's a good problem to have. That means you're selling enough coffee to be profitable, so the trick is to manage an expansion plan that's seamless and boosts efficiencies in the process.
And, there are so many different ways to expand. Maybe you need to swap out spaces to allow you to grow beyond your humble beginnings. Or, perhaps you need to add equipment like a destoner, automatic sealer, or loader to streamline operations. You might even be in a position where you need to upgrade your coffee roaster to better manage production output and roasting hours.
But what if you have two coffee roasters? What then? Do you just rely on one if the other is down, or do you look into upgrading both? You're probably wondering in what coffee-roasting universe a coffee roastery would have two (or even more) roasters. It's actually more common than you think.
We've seen coffee roasteries of every shape and size cobbled together in locations ranging from garages to pole buildings to the back room of another existing business, with equipment setups fashioned from DIY builds to borrowed or hand-me-down items, used Craigslist finds, and so many more odd configurations. We coffee roasters are an enterprising lot, and if ever there were a real-world illustration of the quote, "Where there's a will, there's a way," it might just be found in a small coffee roastery setup.
Far-flung examples aside, you might end up with two roasters for a more practical reason. Let's say you buy an already established coffee roasting business, causing you to inherit its coffee roaster on top of the roaster you may already have. "Oh, the possibilities!", you might think. Surely two roasters are better than one, right? 
We're here to suggest that doubling down with two roasters may actually end up spelling double trouble — and that possibly the best way to expand your business may be found in some smart reductions instead.
Do you need a case in point? Because we have one, and it's a great story about how one Texas coffee roastery transformed its business by swapping out two used roasters for one brand-new one with CoffeeTec's help. It's like taking our CT Connect program to a whole new level!
Case Study: What's The Buzz Coffee Co.
In November 2020, CoffeeTec was contacted by Rodrigo Chavez, the proud owner of What's The Buzz Coffee Co. in College Station, Texas. Rodrigo and his team were making plans to relocate their coffee roastery in this central Texas college town — home to top-rated Texas A&M University in the heart of the Brazos Valley.
It was time for Rodrigo to upgrade and expand his business — including his roaster — having operated for 11 years in the same location as when he purchased the business back in 2010. Since then, What's The Buzz Coffee Co. has established itself as a locally respected micro-roastery that's now roasting approximately 3,000 pounds of coffee a week, with a solid roster of wholesale and retail accounts. A quick scan of their 5-star Google reviews also confirms that Rodrigo's customers are a loyal bunch that's just as passionate about coffee as he is.
It's true that Rodrigo is passionate about quality beans and quality coffee. His company specializes in single-origin coffee beans from small estate, fair trade, and organic farms. His current coffee offerings range from single roasts and blends from Africa, Central America, and Indonesia. Like most coffee roasters, Rodrigo believes that once a good bean is in his hands, it's his job to bring out the best of the bean in the roasting process — and he knows it takes a good, solid commercial roaster to help him deliver the best coffee product he can to meet growing demand. 
Two Roasters: Double Output or Double Trouble?
When Rodrigo purchased What's The Buzz Coffee Co., it came with a 2008 Probat L12 12-kilo roaster. He was already roasting on a 2007 15-kilo Toper, so he combined the two under one roof at his new roastery facility with dreams of doubling his output. But, Rodrigo quickly learned that as demand kept growing, it became more difficult to run both machines at the same time.
The Multiple Machine Problem
First, Rodrigo and his team had to factor in the cost and time investment to upkeep two roasters, including both regular cleaning and maintenance. Second, each roaster roasts a bit differently, which also involved understanding how to use both machines to create a consistent product. Even with the best efforts, Rodrigo had to accept that the profiles of the coffee just didn't come out exactly the same — even when roasting the same beans. (And we didn't even mention the space that two roasters swallow up or higher electricity bills.)
At that point, Rodrigo decided to sell both roasters and purchase one that could handle the same, or even more, volume than the two machines combined. 
It's worth noting that both roasters, even though they were  10-15 years old, were in excellent working condition due to Rodrigo's excellent care and upkeep — allowing Rodrigo to capitalize on a great resale value. So, consider this a PSA to take care of your roaster. Yes, the biggest short-term motivating factor is to minimize disruptions in your roasting business but your diligence can also pay off long-term if you ever decide to trade that roaster up or down.
The CoffeeTec Experience
Once Rodrigo decided to pull the trigger on a "roaster refresh" in November 2020, he hopped on the phone with CoffeeTec and they started mapping out a plan to sell Rodrigo's 12-kilo Probat and 15-kilo Toper and replace it with a brand new 30-kilo Primo.
Tapping into CoffeeTec's extensive network, CT researched used coffee roaster prices around the world and created a pricing strategy for the used Probat and Toper that would bring quick sales. The goal was to bring Rodrigo top dollar offers in order to buy the Primo he wanted, plus have extra profit left over.
Rodrigo selected the Primo roaster since he was able to get it for a good price, completely tailored to his needs, including a custom color that Rodrigo chose to fit into What's The Buzz Coffee Co.'s branding and image. It also came with a coveted two-year full warranty.
Handled In Under 100 Days
CoffeeTec immediately listed both roasters on the CoffeeTec website and sold the Probat within three weeks of listing — for full price. The Toper also sold the same week but was held on deposit until Rodrigo received his new Primo roaster so that the roasting process was uninterrupted. The Primo 30k roaster was delivered, installed, and commissioned the first week of February 2021. 
At the last minute, the Toper roaster fell out of sale status with the original buyer due to a change in the buyer's coffee business (thanks, COVID). Like most deals, CoffeeTec had a backup buyer in place and sold the Toper the next day. 
From start to finish, this "roaster refresh" took just over 90 days and put over $5000 of cash in Rodrigo's hand as profit on the whole deal. He was then able to use part of his profit to purchase a used Mahlkonig grinder from CoffeeTec.
Reflecting on the Roaster Refresh, And How You Can Experience It For Yourself
Rodrigo couldn't be happier with the outcome. Not only did he save money in double maintenance costs but Primo's two-year full warranty would help him handle any needed maintenance under warranty without taking cash out of his pocket.
We at CoffeeTec are also thrilled with how this particular sale played out, leaving not only one happy customer but three. Rodrigo came out ahead but so did the happy buyers of his used Toper and Probat roasters.
Considering a "roaster refresh" for yourself? We'd love to do for you what we did for What's The Buzz Coffee Co. — whether that means selling a roaster, buying a roaster, or orchestrating a serious swap like we did for Rodrigo.
We know that COVID hasn't dealt any of us extra favors, so this could be a good time to make some changes to your roastery business in order to stay afloat as we all transition to post-pandemic life and business operations. 
CoffeeTec Is Here To Help
We're here for you and would love to help you make the best purchasing, design, or layout decisions for your coffee roastery's operations — including a "roaster refresh." No matter where you are in your coffee journey, we want to see you succeed. Check out our consulting and education services. 
Rodrigo bought his new Primo roaster outright with his earnings from selling his two used roasters, but perhaps you're interested in financing through our competitive Roaster's Choice Lending Program or are considering the option and benefits of buying used. We've got you covered for both. Finally, feel free to explore our FAQs, and if you still don't have answers to your questions, contact us. Let's help you build the coffee roastery of your dreams!