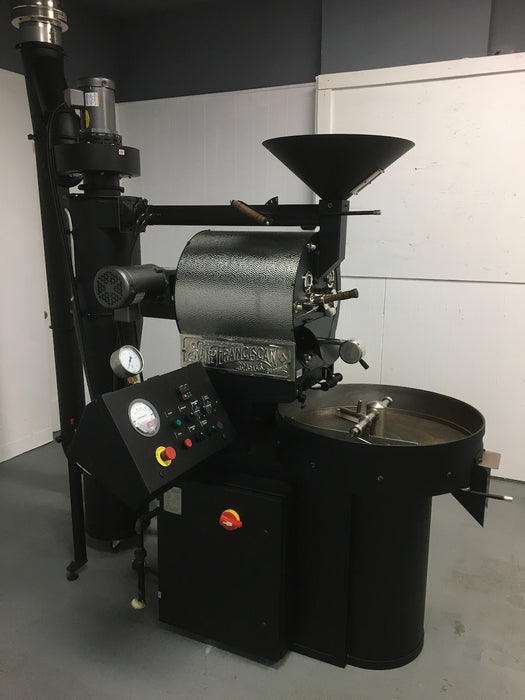 10 lb./5 kilo San Franciscan SF10 - 2020 Model - Excellent Condition - Used
Sorry, this item is sold out. But we're here to help! We may have other equipment that isn't on the site yet, so let us know what you need and we'll help you find it.
Contact us
, USA 800-999-1600, International +1-650-556-1333
Another SF-10 San Franciscan!

2020 Model and It's SWEET!!!
No Waiting For Manufacturing! READY NOW!
Stand Back again at CoffeeTec! Talk about a beauty! Here's that stealth, black matte finish San Franciscan SF-10 Coffee Roaster including the optional upgrade zinc plate detail and hammered stainless finish.
It's San Fran's newest machine to their line up. B
uilt by hand with American-made parts, t
he SF10 generally falls beneath the requirements of local municipalities requiring permits for larger roasters. Simply put, the SF10 is an awesome roaster that can suit the needs of even the most meticulous roast master.
WATCH THIS MACHINE IN ACTION!
Purchased new, custom ordered from San Fran, this machine has minimal hours on it and due to change of business, is now being offered for sale by original owner. 
Machine has just over 350 roasts on it during the 15 months it ran. Shut down January 2022.
WHAT YOU NEED TO KNOW:
This machine comes with over $4,000 of upgrades from the base price.
The cooler and roast exhaust both "WYE" together with original San Franciscan optional duct work designed for optimal air flow and to allow ability to have only one roof or wall vent hole.
It also has the San Franciscan logos upgraded to zinc which simply looks so boss and stellar against the custom bronze finish.
Comes with 14' of Jeremias double-walled insulated stack w/90 degree elbow
It is decommissioned and fully disassembled, ready for crating. 
IT'S AVAILABLE RIGHT NOW. No waiting 2-5 months for manufacturing.
The Machine:
Apart from its great roasting capacity, the SF-10 includes the following controls:
Adjustable drum speed

Air-flow control by both variable speed blower and mechanical damper

Simultaneous roasting and cooling system

Gas pressure gauge

Data-logging ready
The variable hot-air circulation fan allows roasters to adjust the air velocity and the pressure. This SF-10 roaster includes Magnehelic gauges allowing the roaster to measure the pressure within the system. This gives you the ability to draw conclusions as well as corresponding data points along with the roasting profiles.
Currently set up for natural gas. San Franciscan makes it quick and easy to change over to propane if necessary. Comes with a matching external chaff collector.
It's located in Northeast USA and ready to ship NOW.
THIS ONE IS GOING TO MOVE FAST!
CONTACT SALES DIRECT @ 650-569-0011 to discuss getting this to your roastery!
All roasters are sold as-is. Crating and Shipping not included in the listed price.
NEED TO KNOWS:
| | |
| --- | --- |
| CONDITION: | Excellent |
| YEAR BUILT: | 2020 |
| COMMISSIONED: | 2020 |
| LAST USED: | 1/2022 |
| LAST SERVICE: | 1/2022 |
| ORIGINAL MANUALS: | Included |
| POWER: | 220v / 30amp |
| FUEL: | Natural Gas |
| BTUs: | 50,000 |
| INCLUDED EQUIPMENT: | External Chaff Collector, hot/cold WYE |
| CAPACITY: | 10 lbs./5 kg green per batch |
| WEIGHT / DIMS | 1000 lbs. / 82 3/8" x 54" x 83 1/4" |
FREQUENTLY PURCHASED WITH A ROASTER
HOW'S YOUR DESTONER? 
Don't let that one stone 
blow up your precision grinder!
AVOID UPCOMING COMPLAINTS OR VIOLATIONS
Control your roasting exhaust and be environmentally friendly!
About San Franciscan Roasters



https://www.sanfranroaster.com/
The San Franciscan Roaster Company stands apart from other roasters as a robust and reliable small-batch coffee roaster for beginners and professionals alike. If you're considering a new roaster for your coffee house, the SF-10 may be exactly what you're looking for.
#1) Hand built with American-Made Parts
At the San Franciscan Roaster Company, they strive to build hardworking machines that far outpace the competition. In order to achieve this, they hand build their roasters with American-made parts to precise specifications. Let's first discuss the hand-made aspect of the SF-10. They never mass produce our products. Each machine is crafted by hand by a team of expert builders and technicians. This is a meticulous, highly detailed process that produces one-of-a-kind machines. SF proudly build our machines in our Carson City, Nevada factory.
#2) A Great Size for Coffee Houses and Farmers Markets All Around the World
The SF-10 is able to roast up to 10 lbs/5 kg of green coffee per batch. The SF10 is a great size for roasters who want to do more than just three kilos per batch but perhaps they don't have the capital for a whole 25 lb/12-kilo roaster. We use the same artistry and craftsmanship in each roaster. Since SF roasters are scaled proportionally, the roasting characteristics are easily duplicated from one size to the next. In fact, all San Franciscan roasters are built with similar components which means coffee roasters can easily transition up to larger machines as their business grows! This consistency between our roasters makes transferability much easier. The parts we use are American-made, making them much more durable overall compared to the roasters of our competitors.
#3) The Simplicity of Keeping Your Machine Clean
In order for any coffee roaster to work as efficiently as possible, it must be well maintained and cleaned on a regular basis. A well-maintained and clean roaster will produce great, reliable roasts time after time. At the San Franciscan Roaster Company, they're always thinking of ways to make roastmaster's jobs as efficient as possible. Not only do they provide a robust, reliable machine, we also implement crucial design elements to make the entire process as streamlined as possible. This is just one of the many ways their machines outclass the competition.
#4) Easily Maintain Your Specialty Coffee Roaster
Although SF roasters are built to last, they may still require maintenance. If any component were to falter and replacement becomes a necessity, San Franciscan provides expert assistance so your SF10 will be back in working order in no time. Since the parts we use are all American-made, finding replacement components will be incredibly easy. Our team is always ready to help.
#5) Real, Durable Beauty
When you purchase a San Franciscan SF10,  you can expect a machine that's as useful as it is beautiful. We understand that many of our roasters go on to become centerpieces for coffee houses all around the world. For this reason, SFR powder coats their roasters in order to produce a very durable finish that will catch the eye of roastmasters and coffee consumers alike. Their beautiful roasters are made with steel which provides the most durability and best heat application. Your roaster will be the perfect hard-working centerpiece for your coffee shop!
Choose the SF-10 as Your Next Roaster!
Although the list of benefits goes on and on, the best way to truly appreciate the expert craftsmanship and usefulness of the SF10 is by owning one yourself! Whether you're looking for your first roaster or the time has come to add a new machine to your coffee shop, the SF-10 will easily surpass all your needs and expectations.