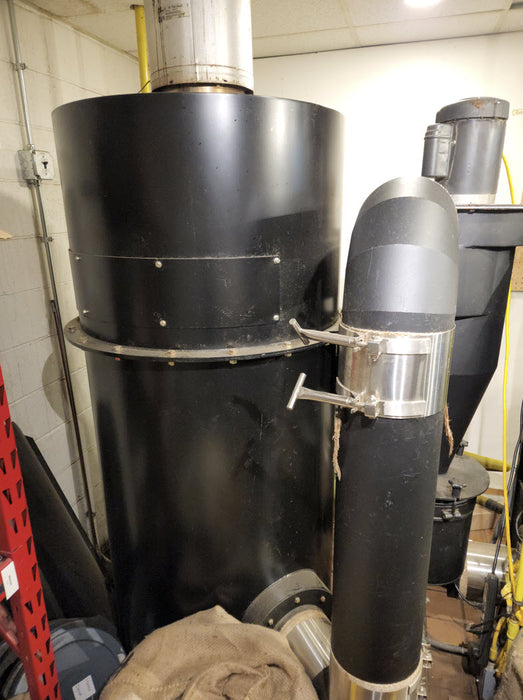 12 kilo Diedrich Catalytic Afterburner With External Chaff Collector - 2012 Model - Used
Save

16

%
Original price
$12,900.00
2012 Diedrich DCO-12 Afterburner

This Diedrich IR "DCO" (Diedrich Catalytic Oxidizer) was just decommissioned, being replaced with a different style roaster exhaust management system. Was plumbed into a 2012 Diedrich IR-12.
Note: Catalytic Oxidizers typically run at temperatures of 750 degrees versus a thermal afterburner which pushes up to 1400 degrees resulting in cooler operating temperatures and less fuel use. This is a catalytic oxidizer type afterburner. :)
One time owner, purchased new from Diedrich. Includes an external cyclone. Perfect addition to your Diedrich IR shop roaster equipment set. These external chaff collectors sell new from Diedrich for about $4,500!
External chaff collectors are reported to be more efficient and way easier to clean out then an under the roaster chaff collection system.
Run time on this afterburner is average roasting for over 10 years. In great condition, runs perfectly. Again, it was just decommissioned and disconnected on November 2, 2022. It's still warm!
Has had burner unit replaced, new thermocouple and interior fully cleaned. Runs on natural gas fuel. 110v power.
Includes the ducting between roaster and cyclone, then cyclone to afterburner.
Located in central USA, ready for freight prep and shipping.
Specifications
Electrical: 110/120v 
Burner: Catalytic / Natural Gas
Max Power: 455,000 Btu
Manual included
CONTACT SALES DIRECT @ 650-569-0011 to discuss getting this to your roastery!

All roastery equipment is sold as-is. Crating and Shipping not included in the listed price.