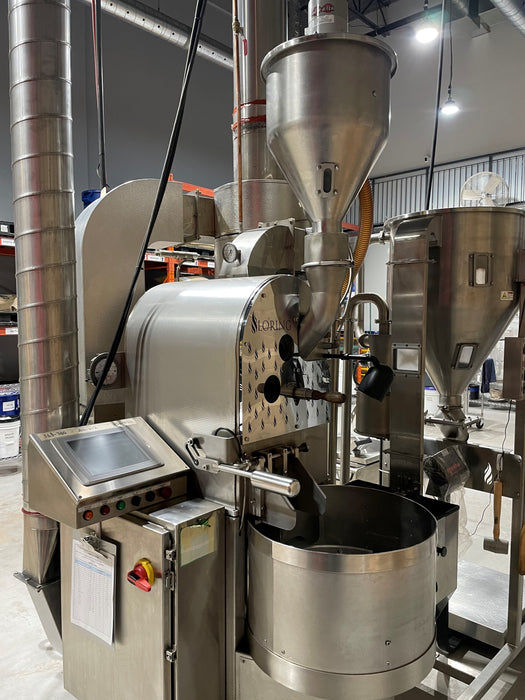 15 kilo Loring A15 Merlin Roaster, Loader, & Bean Cart - Used
Save

4

%
Original price
$82,500.00
2013 Loring A15 Merlin Roaster
CERTIFIED LORING CRATING INCLUDED!
Ok. Here we go! You just don't see an opportunity like this come by often! This beautiful, highly sought after 15 kilo Loring roaster was purchased in 2013 brand new by current owner and is now available for your consideration. It's been replaced by its big brother, a Loring S35 Kestrel. 😊

Y'all, note this is the A15 Merlin model versus the S15 Falcon. Main difference is the A15 does NOT have paddles in the stationary drum to agitate the beans. It's more of a true air roaster. 
This offering includes a beautiful, stainless steel equipment package: the Loring A15 Merlin 15kg roaster, a Loring Vacuum Assist Loader and a Loring S35 Digital Scale Bean Cart! Roaster manual available by clicking here: A15 Merlin Roaster.

Run time on this beauty has been averaging 6 hrs. a day, about 4 days a week. Serviced and maintained constantly with Loring pride. It is in absolute perfect condition, ready to continue that famous Loring roast in your roastery! 👍
NOTE: The destoner shown in the videos and photos DOES NOT come with this package.
VIEW THIS ACTUAL MACHINE:
It boasts touchscreen automation, vacuum elevator loading, and a high-speed cooling tray with paddle stirring. It offers 15 kg coffee roasting capacity in a compact 38 square foot space.
Loring roasters use a patented single gas burner system that provides heat for both roasting the coffee and incinerating smoke from the roast chamber.
IMPORTANT CRATING AND FREIGHT INFO:
The Loring coffee roaster is a very unique machine requiring EXTREME tender loving care when packaging and moving. We have our top Loring certified technician in cue to handle the expertise needed to perfectly crate this machine which includes tilt and shock indicators like Loring installs from the factory. The transportation will be by air-ride suspension trucking only. 
CONTACT SALES DIRECT @ 650-569-0011 to discuss getting this to your roastery! 
All roasters are sold as-is. Shipping not included in the listed price.
QUICK VIEW:
| | |
| --- | --- |
| CONDITION: | Excellent |
| LOCATION: | Northern |
| YEAR BUILT: | 2013 |
| LAST USED: | Still roasting |
| LAST SERVICED: | Serviced and cleaned continually |
| ORIGINAL MANUALS: | Included |
| FUEL & POWER: | Natural Gas / 208 Volt 3-phase |
| INCLUDED EQUIPMENT:  | Loring bean cart and loader |
| BATCH: MIN/MAX | 3k - 15k |
| DIMENSIONS: | 91" x 61" x 76" (HxWxL) |
| WEIGHT: | 1500 |
| MAX BTUs: | 130,000 |
Downloads
Joper DS35 Destoner Data Sheet


Loring 15k Roaster Features:



Focus on the Roast, Automate the Rest
Automated controls for dropping green from hopper, discharging beans from the roast chamber, and precise control over the burner, so you can focus on making the best coffee.
Smokeless Roasting
Eliminate smoke during the roasting process without an external afterburner.
Roast Smarter
Single burner roasts beans and incinerates smoke. High-speed cooling tray reduces cooling time while protecting beans.
Sustainability and Savings
Up to 80% fuel savings and reduction of greenhouse gases in every roast compared to conventional roasters.
American Made
Designed and made in U.S.A. Constructed by skilled craftsmen. Stainless steel construction. ISO 9001:2015 certified.
Unparalleled Control
Touch screen and PID provide operation of burner and fan speeds. Profiles can be saved and repeated consistently. Fully automated roasting process.
Loring Bean Cart
Loring green bean carts include a built-in scale. The integrated vacuum lift attachment enables hassle-free loading of green beans to the roaster hopper.
Built-in scale
Vacuum lift attachment
Rare-earth magnets help separate metallic objects from beans
OUR STORY – LORING SMART ROAST
Like so many of our customers, Loring Smart Roast started small with a big concept and a whole lot of hard work.
How Loring Smart Roast was Built
In 1998, Mark Loring Ludwig ran a small coffee packaging business in Northern California. Over time he became frustrated with his coffee roaster because profiles were unreliable and the process, inefficient. His experience installing and repairing food processing equipment told him there had to be a better way.
He set to work on a design that would not only improve reliability, but effectively eliminate the need for an external afterburner.
Five years later, he had invented the world's first machine capable of smokeless coffee roasting. It's the same machine Loring Smart Roast stands by today, and we still hold meetings in the same little office where it all began.
Loring Today
Loring Smart Roast has grown from one man with an idea to an innovative company led by a seasoned management team. With coffee roasters operating in more than 60 countries, we are proud to offer each roaster to the artisan entrepreneur in every roast master, and excited to see just where your Loring roaster takes you.
Our Team
We treat each part of the building process as our single purpose motors – every team member with a specific task to perform. From fabricators to inspectors, we're all fueled by one common denominator – a passion for quality that can only be found with Loring.
Research and Development
Intelligence that ignites.
The world of coffee roasting generally runs slow. We don't. Our engineering evolves ahead of the curve, providing greater value to Loring roaster users. We lead the industry by consistently offering new features such as our V2 software, plus systems like Roast Architect.
Quality, efficiency, and control will always be our blueprint for your success.