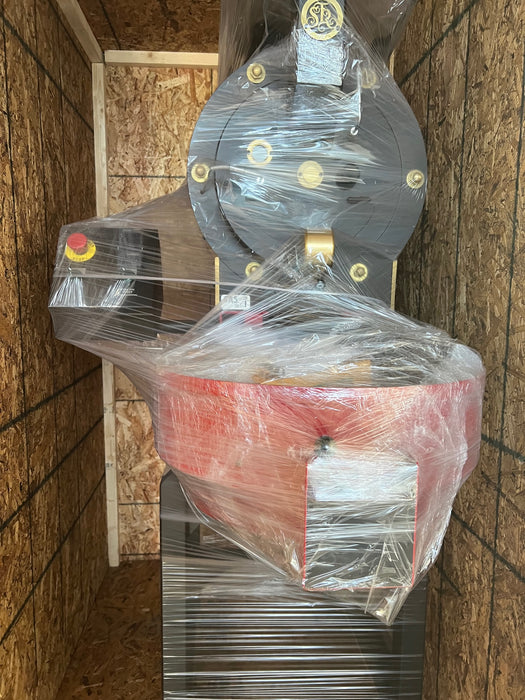 3 kilo San Franciscan SF-6 - 2021 Model - NEVER USED
Sold out
Original price
$21,500.00
Sorry, this item is sold out. But we're here to help! We may have other equipment that isn't on the site yet, so let us know what you need and we'll help you find it.
Contact us
, USA 800-999-1600, International +1-650-556-1333
Another SF-6 San Franciscan
Still In the Crate
NEVER USED!!! - 2021 Model!!!
Don't Wait for Manufacturing!!!
It's Ready To Ship - RIGHT NOW!
Time to take your 1 kilo roasting operation to the next level!
Here's another classis San Franciscan SF-6 roaster, ready to ship NOW. Sweet red accents on this model. Fueled by Propane Gas. Powered by 110v. Perfect for home-based coffee operations, or coffee shops/cafes looking to roast in-house, and desiring to have a sexy, eye-catching coffee roaster upfront of the shop!
This beautiful machine, external chaff collector, and matching SF table are brand new still bolted down in the original crate. Delivered to one-time owner in 2021. Changes in the owner's business has set the need to let it go.
The SF-6 generally falls beneath the requirements of local municipalities requiring permits for larger roasters. Simply put, the SF-6 is an awesome roaster that can suit the needs of even the most meticulous roast master. It is also
 strategically designed to be below production and emission standards that prohibit in-home use. And, this specific roaster has a Farmers Market Cart Kit available from San Franciscan (not included in this sale) to easily transport! See all the details below.
Features of the San Franciscan Roaster™
 

Model SF-6
The San Franciscan Roaster

 

is built completely in The United States of America.
Parts can be purchased in the USA or internationally.
Maintenance is easy and simple. The pipes and motors are exterior and can be taken off to clean. The cooling tray detaches for easy cleaning.
The chaff cyclone is in the cylinder that sets behind the roaster, making it much easier to clean.
With the design of our ashtray on the front of the machine, broken beans can be removed easily.
The roaster is automatically self-igniting and the burner is easily seen through a sight hole.
The roaster has RTD probes that measure the

 

 

temperature and the environment temperature. The probes connect to a dual-digital display that shows both temperatures simultaneously during the roast.
A high-quality gas pressure gauge allows the user to closely monitor BTU input.
Our roasters are powder coated providing a very durable finish.
The San Franciscan Roaster

 

and drum are hand-fabricated of 100% schedule 40 steel. This ideal material maintains excellent thermal transfer characteristics without becoming brittle over time.
Roasting time is 10-15 minutes depending on roast-master preference.
The face-plates are 1/4" steel.
San Franciscan roasters are fitted with well known high-quality American made motors, sprockets, bearings and other components by companies such as Baldor, Morris, Martin Bearings, Honeywell components, etc.
Comes complete with temperature probes for bean and environment temperatures, gas pressure gauge, and hot-air control.
San Franciscan Roasters are compatible with most data-logging programs and your choice of data logger can easily be built into your new roaster.
San Franciscan makes it quick and easy to change over to NG if needed. Comes with a matching external chaff collector, neatly connected to rear of machine, and the SF matched table.

Located in South Central USA.
NO WAITING! LET'S SHIP IT TO YOU NOW!
CONTACT SALES DIRECT @ 650-569-0011 to discuss getting this to your roastery!
All roasters are sold as-is. Shipping not included in the listed price.
NEED TO KNOWS:
EQUIPMENT: 
San Franciscan Model SF-6 Coffee Roaster
CONDITION:
Excellent - NEVER USED
YEAR BUILT:
2021
COMMISSIONED:
N/A

LAST USED:
Never
LAST SERVICE:
Never
ORIGINAL MANUALS:
Included
POWER:
110v
FUEL:
Propane

INCLUDED EQUIPMENT:
Attached External Chaff Collector, SF Table
CAPACITY:

2.2 lbs. (1kg) to  6.6 lbs (3k) per batch



WEIGHT / DIMS

430 lbs. /  57" x 30" x 71

Height of roaster only - 42"
About San Franciscan Roasters



https://www.sanfranroaster.com/
There are many reasons why the SF6 is known as the best small-batch coffee roaster in the world. From the American-made parts to the classic design, the SF-6 from the San Franciscan Roaster Company stands apart from other roasters as a robust and reliable small-batch coffee roaster for beginners and professionals alike. If you're considering a new roaster for your coffee house, the SF-6 may be exactly what you're looking for.
#1) Handbuilt with American-Made Parts
At the San Franciscan Roaster Company, they strive to build hardworking machines that far outpace the competition. In order to achieve this, they hand-build their roasters with American-made parts to precise specifications. Let's first discuss the hand-made aspect of the SF-6. They never mass produce our products. Each machine is crafted by hand by a team of expert builders and technicians. This is a meticulous, highly detailed process that produces one-of-a-kind machines. SF proudly build our machines in our Carson City, Nevada factory.
#2) A Great Size for Coffee Houses and Farmers Markets All Around the World
As a 6 lbs (3 kg) roaster, the SF-6 is a reliable machine that stands at approximately 4 feet or 1.27 meters. Including its stand, the SF6's dimensions are 50"x 22"x 71" or 127 cm x 56cm x 181 cm. This makes the SF-6 a perfectly sized roaster for coffee houses all across the United States and around the world. The SF-6's size gives coffee roasters the ability to easily transport the machine from coffee house to farmers market.
Since the SF-6 can work on either natural gas or propane, roastmasters have the freedom to take their roasters on the road. In fact, they offer a special farmers market kit which includes a beautiful, Amish-made hickory cart with which you can easily transport your SF-6. Whether it's in a coffee house or on the road, the SF-6 is the most versatile small-batch artisan roaster available today.
#3) The Simplicity of Keeping Your Machine Clean
In order for any coffee roaster to work as efficiently as possible, it must be well maintained and cleaned on a regular basis. Keeping some machines clean is a hassle due to the difficult-to-reach components. When it comes to the SF6, however, cleaning is much easier. Every component of the SF-6 is specifically chosen by our expert craftsmen.
When the day is done and the time comes to clean the machine, you'll be able to remove your SF-6's motors, pipes, and cooling tray without a hassle for easy cleaning. A well-maintained and clean roaster will produce great, reliable roasts time after time. At the San Franciscan Roaster Company, they're always thinking of ways to make roastmaster's jobs as efficient as possible. Not only do they provide a robust, reliable machine, we also implement crucial design elements to make the entire process as streamlined as possible. This is just one of the many ways their machines outclass the competition.
#4) Easily Maintain Your Specialty Coffee Roaster
Although SF roasters are built to last, they may still require maintenance. If any component were to falter and replacement becomes a necessity, San Franciscan provides expert assistance so your SF6 will be back in working order in no time. Since the parts we use are all American-made, finding replacement components will be incredibly easy. Our team is always ready to help.
#5) Real, Durable Beauty
When you purchase a San Franciscan SF6,  you can expect a machine that's as useful as it is beautiful. We understand that many of our roasters go on to become centerpieces for coffee houses all around the world. For this reason, SFR powder coats their roasters in order to produce a very durable finish that will catch the eye of roastmasters and coffee consumers alike. Their beautiful roasters are made with steel which provides the most durability and best heat application. Your roaster will be the perfect hard-working centerpiece for your coffee shop!
Choose the SF-6 as Your Next Roaster!
Although the list of benefits goes on and on, the best way to truly appreciate the expert craftsmanship and usefulness of the SF-6 is by owning one yourself! Before long, you'll see exactly why the SF-6 is known as the best, most versatile small-batch roaster. Whether you're looking for your first roaster or the time has come to add a new machine to your coffee shop, the SF-6 will easily surpass all your needs and expectations.