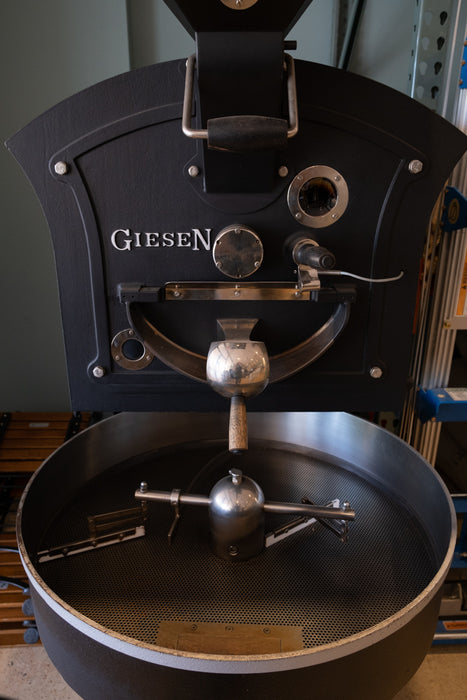 6 kilo Giesen W6 - 2014 Model - Very Good Condition - Used
Save

10

%
Original price
$29,900.00
Another 6 kilo Giesen W6 Roaster!!!
In the USA, CRATED & READY TO SHIP RIGHT NOW!
Yup, Dutch Craftsmanship!

Here's another hard-to-find, highly sought-after 6 kilo Giesen W6 roaster, brought to you by CoffeeTec! Per Giesen, it's this Dutch manufacturer's most popular machine. Loaded up with cast iron, it's a serious machine for serious coffee roasters.
So, here's the rub... It's all about the original roaster CAST IRON which Giesen continues to use in their amazing roasters today. They boast that ever-popular massive front cast iron cap and drum that supports heat retention during use yielding a consistent, continual roast.
As with all W6 roasters, it's designed with 2 different fans allowing roasting and cooling simultaneously while also increasing the production capacity up to 24 kg. per hour.

This Giesen was purchased brand new after taking roastery classes by Willem Boot, a world-class coffee aficionado and Giesen roaster extraordinaire. He is letting it go due to leveling up to another batch output machine. Originally purchased due to loving "old world" heavy, solid coffee roasters. And boy, Giesen is just that!

Comes with Nordfab brand flu with quick connect clamps and seals (additional pieces may be needed to install). Chaff is collected in the bottom chamber of the machine. No separate cyclone.
NOTE: The front bearing needs replacement AND A NEW REPLACEMENT BEARING IS INCLUDED. The roaster is still functional in its current condition.
Roaster includes:

Gas gauge and manual valve
Dual temperature probes (thermocouples)
Cropster access plug and play integration
Runs on Natural Gas, comes with Propane burners
Variable drum speed
Variable fan speed
Variable gas control by using manual or automated digital control.
CONTACT SALES DIRECT @ 650-556-1333 to discuss getting this to your roastery!
All roasters are sold as-is. Crating and Shipping not included in the listed price.
NEED TO KNOWS:
| | |
| --- | --- |
| CONDITION: | Very good |
| LOCATION: | Upper Eastern States, USA |
| YEAR BUILT: | 2014 |
| LAST USED: | June 2021 |
| LAST SERVICE: | June 2021 |
| ORIGINAL MANUALS: | Included |
| HEAT: | Natural Gas comes with an option for Propane |
| POWER:  | 220v single phase |
| PROBES: | 2 - BT, ET, and has integrated USB data port |
| ROASTER DIMENSIONS | 50x29x68 / 995 lbs. |
| INCLUDED EQUIPMENT: | PLC control console, ducting |
| BATCH SIZE: | 6 kilos / 13 lbs per batch |
ABOUT GIESEN
DUTCH CRAFTSMANSHIP & UNIQUE DESIGN
With complete devotion, we aim to produce the best coffee roasters in the highest quality segment for coffee shops, roasteries, and industrial purposes. The Giesen team takes craftsmanship to the next level!
Giesen Coffee Roasters is a Dutch family business that started more than 30 years ago as a metalware company. In 2006 that all changed when the Giesen family directed the company toward the production of high-quality coffee roasters. And so began the Giesen Coffee Roasters story.
With complete devotion, we aim to produce the best coffee roasters in the highest quality segment for shops, roasteries, and industrial purposes. As a result, our team takes craftsmanship to the next level. We have years of experience and still, we keep focusing on developments in the industry and keeping up with new technology. Innovation is not just a word at Giesen, it's a company goal that is lived by everyone, working on every coffee roaster that is made at Giesen.
Over time baristas and coffee roasting champions used Giesen coffee roasters and were thrilled about the way Giesen implements new technology and adds more options to the coffee roasters on their request or even before they can request this. We are proud to implement new technology that gives you the chance to roast beans
with more control than any other coffee roaster.