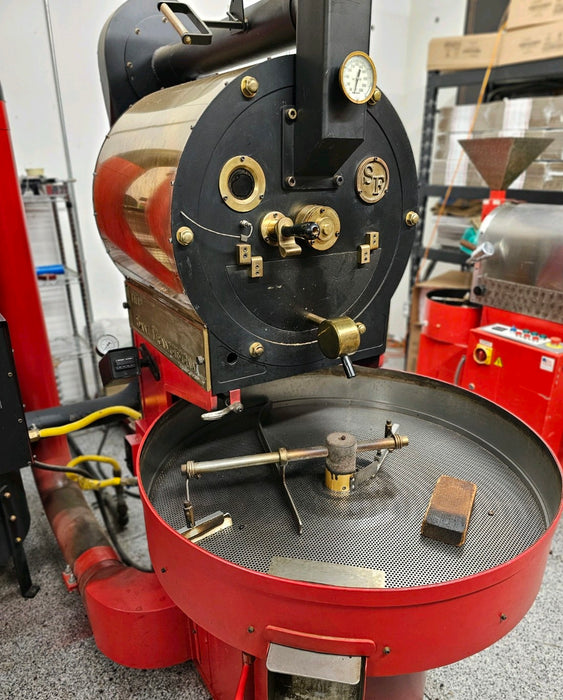 12 kilo San Franciscan SF25 1991 refurbished in 2011 - Very Good Condition - Used
Save

Liquid error (snippets/product-badge line 32): Computation results in '-Infinity'

%
12 kilo San Franciscan SF25 Refurbished 2011 Super Clean with extras!
The San Franciscan SF-25: Your Ultimate Roasting Workhorse!
Discover the pinnacle of roasting excellence with the San Franciscan SF-25, a robust and dependable roasting machine that stands as a testament to San Franciscan's legacy of craftsmanship. With an awesome red finish, this SF-25 is a true masterpiece, showcasing both elegance and unparalleled performance. Refurbished in 2011 and maintained to manufacturer's specs.
Roast with Precision, Roast with Versatility:
With the capacity to roast from 6 pounds (3 kg) to an impressive 25 pounds (12 kg) of green coffee per batch, the SF-25 emboldens your creative spirit. Experience the flexibility of up to 4 roasts per hour, translating to an awe-inspiring maximum roast capacity of 100 pounds (48 kg) per hour. Whether you're a small-batch artisan or a high-volume maestro, the SF-25 caters to your every roasting need.
This one is fueled by natural gas and powered on 220v single phase. Fuel conversion kits are available from San Fran if needed.
San Franciscan's commitment to quality and precision is evident in every detail of the SF-25. Built with meticulous attention to detail, this coffee roaster stands as a testament to decades of expertise and innovation.
For further insights and technical specifications, we encourage you to explore the comprehensive information available on the official San Franciscan website.
LET'S GET THIS ONE TO YOUR ROASTERY, NOW!
CONTACT SALES DIRECT @ 650-569-0011 to discuss getting this operational in your roastery!
All roasters are sold as-is. Crating and Shipping not included in the listed price.

QUICK VIEW DETAILS:
| | |
| --- | --- |
| CONDITION: | Very good |
| YEAR: | 1991 - Refurbished 2011 |
| LOCATION: | West Coast |
| LAST USED: | 08/16/2023 |
| LAST SERVICE: | 07/15/2023 |
| ORIGINAL MANUALS: | Included |
| BURNER FUEL: | Natural Gas |
| POWER: | 220 volt/60 Hz/Single Phase |
| BATCH: | 6 lbs. (3k) - 25 lbs. (12k) per batch |
About San Franciscan Roasters



https://www.sanfranroaster.com/
The Legendary SF25: Environmentally Friendly Small-Batch Coffee Roaster
The SF25 from the San Franciscan Roaster Company is powerfully built and meticulously designed to produce great roasts, time after time. The SF25 is able to roast from 6 pounds (3 kg) to 25 pounds (12kg) of green coffee per batch with up to 4 roasts per hour, providing a maximum roast capacity of 100 lb. per hour (48 kg/hr). The SF25 is able to run on either natural gas (LNG) or propane (LP). In order to boost efficiency, the SF25 is outfitted with an afterburner specifically designed to comply with the most stringent air quality control mandates. The San Franciscan Roaster Company goes above and beyond to offer the best products to specialty drum coffee roasters all around the world. All of our roasters are handcrafted with love in Carson City, Nevada. If you're looking for the perfect small-batch roaster for your coffee shop, choose the SF25!
The SF25 Roasts Up To 100 lbs. Per Hour
Roasts between 6 lbs (3 kg) and 25 lbs (12 kg) of green coffee per batch
A maximum roast capacity of 100 lbs per hour (48 kg/hr)
Roasting time varies between 10 to 15 minutes, depending on roaster preferences
Advanced Components and Classic, Handmade Beauty
In order to make the coffee roasting process as efficient and eco-friendly as possible, the SF25 is outfitted with an afterburner that burns up any smoke and odor created from the roasting process. This addition, which comes standard with all SF25 roasters, leads to a smaller environmental impact. The afterburner and chaff collector are combined in a separate cylinder behind the roaster for ease of maintenance. Much like our other roasters, the SF25 is compatible with most data-logging programs.
We only use high-quality, American-made motors, sprockets and bearings. The gas and electric parts of the SF25's are also American-made to guarantee quality and longevity.
American-Made Roasters for the Artisan Coffee Roaster
At The San Franciscan Roaster Company, we make use of only the highest quality materials in order to create roasters that will last a lifetime. Every single one of our roasters is meticulously handcrafted to suit your exact specifications. Our products are all designed and built in the United States, with American-made parts.
Suggested Installation Instructions
There should be a minimum of 18″ clearance completely around the machine. The vent piping should be rated for the US Standard UL-103HT, approved for positive pressure, 8″ inside diameter.
Electric requirements:
The machine is fused with 20 amp. main fuses.
A 30 amp. source to the machine will be more than adequate.
220 volt, four-prong grounded plug-in.
Gas line requirements:
The gas supply should operate at 7"WC Natural Gas or 11"WC Propane at 100,000BTU for the Roaster and 250,000BTU for the afterburner, with a 350,000BTU combined maximum output. Check with your local gas company.
The roaster should be bolted with 4 1/2″ floor anchor bolts. A roped off or fenced in operating area is suggested.