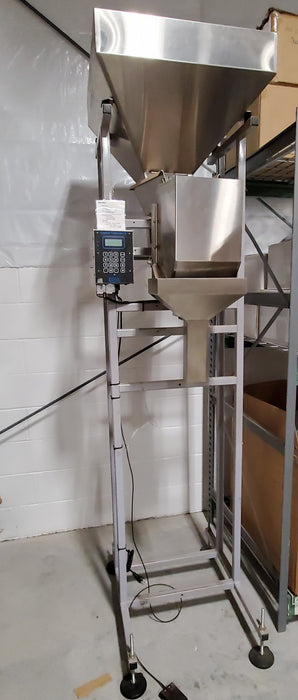 Logical S4 Filling Machine - Used
Sorry, this item is sold out. But we're here to help! We may have other equipment that isn't on the site yet, so let us know what you need and we'll help you find it.
Contact us
, USA 800-999-1600, International +1-650-556-1333
This One's Semi-Automatic!
This Semi-Automatic Weigh and Fill Machine manufactured by Logical Machine is in fair condition! As can be seen in the picture the # button has worn off. There are some normal wear and tear but still works great. The current owner is no longer needing this equipment as their business model has changed. Let's get it a new home!
PRODUCT FEATURES:
Self-adjusting Controller
Reads out to 1 gram or .001 lb
Controller range up to 10lbs.
Supply Hopper capacity 3.5 cu.ft. (equivalent to 5 five-gallon pails)
Includes powder-coated chassis (stainless steel optional.)
All product contact surfaces stainless steel
Footprint 4.6 sq.ft., 68" high
120V 60Hz (wall outlet); (240V 50Hz optional)
Handles any free-flowing dry bulk product
Can be used with any bags or rigid containers
Automatic tare adjustment
Self-adjusting bulk & dribble speed control
Up to 800 fills/hour
PRODUCT INFORMATION
The Model S-4 Semi-Automatic Scale System is a great first step to take your business from hand scooping to automation. Your bulk product is placed in the supply hopper at the top of the machine. The S-4 uses an electromagnetic vibratory feeder to move the product from the supply hopper to the weigh hopper where it is weighed.
When the target weight is reached, the Controller stops the feeder, and the weigh hopper opens automatically or with the foot switch to dump your product into your container. A new fill cycle is started and your filled bag may now be sealed.
HOW IT WORKS
To run a relatively free-flowing product into a 1lb. package, the product is loaded into the hopper, and the target weight is set at 1lb. After starting the first fill cycle with the foot pedal, the Controller will enter into "learn mode" for the first cycle. During this time the controller tests the flow characteristics of the product and decides the best speeds and durations for bulk and dribble.
The Controller will automatically change the vibratory feed from bulk to dribble and stop the scale at 1lb. The bag is removed and sealed. Each successive container is now filled by placing it under the funnel and depressing the foot pedal.
Specifications:
• Overall height: 5'8" (68"), occupies only 23"x 30" of floor space
• Supply Hopper capacity: 3.5 cu. ft. (equivalent to 5 five-gallon pails)
• Scale Total Weight: 135lbs.
• Power Requirements: 2 amps, 120 volts 60Hz AC
• Air Requirements: <0.25 cfm air supply at 30psi
CONTACT SALES DIRECT @ 650-569-0011 to discuss getting this to your roastery!
All roasters are sold as-is. Crating and Shipping not included in the listed price.