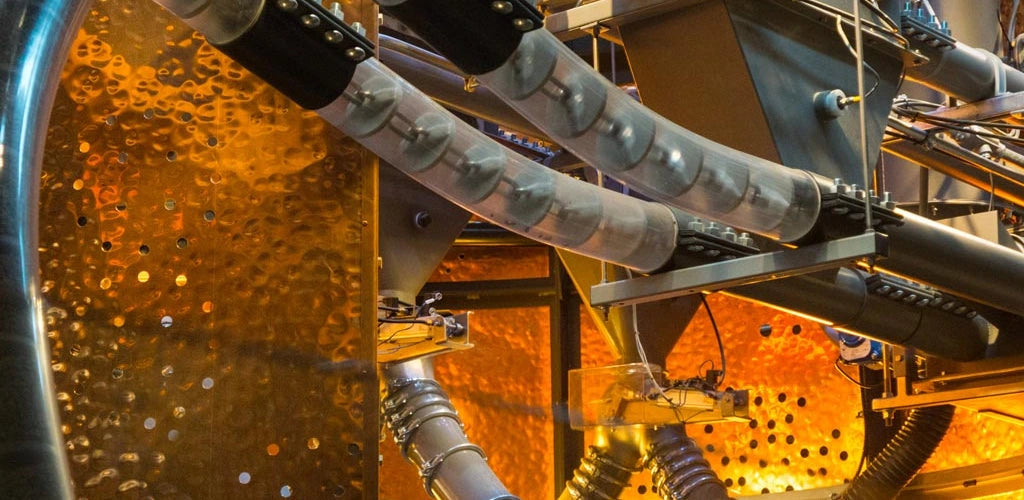 Commercial Coffee Storage: Why Switching To A Storage Bin/Hopper Is A Smart Move
Coffee storage is an often forgotten but unsung hero of good coffee roastery practices. How coffee is stored before packaging affects its freshness, bean and blend integrity, and product consistency. It also plays a role in your roastery's sanitation and compliance efforts, and can even impact your profitability.


If you run a larger coffee roastery, then you already know the importance of a good silo and conveyance system. If you're a small- to mid-size roastery with growing operations, we've got thoughts to share about why you should strongly consider utilizing a storage bin/hopper -- from both a process and product perspective. This is especially relevant if you operate with a 20-kilo or larger roaster, and produce and mechanically package your own specialty coffee.

Yes, this means that we're suggesting you finally graduate away from those large trash cans or super sacks you may still be using to save on costs and space. We know they're inexpensive and easy to move around, but they also may not be the best tools for implementing good manufacturing practices.

There are some great mobile coffee storage bin options available that create a better food-safe environment and a better product for you. We've even got a few bins on deep discount that won't break the bank! They're also a nice way to start playing with simple silo and conveyance systems and practices, especially if you plan to grow your roastery business in 2020 or beyond.

To better understand the benefits of a storage bin over rubber trash cans or bulk storage sacks, a quick and easy lesson in engineering is in order. It all boils down to good flow and function.
It's All About Flow
When talking about coffee storage and how it gets conveyed, or moved, to packaging, it's important to understand the concept of mass flow versus funnel flow. Do you know the difference?

SPOILER ALERT: Choosing a coffee storage method that promotes mass flow is how you want to go. Mass flow is when all the coffee is in motion whenever any is withdrawn by either manual or automated methods. Mass flow helps maintain first-in, first-out bean flow, which impacts freshness. It's especially important for bean blends too.

If your coffee storage option fails to achieve mass flow, then you end up with what's called funnel flow, which is when not all the coffee is in motion during discharge. You end up with stagnant regions that lead to first-in, last-out bean flow. This can lead to sifting segregation, where smaller beans move at different velocities than larger beans -- highly undesirable for bean blends. Even for single-origin coffee processing, this introduces another unnecessary variable in product consistency.

As you might suspect, industrial coffee storage bins allow for better mass flow, due to their high carbon or stainless steel material, and angle of the hopper walls that create a gravity-fed system with good flow control. Alternatively, options like trash cans and polypropylene (PP) bulk storage bags tend to lead to more funnel flow because of the effects of manual hand-scooping the coffee product into your packaging.

And better flow leads to better function. How so? Consider that there are also greater food safety risks with these options, since hand scooping can lead to the greater spread of germs. With recent Food Safety Modernization Act (FSMA) regulations announced, US-based coffee roasteries must consider how they'll bolster operations to ensure safe and compliant sanitary practices. We'll talk more about this in 2020, and addressing the issue of coffee storage is a simple way to start this discussion.

We're Offering An Easy Transition
To help make your introduction to the world of storage bins easier, we've got a small supply of mobile storage bins/hoppers available at a deep discount -- between 68% and 75% off -- that are available to ship now. They're used but in great condition, and come in three sizes (all around 4 feet square, ranging from 5-½ to 7-½ feet tall) that makes them perfectly designed to fit tight spaces.

These bins are incredibly sturdy and solid, are gravity-fed, and are outfitted with easy-action discharge outlets. They also offer complete portability with fully enclosed forklift pockets at the base for extra safety. And, at our sale pricing of around $1,000 to $1,500 -- compared to the original $3,000 - $6,000 price tags -- you can't go wrong.

Switching to a storage bin/hopper setup is a smart investment to help you level up your 2020 roastery practices, and the benefits make for a great return on your investment. Check out our current supply of portable bulk coffee bean storage bins/hoppers here:

You can shop our full inventory of 3K+ new and used coffee equipment HERE. Questions about which equipment is right for your roastery? With our consulting services, we can help you find simple solutions or conduct a more complete evaluation process, based on your business goals, the type of facility you have, your production volume, and other factors.
Contact us
today to start the conversation!