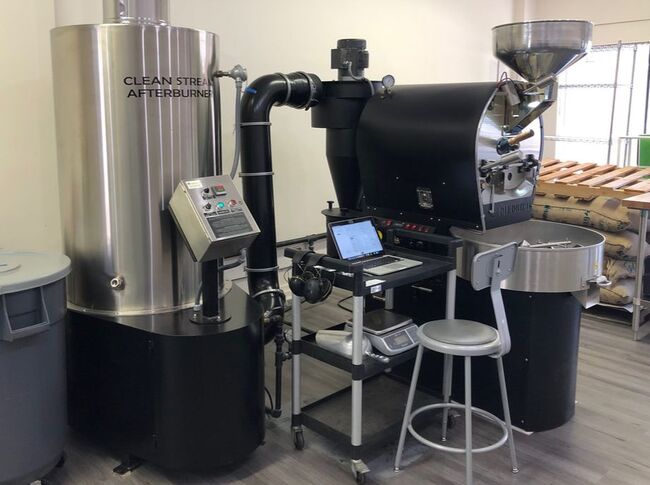 Clean Stream Afterburners
Save

Liquid error (snippets/product-badge line 32): Computation results in '-Infinity'

%
Clean Stream Afterburners
Reduce Smoke, Odor, & VOC
Are you receiving complaints about the exhaust from your coffee roaster?Are you required to have pollution control or abatement equipment for your operation?Are you interested in being more environmentally friendly?
Clean Stream Afterburners effectively reduce Smoke, Odor, Fine Particulate, CO, and harmful VOC (volatile organic compounds) created during the coffee roasting process.
The result is a clean exhaust stream, virtually free of smoke and odor. Our proprietary designs offer the perfect blend of modern aesthetics, efficiency, and functionality. All afterburners have standard safeties and feature UL, CUL, and/or CE listed components. 
"Thermal" and "Catalytic" Models
We offer two types of Clean Stream Afterburner systems.
Our standard "Thermal Oxidizers" have a large burner that heats the roaster exhaust up to 1000-1400 F. These high temperatures break down the smoke, odor, and VOC.  Their simplicity makes them very popular in the coffee industry. 
Our highly efficient "Catalytic Oxidizer" models have an integrated catalyst module which allows them to operate effectively at only 700 F. This low operating temp equates to big fuel savings over our standard systems.  
Several Sizes Available 
Clean Stream Afterburners come in various standard sizes from 200 to 1000 CFM. The higher your roaster's exhaust flow rate, the larger the afterburner needs to be. Most often, only the "roast air" is treated, which is the exhaust coming directly from the roaster drum. The cooling rack exhaust is not typically treated by an afterburner unless it's required by your local air quality management authority. 
Clean Stream Afterburner Standard Features
Proprietary Compact & Efficient Design
Integrated UL, CUL & CE Components
Will meet strict air quality standards
Up to 99% Destruction Efficiency
Honeywell UDC1200 Temp Controller
Modulating Gas Valve for Efficiency
Safely Concealed Midco Burner
Thick Ceramic Fiber insulation
Stainless ports for heat resistance
Brushed Stainless Steel top section
Powder Coated base for durability
Typically 3-5 weeks lead time
Proudly made in the USA
Leasing & Finance options available
Options and Accessories
The inlet duct, gas, and power cord can be placed on either the left or right side
Various color options available for the base & control panel (black is standard)
Optional quick-clamp ducting in galvanized, stainless, or various colors
Remote control panel for outdoor installation
Optional Clean Stream Cyclone for chaff collection is available
Please Contact Us for More Details and Pricing
We realize all these options can be confusing, and we're happy to help. Considering Clean Stream Afterburners are available in Thermal or Catalytic models of various sizes, it would be best to contact us for a detailed proposal based on your roastery needs. 
Please be sure to chat about a few details on your roaster, roastery setup, and if you have any specific requirements mandated by your local air quality district. 
CONTACT SALES DIRECT @ 650-569-0011 to discuss your specific application!


The CoffeeTec Bonus
When you purchase a product on CoffeeTec of one of our vendor partner's products, such as Clean Stream Afterburners, you also receive the below benefit.
CoffeeTec's Exclusive Financing Program.

Keep your cash for other operating expenses!
More than 80% of all U.S. companies utilize some form of equipment financing. With our "Roaster's Choice" Lending Program, instead of working with one lender and wondering if you're getting a good rate, we leverage competition among our network of over a dozen of the nation's top lenders to ensure you're getting the best financing value available.
Click here to go to our full blog description of this exciting new program.


Join the CoffeeTec Community
Of course, no matter what you purchase from CoffeeTec, whether it's one of our 3,000+ products in our online store, or you invest in our consulting services, you automatically become a part of our CoffeeTec Community, where you're kept in the loop on our specials, deals, informative blogs, and more. 
Have questions? Feel free to explore our FAQs or contact us. Let's help you build the coffee roastery of your dreams!