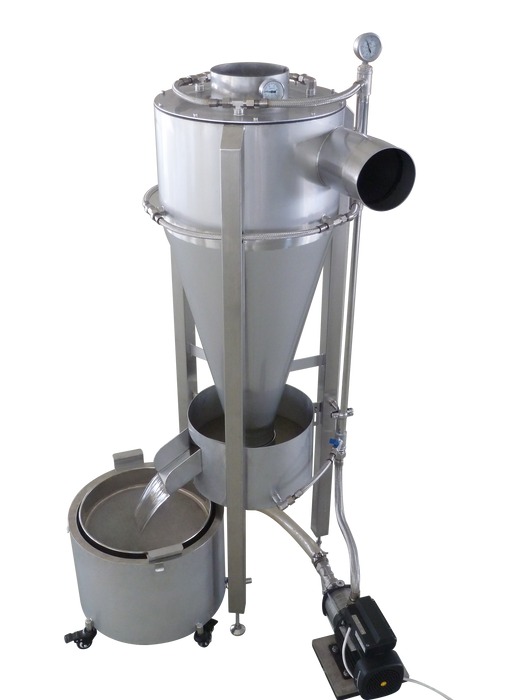 VortX EcoFilter Afterburner Alternative - NEW
Save

Liquid error (snippets/product-badge line 32): Computation results in '-Infinity'

%
VORTX ECOFILTER™ FOR COFFEE ROASTERS

Smoke and Odor Filter – The unique, proprietary VortX EcoFilter filters the air from your roaster and cooling tray, dramatically reducing emissions of chaff and dust, VOCs and odors, and products of combustion.
VortXs are in use daily on 5 continents, improving the overall roasting experience, making neighbors happy, satisfying clean air requirements & reducing your carbon footprint. VortX: your comprehensive, inexpensive pollution solution.
The EcoFilter uses the energy of a cyclone plus the power of atomized water to remove particulates from exhaust air, muting odors and reducing visible smoke up to 80%.
The self-cleaning system recycles its water and requires less than 5 minutes of daily maintenance.
The VortX EcoFilter comes in 2 models: the 450 & 800. The difference in choice has to do with your Roaster's airflow CFM and ducting. Please give us a call to determine the right model for your Roaster application.
PRICE SHOWN DOES NOT INCLUDE SHIPPING
Watch as Willem Boot & Ron Kleist describe the VortX difference. And don't miss stories of Roasters that are currently using a VortX system in their roasteries, at end of listing.
Willem Boot is co-founder of VortX and founder of Boot Coffee Consulting, based near San Francisco, CA. Willem has 20+ years of experience as a coffee roasting consultant and as SCA accredited trainer. Over the years he has been advising hundreds of companies with the installation and startup of their roasting businesses. 
BENEFITS
UNIVERSAL COMPATIBILITY 

Works on any coffee roaster. You can use it after a cyclone or you can replace the cyclone.

Using Vortex EcoFilter might improve the airflow of your roaster, which means better control over the coffee roasting process.

HAPPIER NEIGHBORS – significant reductions to visible smoke, VOCs, and noxious odor

Prevent complaints which may force you to relocate or close

Neighbors will see clean, white steam depending on outside air temperature

ENVIRONMENTAL STEWARDSHIP – the perfect marriage of clean air and reduced impact on global warming

Generates zero CO2 and reduces products of combustion generated by your roaster's burner

Runs on less than 8 amps electricity

Uses less than 30 gallons per day of water

Zero waste: chaff and wastewater suitable for feeding soil and watering plants

VortX plants 100 trees for every EcoFilter sold through our partnership with One Tree Planted

IMPROVED SAFETY – no residue buildup in stack and cyclone = nothing to burn

No risk of fire: stack and cyclone remain clean


No risk of injury: stack and cyclone are warm to the touch


No need for insulated class-A stack or a guard around the cyclone


Limits damage from a drum fire and remains warm to the touch; reduces the risk of personal injury



INCREASED PROFITABILITY

More consistent roasting because cyclone and stack remain clean

Roast nonstop; never stop to empty chaff bucket

Eliminates the need for regular cleaning of stacks and cyclone

DURABLE & RELIABLE – beautiful, hand-crafted, top-quality components

Stainless steel, powder-coated, highest quality components. Backed by an industry-leading warranty.


Standard 2B mill finish on type 304 stainless steel, as shown in picture



One moving part, the pump, is made by Grundfos (Denmark), a world leader

INEXPENSIVE TO INSTALL – low-temperature exhaust gas (<120 F) does not require insulated double wall duct

Hose barbs allow for quick plumbing connection via rubber hoses

Operates on dedicated single-phase power from 210 to 240 VAC, 50 or 60 Hz
Normal production lead time is 4 weeks + 1 week for custom powder coating. A shipping date can only be confirmed after we receive a down payment of 50% of the equipment price. The final balance will be due 1 week prior to the shipping date. Prices are EXW our final assembly point in Dalian, China; all shipping charges including freight, taxes, insurance, brokerage, customs, and tariffs will be paid by the customer.
HOW IT WORKS
The EcoFilter is based on a high-efficiency cyclone designed to remove particulates well below 10-micron cut size. This cyclonic action is enhanced by instantly cooling the incoming air, causing the VOCs and products of combustion to condense from vapor to liquid where they are entrained along with the particulates in water and flushed out the bottom of the cyclone. The water is filtered and recycled. One glance at the stack temp confirms that the unit is operating correctly.
The CoffeeTec "Trifecta" Bonus
When you purchase a product on CoffeeTec of one of our vendor partner's products, such as VortX, you also receive the below benefits:
1. CoffeeTec's Exclusive Financing Program.

Keep your cash for other operating expenses!
More than 80% of all U.S. companies utilize some form of equipment financing. With our "Roaster's Choice" Lending Program, instead of working with one lender and wondering if you're getting a good rate, we leverage competition among our network of over a dozen of the nation's top lenders to ensure you're getting the best financing value available.
Click here to go to our full blog description on this exciting new program.
2. Subsequent Purchase Discounts. 
3. One Hour of Complimentary Roastery Consulting.
Join the CoffeeTec Community
Of course, no matter what you purchase from CoffeeTec, whether it's one of our 3,000+ products in our online store, or you invest in our consulting services, you automatically become a part of our CoffeeTec Community, where you're kept in the loop on our specials, deals, informative blogs, and more. 
Have questions? Feel free to explore our FAQs or contact us. Let's help you build the coffee roastery of your dreams!
Listen To Who's Using VortX EcoFilters
FLOY ANDREWS, CO-RO BERKELEY, CA
A co-roasting facility in Berkeley California, home of over 25 coffee brands from the San Francisco Bay Area.
SHAWN PRITCHETT, RAGAMUFFIN , OXNARD CA
The second cafe and coffee roastery opened by Sarah & Shawn Pritchett in Oxnard, California.

MATTHEW & ANYA SCHODORF, CAFE DE LECHE , LOS ANGELES CA
Specialty café and roaster in the charming neighborhood of LA – Highland Park.

TIMOTHY HANSEN, CO-RO, BERKELEY, CA

A co-roasting facility in Berkeley California, home of over 25 coffee brands from the San Francisco Bay Area.