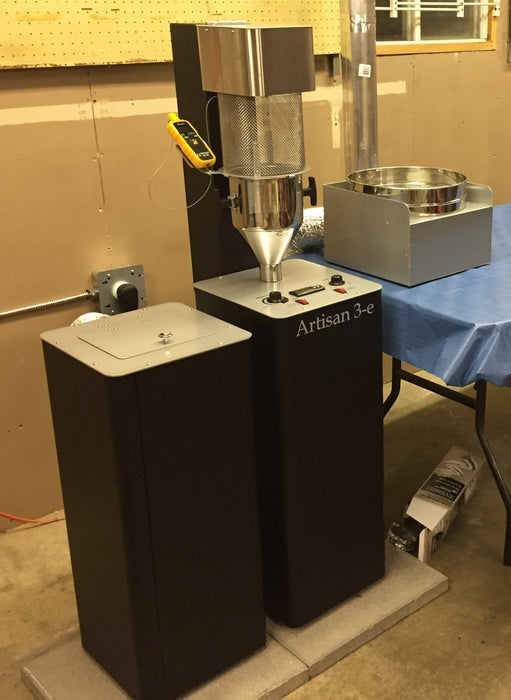 Coffee Crafters 3e Roaster - 2018 model - Excellent Condition - Used
Coffee Crafters 3e Roaster - 2018 model - Excellent Condition - Used


Introducing the Artisan 3-e: Your Path to Efficient Coffee Roasting Excellence!
Are you in search of the perfect coffee roaster that combines energy efficiency with remarkable productivity? Look no further than the 2018 Artisan 3-e, a top-of-the-line fluid bed coffee roaster designed to elevate your coffee roasting experience.
Key Features:
Versatile Roasting Capacity: The Artisan 3-e offers a flexible roasting capacity, allowing you to roast as little as half a pound or indulge in a full 3-pound batch. Whether you're experimenting with small artisan batches or catering to high-demand production, this roaster has you covered.

Impressive Production Rate: With a whopping 18 pounds per hour production capacity, the Artisan 3-e stands as one of the most efficient and productive roasters available on the market today. Say goodbye to long hours spent roasting and hello to streamlined efficiency.

Electrical Efficiency: Powered by a single-phase 30-amp system at 240V, this roaster not only delivers exceptional performance but also keeps your energy consumption in check. Roast your beans while being mindful of the environment and your energy bills.
Roasting & Bean Cooling System:
Table Top Bean Cooler: This system includes a convenient table top bean cooler unit that complements the roaster perfectly. Ensure your beans are cooled efficiently, preserving their flavor and aroma.

Temperature Flexibility: Whether you prefer Celsius or Fahrenheit temperature readings, the Artisan 3-e accommodates your preferences, putting you in control of the roasting process.

Clean Hot Air Roasting: Experience the art of clean hot air roasting with the Artisan 3-e. This method ensures your beans are roasted to perfection, capturing their full flavor potential while minimizing undesirable byproducts.
Upgrade your coffee roasting game with the Artisan 3-e Roasting & Bean Cooling System. Achieve energy efficiency, unmatched productivity, and the perfect roast every time. Elevate your coffee roasting to an artisanal level with the Artisan 3-e – the ultimate choice for coffee connoisseurs and professionals alike.


CONTACT SALES DIRECT @

 650-569-0011

 

to discuss getting this to your roastery!
QUICK VIEW:
| | |
| --- | --- |
| CONDITION: | Excellent |
| LOCATION: | Canada |
| YEAR BUILT: | 2018 |
| LAST USED: | Sept 2023 |
| LAST SERVICE: | Regular Maintenace / New heating element 2021 |
| ORIGINAL MANUALS: | Available online |
| POWER:  | 220v Single Phase |
| ROASTER DIMENSIONS: | 18"L x 12"W x 53"H 101lbs |
| INCLUDED EQUIPMENT:  | Shop Fox 1HP exhaust unit. Chaff collector also included with used but washed filter bags (200 + 400 micron). ~15 feet of brand new 6" heavy duty steel ducting and elbows etc. |
| BATCH SIZE: | 1-3lbs |
| PRODUCTION: | 18lbs per hour  |