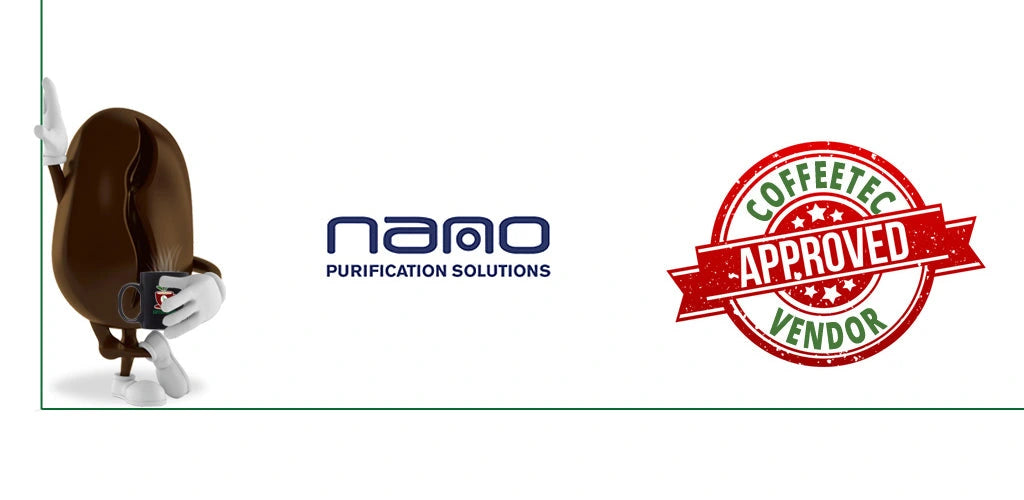 CoffeeTec Product Spotlight - Nano-Purification Solutions
Nano-Purification Solutions Adds GEN2 i4.0 Nitrogen Gas Generators to CoffeeTec Vendor Marketplace
We're thrilled to announce that
Nano-Purification Solutions
has joined the
CoffeeTec Vendor Marketplace
.
As a world-class manufacturer of state-of-the-art, environmentally friendly compressed air and gas solutions, Nano-Purification Solutions is adding its series of three GEN i4.0 nitrogen generators to our product catalog — and we couldn't be happier. 
Why? Because this product line will help us meet the growing demand by our coffee roasting customers to generate nitrogen in-house for their nitrogen flushing and packaging needs. And, the addition to our roster continues our trend of offering you interesting, quality, affordable coffee roasting products made by manufacturing innovators just like Nano-Purification Solutions.
Who Is Nano-Purification Solutions?
Based in Charlotte, North Carolina, Nano-Purification Solutions provides a broad range of products offering compressed air and gas solutions — from compressed air and gas filters to desiccant dryers, dew point monitors, nitrogen generators, aftercoolers, and more. Their vast array of products are full of pretty interesting innovations, but we're going to solely focus on their ultra-pure, environmentally friendly nitrogen generators.
How Will Nano-Purification Solutions 'Nitrogen Generators Help You?
Here's the short answer: Nano-Purification Solutions offers you a cost-effective, convenient, and carbon footprint-reduced option to generate your own nitrogen in-house for your coffee roasting and packaging needs. The result? Super-fresh, consistently packaged coffee every time!
If you bring in nitrogen from an outside vendor, then you know it can be a minor hassle to monitor when you need refills. And then there's the cost with rental fees, refill and delivery charges, and sometimes even environmental fees.
But we're here to tell you there's a better way! When you invest in one of Nano-Purification Solution's nitrogen generators, you can expect:

Yep, Nano-Purification Solutions might just become your new BFF!
Now we'll provide you with a little bit longer answer so that we can highlight some of their nitrogen generators' benefits, features, and how they work. 
Nano-Purification Solutions Nitrogen Generators: Enjoy These 5 Brilliant Benefits
We've mentioned some top benefits of the Nano-Purification Solutions nitrogen generators above. Here are a few more:
Guaranteed performance

with rigorous factory testing and a two-year warranty

Reduced energy consumption

during periods of low demand with its eco-mode energy savings control

Fits any application

with maximum design operating pressure of 232 psig (pounds per square inch gauge) available

Easy to install,

thanks to a compact design that allows it to fit in spaces too small for twin tower generator systems

Easy to maintain,

as its innovative piston valves greatly reduce maintenance schedules and minimize downtime
Nano-Purification Solutions Nitrogen Generators: Geek Out on These 5 Slick Features!

1. PLC/HMI Controlled Operation
Each GEN2 i4.0 nitrogen generator is operated by a reliable PLC (Programmable Logical Controller) control system with digital and analog outputs for remote monitoring and alarm capabilities.

2. Reliable High-Performance Valves
Inlet, outlet, and exhaust are managed through unique integrated nano piston valves designed for reliability, long service life, and ease of maintenance. The generator also incorporates adjustable equalization vales to smooth the column switch over and improve air/nitrogen ratios.

3. Communication
These nitrogen generators communicate via software that includes full communication protocols like Modbus, Profibus, and other building management system connections. An SD (Sold-State Device) card records the generator's performance so that data can be downloaded to any PC for analysis.

4. Purity-Dependent Energy Saving (PDES)
This option results in additional energy saving by keeping the nitrogen purity within a narrow band of the required value.

5. Overall Design Quality
a) Mass flow controller ensures correct application pressure and flow
b) Integral oxygen analyzer continuously measures and guarantees gas quality
c) Purity guarantee valve automatically ensures gas meets desired specifications
d) Remote monitoring enables connection to proprietary remote management and generator control systems
e) Multi-bank design (see below image) enables additional generators to be added as demand increases

Nano-Purification Solution's Nitrogen Generators: How They Work
Nano-Purification Solutions nitrogen generators operate on the Pressure Swing Adsorption (PSA) principle to produce a continuous uninterrupted stream of nitrogen gas from clean, dry compressed air. Dual-chamber extruded aluminum columns are filled with Carbon Molecular Sieve (CMS). 
Joined via an upper and lower manifold, the high-density filled columns produce a dual bed system. After a preset time, the control system automatically switches the beds. One bed is always online generating nitrogen while the other is being regenerated. 
Here's a great visual representation of the process:
Nano-Purification Solution's Nitrogen Generators: Ready to Purchase? You've Got Options!
Ready to purchase a Nano-Purification Solution's nitrogen generator? Nano-Purification Solutions has listed three different generator sizes with us. Review the below product pages for details. 
You couldn't ask for a more supportive team to help you get started. When we partner with vendors, we become a sales distributor and educate ourselves to answer your questions. If we can't answer a question, we'll consult with Nano-Purification Solutions to get it answered.
CoffeeTec's Gift To You
When you purchase a product from one of CoffeeTec's vendor partners like Nano-Purification Solutions, you also receive the below benefits — our gift to you:
We Can Help You Afford It
And don't forget about our incredible Roaster's Choice Lending Program that lets the nation's top lenders compete for your business with their best financing offers. We just made the prospect of owning a Nano-Purification Solutions nitrogen generator even more affordable!
Join the CoffeeTec Community
Of course, no matter what you purchase from CoffeeTec, whether it's one of our 3,000+ products in our online store, or you invest in our consulting services, you automatically become a part of our CoffeeTec Community, where you're kept in the loop on our specials, deals, informative blogs, and more. 
Have questions? Feel free to explore our FAQs or contact us. Let's help you build the coffee roastery of your dreams!