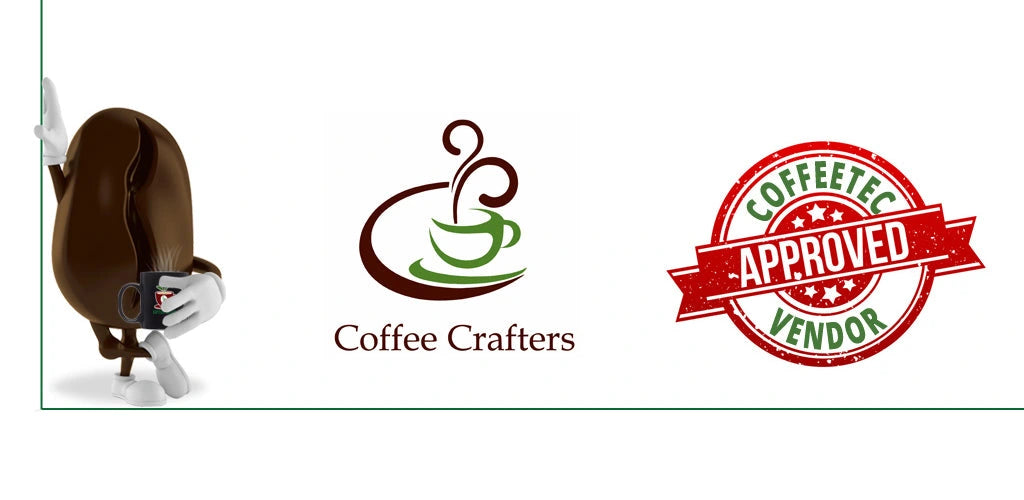 CoffeeTec Equipment Vendor - Coffee Crafters
CoffeeTec Partners with Coffee Crafters To Offer Customers Affordable Fluid Bed Coffee Roasters
High Quality, Easy to Use Artisan 3-e and Artisan X-e Coffee Roasters Are Here!
CoffeeTec is pleased to announce our partnership with Coffee Crafters, inventor of the world's most affordable commercial fluid bed coffee roasters. As a new vendor in our CoffeeTec Vendor Marketplace, we can now offer Coffee Crafters' Artisan 3-e and Artisan X-e coffee roasters on CoffeeTec.com 
At CoffeeTec, we love our customers. And our customers want a trusted online destination where they can purchase a wide variety of coffee roasters and equipment. We're always looking for ways to add value for our customers, so recently we've rolled out the CoffeeTec Vendor Marketplace — our latest effort to connect you, our customers, to innovative vendors offering unique, high-quality, affordable coffee roasting equipment and products. We do this because we want to see you succeed in your coffee roasting business.
What does this mean to our customers? Now that we have partnered with Coffee Crafters, you now have quick access to the only affordable, easy-to-use, high-quality fluid bed roasters readily available on today's market. 
If you've been in the coffee roasting industry for any length of time, then you know that convection-powered fluid bed coffee roasters are easier to clean up, require less roasting time, and often exhibit more roast uniformity than conduction-based drum barrel roasters.
Here's Why You'll Love Coffee Crafters' Artisan Fluid Bed Roasters
Easy clean-up, less roasting time, roast uniformity: These are all strong selling points if you're looking to roast and deliver consistently great-tasting coffee to your customers. Here are some more reasons why we think you'll specifically love working with Coffee Crafters' energy-efficient fluid bed roasters. Coffee Crafters builds each roaster to be easy to install, easy to use, and easy to maintain. And, they're incredibly affordable.
More Things To Love about Coffee Crafters
Their fluid bed roasters are Made in the USA in Post Falls, Idaho.

Their modern and cool roaster designs are sure to make them a conversation piece in your coffee shop.

Their

YouTube channel

offers a wide variety of instructional videos on how to get the most out of your Coffee Crafters roaster.

They sell

parts and accessories

,

making maintenance about as easy as it gets.
Let's Take A Closer Look
The Artisan 3-e Roasting and Bean Cooling System
Roasts as low as

one-half pound to a full three-pound

batch 

Produces up to

18 pounds per hour

A

space-saver

at 5' tall x 1.5' deep x 1' wide

About the

size of a water cooler,

you can easily put this on a rolling cart for easy transport around your shop

Energy efficient

(only 0.4 kWh per pound electricity usage)

Celsius or Fahrenheit

temperature readings

NSF-4 certified

for commercial use

Clean hot air roasting!
FREE SHIPPING FOR A LIMITED TIME!
The Artisan X-e Roasting and Bean Cooling System
Roasts

2-10 pounds

per batch

Produces

50-60 pounds per hour

Occupies approximately 2' x 6' of space, making it

easy to roll

around on a cart
10 lbs large-capacity

bean cooler unit

Energy efficient

(only 0.4 kWh per pound electricity usage)

Celsius or Fahrenheit

temperature readings

NSF-4 certified

for commercial use

Clean hot air roasting!
FREE SHIPPING FOR A LIMITED TIME!
We've Got More Value Headed Your Way
We believe that we've partnered with Coffee Crafters at just the right time. As of this writing, Coffee Crafters is working on adding sound suppression for the blower on the Artisan X-e model. They also plan to launch a new K-cup line later in 2020 and are developing a new line of larger roasters that they hope to make available in 2021. And, of course, they tell us that they'll continue to create educational resources and videos to support all of their products. 
 Are you starting to see why we've selected Coffee Crafters as our newest CoffeeTec Vendor Marketplace partner? Read on for more good news.
The Good News Keeps Coming
Ready to purchase a Coffee Crafters Artisan 3-e or Artisan X-e fluid bed roaster? You couldn't ask for a more supportive team to help you get started. When we partner with vendors, we take very seriously that they've trusted us to become one of their sales distributors. We learn everything we can about their products so that we can keep offering our customers the same education and guidance we pride ourselves on when making these important equipment decisions. If we can't answer a question, we'll consult with Coffee Crafters directly to get it answered.
The advantages don't stop there. When you purchase a product from one of CoffeeTec's vendor partners like Coffee Crafters, you also receive the below benefits:
We Can Help You Afford It
And don't forget about our incredible Roaster's Choice Lending Program that lets the nation's top lenders compete for your business with their best financing offers. We just made the prospect of owning a Coffee Crafters roaster even more affordable!
Join the CoffeeTec Community
Of course, no matter what you purchase from CoffeeTec, whether it's one of our 3,000+ products in our online store, or you invest in our consulting services, you automatically become a part of our CoffeeTec Community, where you're kept in the loop on our specials, deals, informative blogs, and more. 
Have questions? Feel free to explore our FAQs or contact us. Let's help you build the coffee roastery of your dreams!