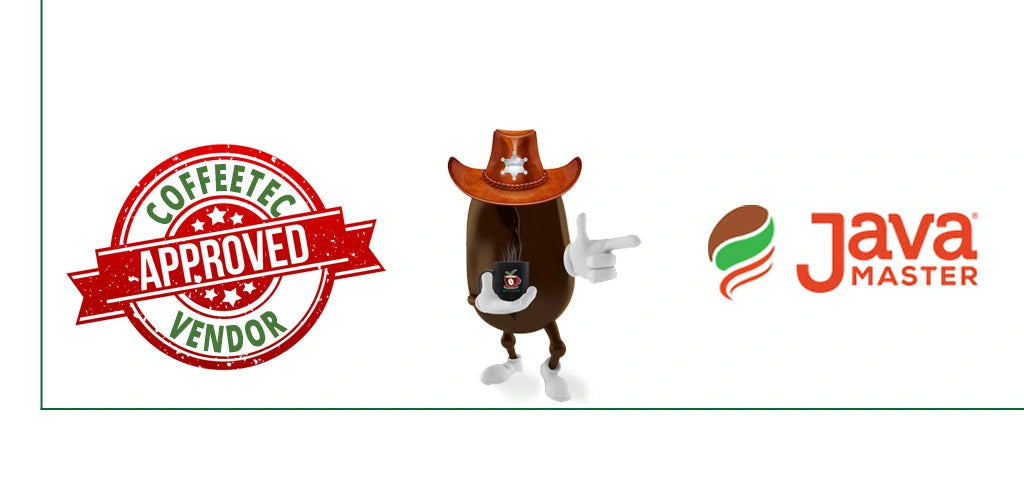 CoffeeTec Product Spotlight - Java Master

Java Master
 Joins CoffeeTec Vendor Marketplace:
These Compact Air-Roasting Coffee Roasters Offer
Better Business For You, Better Coffee For Your Customers
Our month has been made!
Java Master International LLC (Java Master)
has set up their own virtual vending stall in the
CoffeeTec Vendor Marketplace
, and we couldn't be happier. 
Java Master
 offers a line of compact, 

f

luid bed (constant motion), electric heat, 

air roasters that helps roasteries and retail clients raise the coffee bar with on-demand, on-site custom roasting. Java Master
 is also unique in that it provides a
green bean program
featuring premium green beans from some of the world's most fertile, productive soils. And, it also manages a
consignment and partner program
that includes installation and ongoing support, plus private label and co-branding opportunities.
With their well thought-out products and services, this addition to our roster continues our commitment to offer you
interesting, quality, affordable coffee roasting products
made by manufacturing innovators just like Java Master
.
Who Is Java Master
?
More than 30 years ago, Java Master's founder asked himself, "Why settle for less than the best coffee around?" From that one simple question, he developed a revolutionary retail system for preparing superb, truly fresh-roasted coffee. 
The idea was to offer in-store roasting opportunities for retailers, delivering a differentiating experience for shoppers, and an unmatched level of coffee freshness — especially given the fact that coffee is best enjoyed between 4-14 days from being roasted. 
As you probably know, the majority of coffee sold in the US has been either in transit or on the shelf for 30+ days, resulting in stale coffee. Java Master closes that freshness gap by providing coffee shops, stores, cafe's, and roasteries with fully automated, on-site roasters that provide fresh, quality coffee.
Java Master is based in Wixom, MI, just 20 miles northwest of Detroit. True to the legacy of the many manufacturing plants of the area, Java Master roasters are made right here in the USA and are built to last!
Java Master
 Roaster
The Java Master roaster is compact and fully automated, featuring a proven, hot-air process that roasts green coffee beans to absolute perfection. Here's what we love about the Java Master roaster:
AIR-ROASTING HEAT:

Uses a patented and trademarked fluid-bed (constant motion), electric heat technology that not only produces great-tasting coffee but also removes the bean husks and chaff as the beans roast — resulting in an exceptionally clean, fresh taste.

ELECTRIC POWER:

It's electrically powered, making it easier to install, safer to operate than gas-powered models. Loaded with operational efficiency.

SMALL FOOTPRINT:

At only 17"w x 25"d x 70"h, this little roaster fits just about anywhere.

SPEED TO SHELF:

You can roast 1-5 lb batches of coffee on-site, in less than 10 minutes. The end results: Great coffee, high margins, and quick ROI.

TESTED AND CERTIFIED:

The Java Master

 

roaster has been tested and certified to ensure the safest standards. It is ETL, UL, CE, and CSA-certified. 
Also, the Java Master roaster's design is sleek and sophisticated. We're obsessed with the color options:
Java Master
 Green Beans
Java Master knows that freshly roasted green beans make better coffee — and better business sense too. Java Master can help you set up a distinctive coffee bean program with ethically sourced green beans from around the world. 
From Africa and Indonesia to South and Central America, Java Master coffee grows in some of the world's most fertile, productive soils. Whatever their origin, each Java Master bean matures amid a near-perfect balance of elevation, volcanic earth, moisture, sun and shade. That helps explain the full-flavored profile of all Java Master coffees.
Java Master allows you to join their green bean program to offset upfront costs for a Java Master roaster. 
Java Master
 Consignment & Partner Program
Java Master has a low upfront investment, is sustainable and has a proven, profitable revenue stream. A small‐footprint and small‐batch delivery program makes delivering your freshness guarantee possible.
Installation to ongoing support
Dedicated support / track record of long‐term client relationships

Store layout and installation experience and guidance

Staff training and education including custom roasting profiles
A competitive edge
Trendsetting concept with authentic freshness and quality

Merchandising and marketing consultation

Private label and co‐brand opportunities
Ready to Purchase? You've Got Options!
Ready to add a Java Master roaster and beans to your roasting line-up? Review the below collection of Java Master products for details. 
You couldn't ask for a more supportive team to help you get started. When we partner with vendors, we become a sales distributor and educate ourselves to answer your questions. If we can't answer a question, we'll consult with Java Master to get it answered.
CoffeeTec's Gift To You
When you purchase a product from one of CoffeeTec's vendor partners like Java Master, you also receive the below benefits — our gift to you:
We Can Help You Afford It
And don't forget about our incredible Roaster's Choice Lending Program that lets the nation's top lenders compete for your business with their best financing offers. We just made the prospect of owning a Java Master even more affordable!
Join the CoffeeTec Community
Of course, no matter what you purchase from CoffeeTec, whether it's one of our 3,000+ products in our online store, or you invest in our consulting services, you automatically become a part of our CoffeeTec Community, where you're kept in the loop on our specials, deals, informative blogs, and more. 
Have questions? Feel free to explore our FAQs or contact us. Let's help you build the coffee roastery of your dreams!