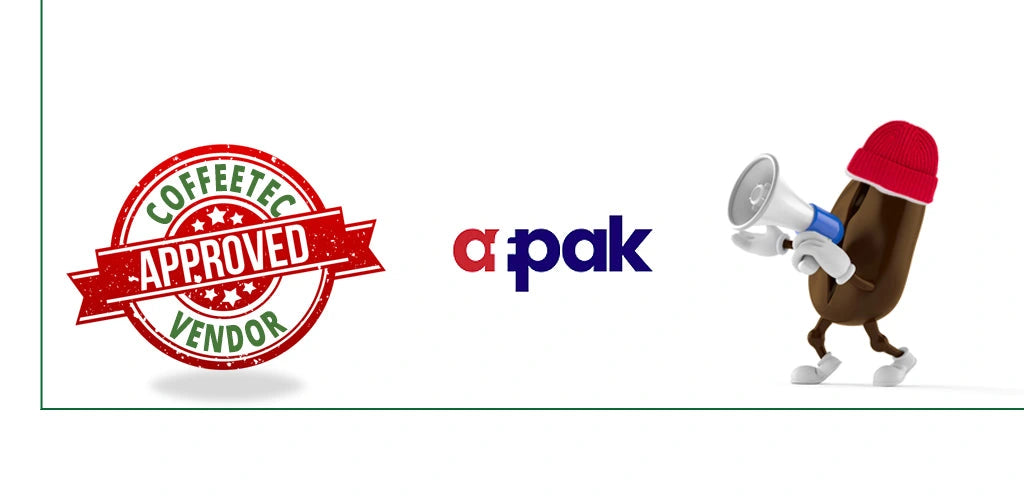 CoffeeTec Product Spotlight - AFPAK K-Cup Machines
AFPAK Joins CoffeeTec Vendor Marketplace:
K-Cup and Capsule Packaging with State-of-the-Art
Automated Filling and Sealing Technology
We've got exciting news! AFPAK has joined the CoffeeTec Vendor Marketplace. CoffeeTec is now the exclusive U.S. retailer of AFPAK equipment, and we can't wait to supply this top-of-the-line machinery to coffee businesses of all sizes.       
When you choose AFPAK, you choose a reliable, comprehensive one-stop shop for filling and sealing coffee pods. Currently, one of the best K-cup and capsule packaging machines available, AFPAK's equipment is sure to make a big impact on your business.
If you're in the market for automated rotary filling machines that step up your coffee capsule packing process with a friendly user interface via a touch screen, then AFPAK has you covered! Since its establishment 10 years ago, AFPAK has satisfied hundreds of coffee companies globally with customized coffee capsule packaging solutions. Additional components can be integrated into the device to tailor the machinery to your unique needs. Get ready to personalize your packaging process.
Coffee Capsule Packing and Sealing Equipment You Can Rely On
We're looking forward to hosting AFPAK's diverse and dependable line of products, including the:
AF-RN1S: AFPAK's Most Popular

AF-H1: Entry-Level Economy

AF-RN120: Dual-Lane Output

AF-H2/H4/H6/H8: Ultimate High-Capacity Solution
Read on for details about how AFPAK equipment streamlines coffee capsule packaging and why we're excited to be the exclusive U.S. retailers. 
AF-RN1S: AFPAK's Most Popular
Turnkey coffee capsule filling, sealing, and packaging made possible with the AFPAK AF-RN1S. This machine produces 50 to 70 cups per minute and allows fast changeover of pod type, making it a good solution for moderately high volume coffee capsule sellers.
This is an automated rotary filling and sealing machine, so little effort is required to use and maintain it.   
This choice is perfect for start-ups looking to jump right into quality coffee capsule manufacturing with reliable, easy-to-use equipment. Key features include:
Single working lane

50 to 70 cups per minute

Rotary type 

Motor drive   

AF-H1: Entry-Level Economy
For an economical choice without sacrificing quality, the AFPAK AF-H1 is an excellent option. Specially designed to process Nespresso capsules, this machine can also process K-cups, Lavazza, and Dolce Gusto. Paper, plastic, or aluminum film can be used for sealing, so you can get the right look and feel for the unique products you sell.  
Processing 30 to 50 capsules per minute, the AF-H1 is an entry-level setup great for those just starting to manufacture coffee pods, capsules, or k-cups. Food-grade stainless steel is guaranteed on all parts of the machinery that directly touch powder.  
AFPAK units are equipped with state-of-the-art HMI control technology, and the AF-H1 is no exception. The built-in touchscreen offers user-friendly guidance making the equipment easy to learn and program.
AF-RN120: Dual-Lane Output
If the AF-RN1S doesn't support the volume per minute your coffee capsule business needs, then the AF-RN120 takes the spotlight. 
This setup can produce 100 - 120 cups per minute on its dual working lane setup. Equipped with all the features that make AFPAK equipment so dependable, this unit type auto-sorts and feeds capsules, moving along the process with a highly accurate motor drive. 
Patented and CE certified, the AF-RN120, like its counterparts, is dependable, meaning performance issues won't get in the way. Key features include:
Dual working lane 

100 to 120 cups per minute

Rotary type

Motor drive
AF-H2/H4/H6/H8: Ultimate High-Capacity Solution
Large production needs are best satisfied with this AFPAK selection. Each lane produces 40 to 50 cups per minute, and up to eight lanes can be equipped. Two, four, six, and eight-lane options make it possible to produce up to 400 cups per minute when all lanes are equipped. The servo motor means smooth operating. The built-in sensors help the machinery intelligently decide what to do in the presence or absence of loaded supplies, including cups, lids, and coffee. 
This machine is the ultimate high-capacity solution to filling, sealing, and packing capsules with nitrogen gas. High volume and highly reliable, this customized AFPAK option is ideal for large-production coffee capsule manufacturing businesses.
Options to Make AFPAK Equipment Even More Turnkey!
Currently, the above four accessories can be optionally added to AFPAK machinery:
Screw feeder

Flavoring dosing system

Date printer

Inline weighing system
The screw feeder helps meter tea and similar granules. A flavor dosing system makes custom flavor manufacturing easier. The date printer streamlines the labeling process, and the inline weighting system detects each capsule's weight, removing faulty coffee capsules.
Ready to Purchase? You've Got Options!
Ready to add a coffee capsule filling, sealing and packing machine to your setup? Rotary machines for coffee capsules are becoming a big deal. Upgrade your set-up today to be on the forefront of efficiency and quality in the capsule industry.  
You couldn't ask for a more supportive team to help you get started. When we partner with vendors, we become a sales distributor and educate ourselves to answer your questions. If we can't answer a question, we'll consult with AFPAK to get it answered.
We Can Help You Afford It
And don't forget about our incredible Roaster's Choice Lending Program that lets the nation's top lenders compete for your business with their best financing offers. We just made the prospect of owning an AFPAK machine even more affordable!
Join the CoffeeTec Community
Of course, no matter what you purchase from CoffeeTec, whether it's one of our 3,000+ products in our online store, or you invest in our consulting services, you automatically become a part of our CoffeeTec Community, where you're kept in the loop on our specials, deals, informative blogs, and more. 
Have questions? Feel free to explore our FAQs or contact us. Let's help you build the coffee roastery of your dreams!