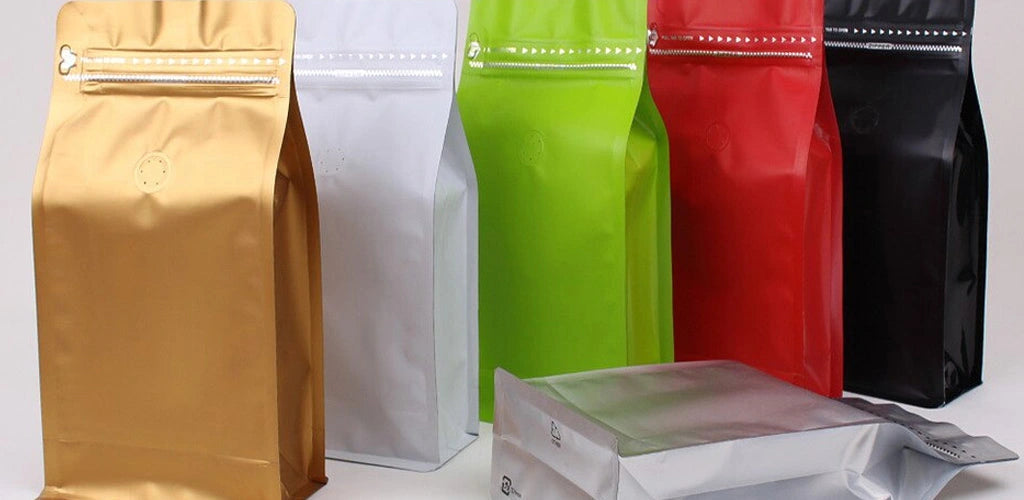 The Heat Is On: Let's Talk About Sealers, Baby!
So, here we are with another monthly blog installment about the big, wonderful, sexy world of coffee roasting and equipment — so naturally, this leads us straight to sealers, right? 
After all, we've lavished editorial attention on those
ravishing
roasters
, the pixie
powerhouses
that are coffee meters and readers, the dutiful
destoners
, and helpful
hoppers
— we mean, sexy sealers are bound to crop up.
It was only a matter of time, people. Only. A matter. Of time.
One definition of sexy is "exciting, appealing." Well, we think it's pretty exciting and appealing to seal up those bags of beans in a way that protects our precious product and prevents the bags from being tampered with. 
And, as you might suspect, like other parts of the coffee roasting process, there's not just one easy solution, and it can quickly feel overwhelming. To put a positive spin on it, you've got choices — and those choices are tied in part to the style, material, and width of coffee packaging you select, but that's another article. (Note to self: Write an article about coffee packaging.)
Whether you're just starting your coffee production and looking for a basic, affordable unit that you operate manually, or you're looking for faster production volumes with the option to print on the bag, there are many options available, including some very cool automation tricks and designs.
Let's explore.
Vacuum vs. Heat Sealing
For the purposes of this article, we'll primarily focus on heat sealers but it's worth noting that there are two main ways to seal something — either by heat or vacuum. 
Vacuum sealers remove the oxygen from your coffee packaging first before sealing into an impermeable package. Vacuum sealing does help prevent oxidation, spoilage, or corrosion, but vacuum sealers aren't optimal for the popular polypropylene (PP) or polyethylene (PE) coffee bags' shelf life. Instead, barrier bags are used because PP and PE bags are both porous and can't be used for long-term storage.
Yes, we've all probably used a FoodSaver vacuum sealer at one time or another to seal small bags of coffee for ourselves or to share with friends, but for larger-scale packaging (and that really is you, even if you're a small roastery start-up), a heat sealer is the way to go.
So, we're dedicating this article to the two different flavors of heat sealers: Direct (Constant) and Impulse. We'll also look at different types of heat sealers based on factors like size, speed, and other considerations. 
But don't worry. We'll type slowly, and we'll throw in some nifty graphics and bullet points to make it all easier to understand in a way that will get your seal of approval. (See what we did there?) We mean, we'll present it all in a way that helps seal the deal. (Sorry, we'll stop now.) 
Impulse Sealers
What It Is
Impulse sealers only use power when the sealer's jaw is lowered. These sealers require no warm-up time and seal by applying a pulse of energy to the sealing area, followed immediately by cooling. This cool-down period allows the molten plastic in the seal area to cool and reset under pressure, providing consistent maximum seal properties. The bond that is created produces a strong seal with an excellent visual appearance.
Considerations
Easy to use (no warm-up time)

Economical and more environmentally friendly (electricity used only during the sealing process)

Great for smaller producers on a budget

Safe (no component is always hot)
Recommended Materials
We recommend an impulse sealer for any thermoplastic material that requires a lower seal temperature:
Polyethylene (PE) and polypropylene (PP)

Saran and nylon

Bubble packs and padded mailers

Foil and coated bags

Mylar and Tyvek
Direct (Constant) Heat Sealers
What It Is
Direct sealers maintain constant heat in both of the unit's jaws and use power as long as the machine is turned on. As a result, direct heat sealers possess better heat penetration to seal thicker materials.
Considerations
You need to build warm-up time into the production process

More expensive and less environmentally friendly (electricity constantly required)

Sealer widths tend to be wider than impulse sealers

Great for producers who are scaling up operations

More safety precautions are needed since the sealer is always hot
Recommended Materials
We recommend an impulse sealer for any thermoplastic material that requires a lower seal temperature:
Coated aluminum foil

Poly cello film bags

Gusseted bags

*

Coated Kraft papers and waxed paper

Cellophane and Mylar

Coated polypropylene (PP) bags and other thicker materials
*A note about gusseted bags: A single element sealer like a typical hand impulse sealer can't properly seal through all four layers of the gusseted bag. So, don't use a hand, foot, or automatic sealer — not even a 5mm sealer. That's why we recommend a direct heat sealer.
Both direct heat and impulse sealers come in different designs, depending on the size of the bag, the volume you're working with, and the usage.
6 Types of Sealers
A Note About K-Cup Sealers
It's hard to write about coffee sealing options without mentioning K-cup sealers. Just as with the more traditional, larger-scale sealers, there are different types for different needs. These range from manual tabletop sealers, to combination fillers/sealers, semi-automatic sealers, larger automatic sealers, rotary fillers/sealers, and more. A number of designs also offer a nitrogen flushing option. 
Browse our K-cup filler and sealer selection here. And for fun, here's a short video to show the K-cup sealer in the photo to the left in action (complete with groovy disco music!)
So, How The Heck Do I Choose The Best Sealer?
4 Questions to Choose the Best Sealer
We told you there's a lot to consider! Start mapping out your choices by asking yourself these four questions: 
Coffee Bag Sealer Guide
We said we'll write another article all about coffee packaging (and we will), but until then here's a handy guide that helps steer you in the right direction based on the type of bag you're using — whether it's a side-gusseted, quad seal, stand-up, or pillow pack pouch bag.
"We're With The Band": Why Band Sealers Are Cool
If you've chosen a band sealer due to production needs, then this option also comes with the option to print directly onto your bag, which can be super cool. Because if you're producing enough volume to merit having a band sealer, then it's more likely that your coffee is being consumed by a wider audience. And a wider audience means you'll want to use your bags to market your company name or logo, and helpful information like best by or expiration dates, or lot codes. 
And once again, you've got choices: embossing or dry ink coding. The below chart helps you decide:
Embossing vs. Dry Ink Coding
Need Help Choosing? 
Still need help choosing the best sealer option for you? We're here to help. If you already have your coffee bags, just fill out this form and let us know in the message section what kind you have (style and material) and that'll help us get a jump start on pointing you in the right direction. Until then, you can start by looking around the sealer inventory in our online store. 
Have Additional Questions?
We're here for you and would love to help you make the best purchasing and design or layout decisions for your coffee roastery's operations. No matter where you are in your coffee journey, we want to see you succeed. Check out our consulting and education services. Perhaps you're interested in financing or are considering the option and benefits of buying used. We've got you covered for both. Finally, feel free to explore our FAQs, and if you still don't have answers to your questions, contact us. Let's help you build the coffee roastery of your dreams!