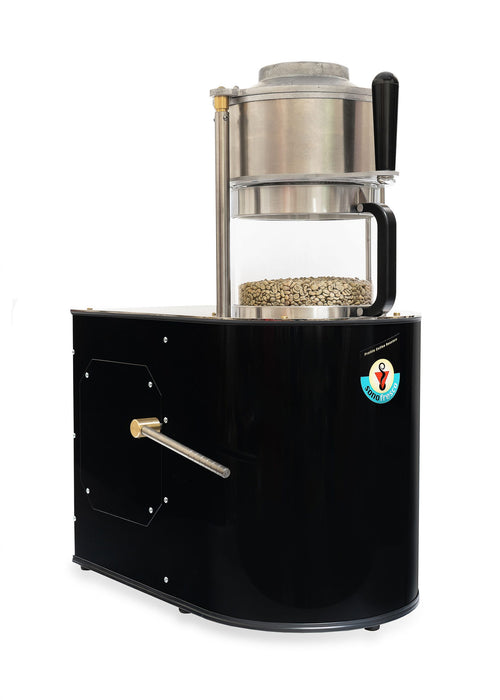 2 lb. Sonofresco Profile Roaster with Advanced Definition Roasting (ADR) Software - New
Save

Liquid error (snippets/product-badge line 32): Computation results in '-Infinity'

%
SONOFRESCO / PROFILE ROASTER with Advanced Definition Roasting (ADR) Software
Talk about the sweetest operation for roasting small batch coffee ever! Check out these "live motion" air roasting coffee machines from Sonofresco. Boasting running on automation software, these fluid-bed machines are amazingly simple to operate, consistent in roasting, and even programmable for your own custom roast profile. 
A new feature if you are roasting at 4500 ft or higher - additional venting on the roaster body to improve air flow.
SEE SONOFRESCO IN ACTION ROASTING 2 POUNDS OF COFFEE IN 8 MINUTES:
CONTACT ME IN SALES DIRECT @ 650-569-0011 to find out more.
Whether you run a commercial operation, retail shop, or home-based coffee business, or simply starting a hobby, Sonofresco offers reliable, commercial-grade products that produce consistently fresh roasted coffee for the beginner to the seasoned professional. The tools to create exclusive flavor profiles in batches as small as 1/4 lb. or produce up to 55 lbs. of retail-ready coffee in an 8-hour period.
There is no limit to how far your retail or home-based coffee business can go when you have the power to roast every batch of beans to perfection. In addition to the great look and small footprint of our roasters, you can enjoy the upgrade in your business's ambiance when you bring the roasting in-house.
Sonofresco includes a 1-year manufacturer warranty.
ROASTING:
Measure in the blend desired
Select the color
Press Start Button
Walk away It will shut off when finished.
The Two Pound Sonofresco Coffee Roaster is our workhorse, producing up to 55 lbs of roasted coffee per 8-hour day.  With twice the roasting capacity of the one-pound roaster, you can double your productivity without doubling your price. 
FEATURES:
Gas or Propane
Option of extra venting on your roaster for high altitude over 4500 ft 
120 V / 60 Hz, 3 amp or 230 V / 50 Hz, 1.5 amp
3 batches/hr at 2.4lbs/batch
Dims: 13.8" X 20.5" X 30"
Net weight 75 lb
3 Color Options: Black, Red Polyester Powder or Stainless Steel
Click on the link to order 
Hoods, Vent Kit or Extra Roasting Chambers

About ADR (Advanced Definition Roasting)
Sonofresco Roasters includes ADR Software that enables you to get the perfect roast. Bluetooth compatible Profile controlled - built-in programmable chip so that each milestone on the control profile can be moved up or down or to the right or the left. Even the speed of the ramp changes - it's all able to be programmed into the chip by the actual operator.
You can also run the roaster with your PC with the roaster running right next to it so you can see live responses in the profile curve and make permanent adjustments. You can make the program as custom as you want to make it.
Anytime you want to watch what's going on, you turn on your computer and it will follow and track your roaster. When you have done all your work, you can download 6 preset programs into the physical programmer on the roaster. Once the program is complete, the program switches to cooling and you no longer have any options because cooling is not controllable.
Extra Steps to Using the ADR Software with a Sonofresco Roaster: Download software from CD and select license. Use the ADR software to design your own custom profiles by click and drag the profile points. Store unlimited roast profiles on your computer. Wirelessly download up to 6 selected roast profiles to the 1-lb or 2-lb Sonofresco Coffee Roaster. (The Sonofresco Default Profile will always be stored on the Roaster.)

Select the roast profile and degree of roast setting on your Sonofresco Roaster control board prior to the start of each roast. Monitor the roast cycle on your computer. (See image above: the red line indicates the actual roast temperature and how closely the roaster followed your selected roast profile. The blue dot indicates the end of the roast and the start of cooling.)
The profile and trace along with notes about the coffee and roasting conditions can be saved and printed for future reference. The software package contains the Sonofresco Default profile used on all Sonofresco Roasters along with 2 slower/lighter profiles designed for low and high-density beans, and suitable for sample roasting.
Sonofresco Coffee Roaster maintains push-button simplicity with this exciting new software application. Roaster follows the selected profile, cut-off temperature, and automatically shuts down on completion. All 2014 Sonofresco roasters can specify either the ADR control package or the standard control. Upgrade ADR kits are available for all pre-2014 model roasters. (The kit includes a new control board, a new stainless steel temperature sensor, Bluetooth board, and software CD and license). View of ADR's Computer Screen.