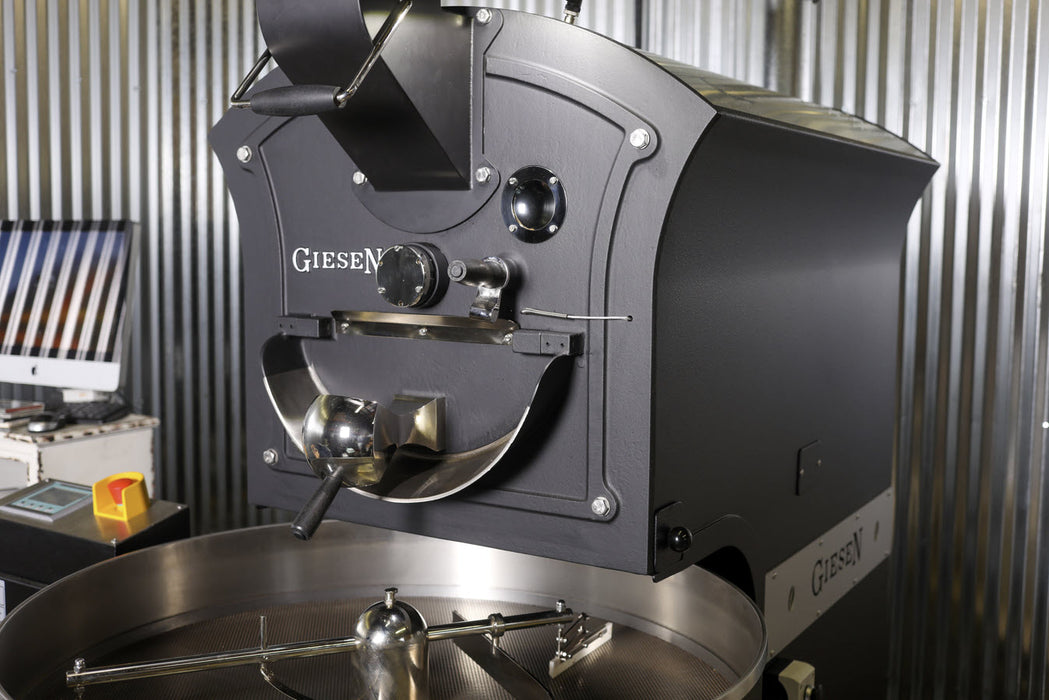 15 kilo Giesen W15A - 2016 Model - Excellent Condition - Used
Sorry, this item is sold out. But we're here to help! We may have other equipment that isn't on the site yet, so let us know what you need and we'll help you find it.
Contact us
, USA 800-999-1600, International +1-650-556-1333
15 kilo Giesen W15A Roaster
Ran 7 months total!
NOW WAITING!
In the USA, READY TO SHIP RIGHT NOW!
Here's that highly sought after W15A kilo Giesen roaster, brought to you by CoffeeTec! As we say with our other Giesens - A serious machine for serious coffee roasters.
The Giesen W15A Coffee Roaster is versatile and flexible, with a production capacity from 500 gr. up to 15 kg. Roast and cool at the same time to increase your production capacity. With our W15A you can roast 60 kg. per hour, which is an entire bag of coffee.
And, Giesen's are super solid machines, boasting that ever popular massive front cast iron cap that supports heat retention during use yielding a consistent, continual roast.

This one sat for 1 1/2 years after purchasing brand new from Giesen. Ran only 7 months total after once commissioning. Run history: once a week, 2 roasts each run - not full loads. Been shut down since early 2020. So, do that math: 7 months = 28 weeks, 2 roasts x 28 = 56 estimated total roasts!!! Geez guys, this beauty hasn't even been broken in!!!
This incredible one-time owner machine is located in the Northwestern USA. Master Roaster is unfortunately having to give it up due to shutting down his shop.
This Giesen W15A has been meticulously maintained according to manufacturer schedule, and always kept clean. Just look at the pictures! You could eat off this sweetheart!
There is also 20' of double-walled stainless steel ducting included. Chaff is collected in bottom chamber of machine. No separate cyclone.
Ducting: Selkirk 10" x 36" length; Norfab Galvanized 5 3/4" x 59" length - 2 ea.; 5 3/4" x 12" - 1 ea.; 45 degree elbow 5 3/4" - 2 ea.
And, there's a Giesen supplied laptop computer that comes along with it. :)
Roaster includes:

Gas gauge and manual valve
Dual temperature probes (thermocouples)
Giesen Automated Roast Profile System
Cropster access plug and play integration
Runs on Natural Gas, also comes with propane option
Variable drum speed
Variable fan speed
Variable gas control by using the manual or automated digital control.
EASY TO CONTROL - The W15A is known to be an accurate and easy to control coffee roaster.


CAPACITY - With our W15A you can roast from 500 gr. up to 15 kg per batch. Increase your production and roast up to 60kg. per hour.


DOUBLE-WALLED ROASTING DRUM - Made of high quality cast iron and steel. Retains and distributes heat evenly and consistently. This model is perfect for a middle large roastery. The Giesen W15A coffee roaster has a capacity of 500 gr. up to 15 kg per batch. Like all Giesen Coffee Roasters, there is the possibility to roast and cool at the same time.


ROAST NON STOP - The W15A is known to be a very accurately controllable coffee roaster. Because of this, it is still very suitable for larger batches of specialty coffee. With the fast cooling motor, it is possible to quickly cool your roasted coffee beans. This decreases the total production time.
CONTACT US IN DIRECT SALES @ 650-569-0011 to discuss getting this to your roastery!
All roasters are sold as-is. Crating and Shipping not included in the listed price.
 QUICK VIEW:
| | |
| --- | --- |
| CONDITION: | Excellent, only 700 lbs. total coffee through it |
| LOCATION: | Northwest, USA |
| YEAR BUILT: | 2016 |
| LAST USED: | Sept. 2021 |
| LAST SERVICE: | Sept. 2021 |
| ORIGINAL MANUALS: | Included |
| HEAT: | Natural Gas, comes with option for Propane |
| POWER:  | 220v / 60Hz |
| PROBES: | 2 - BT, ET, and has integrated USB data port |
| ROASTER DIMENSIONS | 210x100x200 cm; 720 KG |
| INCLUDED EQUIPMENT: | Separate software automation console, laptop computer, ducting |
| BATCH SIZE: | Up to 15 kilos / 33 lbs. per batch |
With complete devotion, we aim to produce the best coffee roasters in the highest quality segment for coffeeshops, roasteries and industrial purposes. The Giesen team takes craftsmanship to the next level!
Giesen Coffee Roasters is a Dutch family business that started more than 30 years ago as a metal ware company. In 2006 that all changed when the Giesen family directed the company towards the production of high quality coffee roasters. And so began the Giesen Coffee Roasters story.
With complete devotion, we aim to produce the best coffee roasters in the highest quality segment for shops, roasteries and industrial purposes. As a result our team takes craftsmanship to the next level. We have years of experience and still we keep focusing on developments in the industry and keeping up with new technology. Innovation is not just a word at Giesen, it's a company goal that is lived by everyone, working on every coffee roaster that is made at Giesen.
Over time barista and coffee roasting champions used Giesen coffee roasters and where thrilled about the way Giesen implements new technology and adds more options to the coffee roasters on their request or even before they can request this. We are proud to implement new technology that gives you the chance to roast beans
with more control than any other coffee roaster.