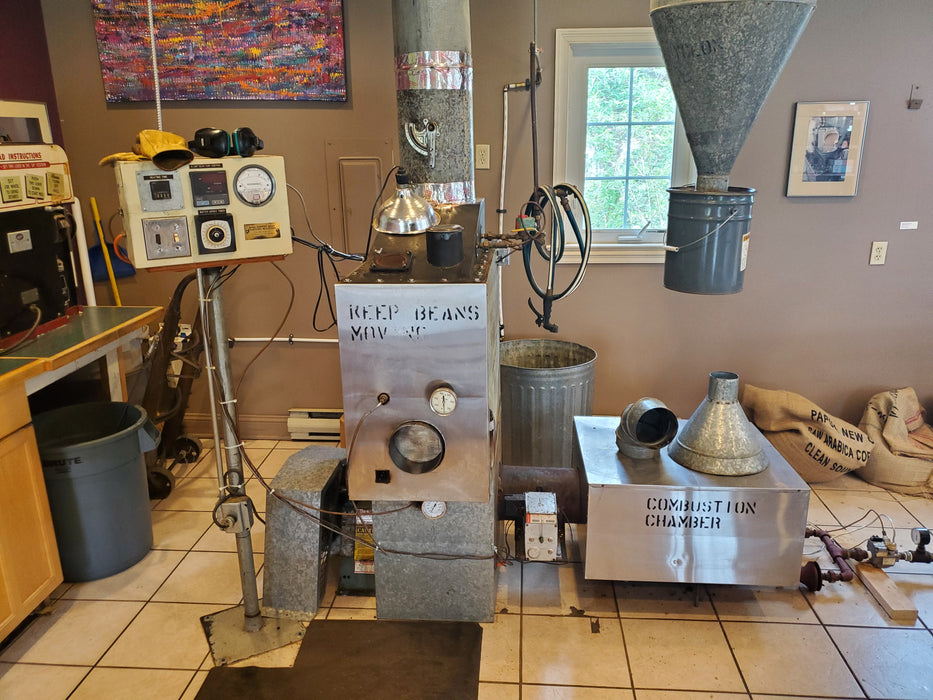 15 kilo: Sivetz 1/4 Bag Roaster System - Runs Perfectly - Used
Sold out
Original price
$26,500.00
Sorry, this item is sold out. But we're here to help! We may have other equipment that isn't on the site yet, so let us know what you need and we'll help you find it.
Contact us
, USA 800-999-1600, International +1-650-556-1333
Calling All Sivetz Roasters!
Another Set Up by Mike Sivetz!
15 KILO: (1/4 BAG) SIVETZ ROASTING SYSTEM
Here's another perfectly running used Sivetz roaster, originally set up by Mike Sivetz. This one is the 15 kilo batch model, or "1/4 bag".
It's in solid condition and still roasting today. Current owner purchased it new in 1990 for their small coffee roasting business and has perfectly maintained it over the years in its "light" use. The time has come for the owner to call it good after enjoying a solid business run in the coffee industry.
Straight forward, fluid-bed roasting. No automation, no data logging. Has 1 thermocouple for bean temp. Has original manuals and tech data. The original controller went out years ago and was replaced with the new digital style from Sivetz.
If you know a Sivetz, they may not be the prettiest roaster in town, but they run forever and pump out beautiful, air-roasted coffee like no other!
Bottom line: Great machine for fans of Sivetz technology.  Realistically priced for a solid sale.
The equipment is ready to be crated up and shipped to your door!
QUICK VIEW:
| | |
| --- | --- |
| CONDITION: | Very Good. Still running today! |
| LOCATION: | Eastern USA |
| YEAR BUILT: | 1990 |
| LAST USED: | Still in use |
| LAST SERVICE: | Weekly |
| ORIGINAL MANUALS: | Included! |
| BURNER FUEL: | Natural Gas |
| POWER: | 220 Volt |
| INCLUDED EQUIPMENT: | 40' double-walled stainless steel ducting and stacks. Clip together. 4' sections. |
| BATCH ROAST: | Green Coffee: 15k / 33 lbs. per batch, (1/4 bag) |
| CAPACITY: | Hourly capacity is approximately 100+ lbs. (3 batch runs an hour) |
THE ORIGINAL FLUID AIR BED ROASTER
THE MOST EFFICIENT, PRECISE, AND REPEATABLE WAY TO ROAST BEANS
The Workhorse 
Originally patented in 1976, the 1/4 Bag Fluid Air Bed Roaster from Sivetz was the first air roaster to challenge the dominance of the drum roasters. Michael Sivetz was the inventor and genius behind the design, and his background as a chemical engineer combined with unparalleled knowledge of the coffee bean blazed a new trail for the coffee roasting world.
With hundreds of machines sold since the 1970s and still operating all over the world, the Sivetz legacy lives on. They are reliable workhorses that produce consistent, uniform, and full developed roasts with shorter roast times and very little downtime for maintenance or repairs. The ever-elusive win-win!
Go to www.sivetz.com to learn more.