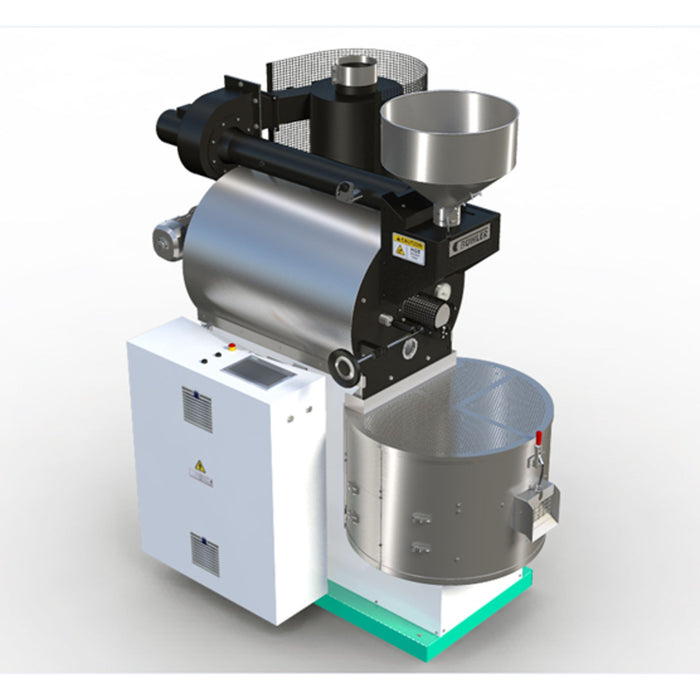 20 kilo Variable Profile Roaster from Buhler
Save

Liquid error (snippets/product-badge line 32): Computation results in 'NaN' (Not a Number)

%
Request a Quote
Request a Quote
Innovative Quality Variable Profile Roaster from Buhler
This roaster offers exactly what customers need to produce top-quality coffee. An innovative and easy-to-use PLC control system ensures constant quality during production but also retains the ability to influence the processing when necessary. Optimized parameters can be saved in the machine's memory and re-used.
The machine is made of stainless steel and other high-quality materials which provide superior hygiene and make cleaning easy. This roaster proves that durability and a modern design can be combined. 
Plug and Play
The roaster becomes a plug-and-play machine by the combination of separate cooling and heating fans which allow to roast and cool at the same time with the included cyclone. Hot air is the best choice to ensure a uniform roast, because of the homogenous heat transfer.
Two-Step Burner
The variable drum speed of the roasting chamber and the two-step burner always deliver the best conditions for the product no matter if the beans are heavy and small at the beginning of the process or if they have already become lighter towards the end of the roast.
Can You Say Helicoidal?
The helicoidal blades powered by a variable drum speed drive offer a perfect blending and an optimal heat exchange at any time of the process. Moreover, the ergonomically designed roaster provides maximum safety.
This roaster was designed to provide small and medium-sized companies with a flexible high-quality solution.
The sophisticated design of the roasting machine plus modern process technology ensures a high-quality coffee product that is uniformly roasted from the surface to the core of every single coffee bean.
The coffee and the hot air temperature, as well as the roasting time per batch, is permanently monitored via the touch screen. The machines' design features and insulating materials reduce inertia and heat loss to a minimum, which impacts positively on working environments and fuel consumption.
Features
Automatic and easy-to-use PLC control system with integrated touch panel, parameter memory, temperature trend, and safety features.
208 60 Hz single phase with built-in VFD for 3 phase motors
Indirect, convective hot-air system for uniform roasting.
Full range heat control - burner modulates between 130,000 BTU all the way down to a mere 20,000 BTU
Variable drum speeds offer optimal heat transfer and product quality.
Functional and attractive machine design made of high-quality material.
State-of-the-art technology and a PLC control system offer user-friendly and efficient coffee roasting. A wide variety of green coffee characteristics and blends can be processed into high-class coffee products.
A user-friendly automation-panel allows perfect control over various process parameters.
UL listed and made right here in Minneapolis.
Gas Consumption: Rated at Maximum - Up to 150,000 BTU (44 kW/Hr) operates best between 75 - 80,000 BTU
Standard Color-see web photo
These New Model Features are Now Available
Redesigned control panel allowing the entire machine to fit through a standard doorway.
New Low Nox super-quiet burner for quieter operation and greater profile control.
The profile screen now has10 adjustable set points as well as variable speed control of the airflow which will also track visibly on your profile screen.
Optional Features:
Pneumatic feeder
Pneumatic destoner/discharge unit
Afterburner 
*Please contact Coffeetec +1 650-556-1333 to complete the purchase and confirm the price and shipping.
Video: Take a tour of a North American Showroom via the video below (Call for Appointment)