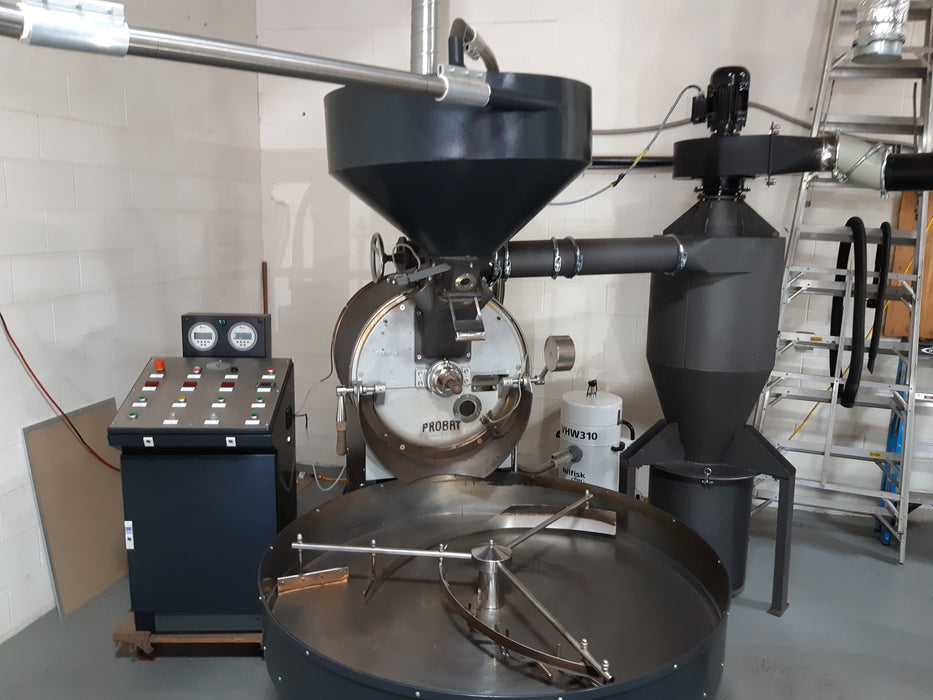 22 kilo Probat UG22 Retro Style (Kirsch & Mausser) 2014 - Excellent Condition - Used
Sorry, this item is sold out. But we're here to help! We may have other equipment that isn't on the site yet, so let us know what you need and we'll help you find it.
Contact us
, USA 800-999-1600, International +1-650-556-1333
A Retro Style Probat UG22
Ok. WoW! This is the retro style "new construction" 2014 Probat UG22 roaster made by the Probat group Kirsch & Mausser of Germany, (a fully owned subsidiary of Probat). This incredible, highly sought after Retro Style Probat is the one that has everything you always wanted that you wished you had on a new machine on the old style. Watch a video of this actual roaster and see more on the UG Series Roaster below.
It comes with control panel, chaff cyclone, green bean loader, and aftermarket upgrades that include:
Digital gas pressure read out (see pictures)
Digital air flow and vacuum pressure gauge (see pictures)
Afterburner toggle switch installed by Mary Curtis
Has 3 thermocouples and data logging capability. It also has a spare motor and fan blade.
Current owner bought it new in 2014 and has run it flawlessly over the last 5 years, averaging 4-5 days a week, 20 roasts a day. Heck, that's nothing for a Probat! It's just breaking in!
Never any roast or chaff collector fires, and maintained consistently, per batch, weekly, and monthly. 220 volt/3 phase and natural gas. This roaster is completely run by 4 direct drive motors - and operates very quietly, even quieter than the original. All the manuals come with the machine. Fully supportable.
This owner has 2 of these beauties and is selling this one, moving up to a higher batch machine to take its place.
This roaster is available now, ready to ship.
This is an incredible Probat Retro Design Roaster. These don't show up often!
CONTACT SALES DIRECT @ 650-569-0011 to find out more.
Watch It In Action!
DETAILS:
| | |
| --- | --- |
| CONDITION: | Excellent |
| LOCATION: | Southwestern U.S. |
| YEAR BUILT: | 2014 |
| LAST USED: | Currently roasting |
| LAST SERVICE: | July 2021 |
| ORIGINAL MANUALS: | Included |
| POWER: | Natural Gas |
| INCLUDED EQUIPMENT: | External Cyclone, Green Bean Loader, Spare Motor and Fan Blade |
| CAPACITY: | 48 lbs. p/batch, 4 batches p/hr. |
The UG Series Roaster
THE MACHINE FOR INDIVIDUALISTS

https://www.probat.com/en/products/shoproaster/produkte/roasters/ug-retro-series/
The roasters in the UG series brilliantly combine advanced technology with an attractive, retro design that takes you back to a different era of coffee roasting. Our UG15 and UG22 roasters are made by hand by our subsidiary KIRSCH + MAUSSER. They are seen by coffee roasters as machines for individualists who place special demands on their roasted products.
The roasters in the UG series cover roast capacities of 15 and 22 kg per batch. Each machine is made individually by hand on request, with extraordinary precision. With all UG  machines, the volume flow of the roasting air can be individually adjusted to the respective roasting phase by means of a converter on the roasting fan. In addition, the traditional "aroma wheel" offers the possibility of completely suppressing the volume flow in the drum.
Uniform mixing of coffee beans in the drum
Reproducible product quality
Large maintenance ports for simple cleaning
High-power fans
Precise airflow   
Intensive cooling
Independent drives for drum, stirrer, roasting fan and cooling fan
Extremely flexible and fully adjustable
Fully adjustable burner power
Greater power and flexibility for the roasting process
Advanced safety technology, including gas and flame supervision
Designed for natural or liquefied gas, depending on customer needs
Optional: manual control via touch panel
Temperature display shows details on roasting air inflow, product, roasting exhaust air
Graphic temperature display on the touch panel
Burner control:
 

Burner power selected manually or automatically from recipe
Automatic heater disconnection once required end temperature is reached
Automatic safety disconnection of the burner once limit temperature is reached
Can save recipes
For individual settings
Roaster fan above the cyclone ensures greater separation
Large silver skin collecting bin with rollers
Manual emergency water quenching available for collecting bin
Powerful discharge
Roaster fan with greater power
Frequency converter already in the basic version
Suitable for the discharge of an exhaust gas treatment
ABOUT PROBAT
Since 1868, PROBAT has stood for pioneering solutions in the processing of coffee. They have become the world market leader in machinery and systems for the coffee and food industry. They boast consistently high-quality coffee, best life-cycle costs and performance, and individual
Probat's vision expresses what we plan to achieve over the coming years: Everyone, who wants to learn about roasting and processing coffee, asks PROBAT first.