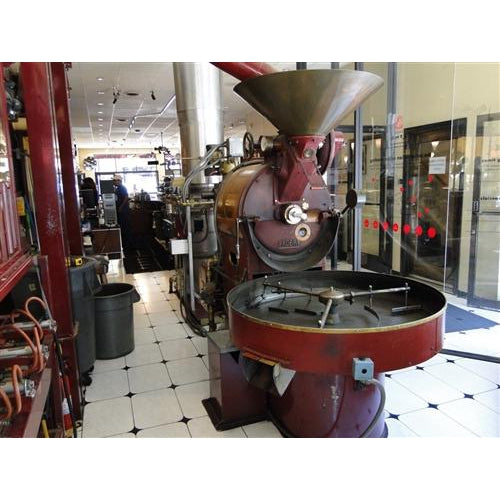 22 kilo: Rare Probat UG22 . . . All Original Mini Plant
Sorry, this item is sold out. But we're here to help! We may have other equipment that isn't on the site yet, so let us know what you need and we'll help you find it.
Contact us
, USA 800-999-1600, International +1-650-556-1333
RARE PROBAT UG22 . . . ALL ORIGINAL MINI PLANT Back in 1968, Probat built the last of the UG22 machines in Germany and the Burlingame, California Probat US Headquarters was able to get one of the factory originals shipped into that facility during 1989 and totally outfitted with US spec parts. They then built an attractive red and brass green and roasted silo system as a miniature example of a production plant. This was all custom made and installed for an Italian Family in San Francisco and of coarse, the machine and all the accessories had to be Red. Everything was installed in Single Phase electrical at 60 Hz power and everything was outfitted with American controls and components. Being in the City - the latest technology of Catalytic material was added to the afterburner and powered by the most heavy duty burner alive - Maxon. We all know that a UG22 in any condition is terribly rare . . . let alone having all these other attachments to make it more exciting. Includes: UG22 Probat Original is 48 " wide across re-movable cooler x 91" front to back and 79.5" tall. Single phase Electrical. 120,000 BTU Loading Leg and Dump Station - 34" x 24" and 88" to basement ceiling . . . with a movable sloping-top bag un-loading table 39.5" x 30.5" Green Elevator Leg footprint 42" x 28" off the wall, 140" to the ceiling plus the thickness of the floor and then it picks up again in the coffeehouse Roasted Elevator Leg - same as above - but without the loading hopper, as it is connected with a 6" tube. Green Silos (8 Sections 12" x 18" x 35" tall, holding 202+ pounds each) Frame is 100" x 26" x 101" tall with 22" on left side for motor operation and 17" on right for the conveyor belt discharge. Coffee Control Panel 24" x 24" x 56" with green coffee scale system built in and illuminated activity function lights on panel. Roasted Coffee Silos - same as green, but without the scale system. It has a work bench built in in order to roll a scale and bag under each silo outlet for easy bulk bag filling with whole bean. Roasted Coffee Leg is 14" x 7.5" with top discharge and is 124" tall plus distance of the floor plus the measurements in the basement. Remember, these legs can be cut to the proper length on re-install. Catalytic Afterburner is 60" x 30" x 88" the stack pipe sits on top of that. Remember, that Cat Afterburner can be mounted anywhere - it does not have to be right behind the roaster as in the photos. Both sitting together as shown is 164" total length with 29" in-between roaster and AB unit. 750,000 BTU Machinery must be removed by December. Remember all that Brass is real brass, and needs to be polished as the oxidation turns it ugly . . . and a day of good brass polish will make that machine shine fantastically. Talk to us, as we have been a part of this machine since day #1 to today. 650 556-1333 x3 for sales@coffeetec.com Every year, the machine has been gone through with deep cleaning by Probat tech people. The owners/operators only used this for light duty internal use and neighboring wholesale - just enough to give the retail romance of "lots" of coffee being manufactured. This was the showplace and tourist attraction. That translates into little use. The photos you see here are needing some brass polish, and a good external cleaning as it has been mostly untouched for the last 3 years. The photos may be a little confusing, as the green loading is all done in the basement, while the roasting is done on the main floor which is really narrow and long. But the image is certainly clear. So the measurements on the elevator legs is from floor to ceiling - so we should add 12" to the overall height of the elevator combined and the legs of the elevators can easily be cut to length as needed.
PLEASE CALL OR EMAIL FOR SHIPPING DETAILS