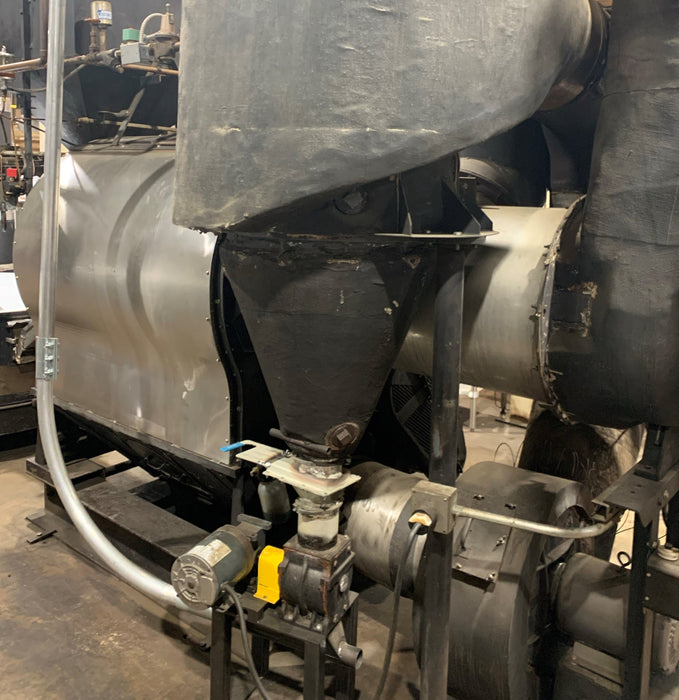 240 kilo Probat 23R ACO Roasting Plant - Complete Refurb in 2018
Sold out
Original price
$219,000.00
Current price
$110,000.00
Sorry, this item is sold out. But we're here to help! We may have other equipment that isn't on the site yet, so let us know what you need and we'll help you find it.
Contact us
, USA 800-999-1600, International +1-650-556-1333
Probat-Burns Acclaimed 23R ACO
Coffee Roasting Plant!
PRICE REDUCED TO MOVE!
Say HELLO To This Major Workhorse 4-Bag Coffee Roasting Plant! 
"A Classic Machine For Modern Roasters"
Y'all! These simply don't come around often! This is one of those "change your life" type machines... And we have it exclusively here at CoffeeTec - ready to ship to your roastery - tomorrow!
Take a hard look at this beast! It's a Probat-Burns model 23R "ACO" (Automatic Clean Out). This roaster's capacity is reported to be 200 to 540 lbs. (90 to 240 kg) @ 4-5 batches per hour (nominal). That's up to 2,500 lbs. (1,134 kg) per hour!  Serious roasting!
Read all about this model on Probat-Burns site. Click Here.
This machine has only ran 3 hours p/day for less than 3 years since put online after complete refurbish in 2018. Still breaking in, right???
This equipment set is currently decommissioned and disassembled sitting on pallets, ready for freight prep and shipping. Completely refurbished in 2018, It has been offline for about 9 months, crying to start roasting again!

Current owner had a change of business plans after purchasing 8 months ago - never installed. This was after experiencing it run multiple roasts at prior owner location (that had it refurb'd) with perfection in operation and roast output. Unfortunately they no longer need this additional 23R in their arsenal making it available to you.
VIEW THIS MACHINE IN ACTION:
It's In excellent condition, runs perfectly. Fueled by natural gas, powered by 480 volt. This 23R ACO has manual roast controls. Can be upgraded to fully automated (see below).
Package includes:
23R ACO Roaster
Control Panel with visual roast tracking (see picture)
Cooler
Connecting Ducting

Loader
Destoner
Stack
Green & roasted bean silos
Green bean cleaner
This equipment package DOES NOT include an afterburner. We have multiple solutions if one is needed including this current listing on our site: Probat Burns TO-5.
Now, here's the extra treat: There are 2 silos and a green bean cleaner included with this deal: First, 1000 lb. green bean silo conveys beans to the cleaner, then to the Burns 23R massive hopper up top the roaster. Post dropping roasted beans into cooler then destoning, they convey up to another silo where roasted beans rest in waiting for dispersing. Nice set up! 
Seller also has other silos, bucket elevators, diverters, racks, and more that could be included to sweeten this deal!
Located in mid-USA and ready for immediate delivery to your roastery. 
CoffeeTec handles full installation on these plants. We can also optionally fully automate this system. All can be added to our financing package as a "soft cost" along with the crating/freight prep & shipping. Inquire if needed.
ABOUT THE BURNS 23R ACO EQUIPMENT
CAPACITY
200 to 540 lbs. / 90 to 240 kg per batch
4-5 batches per hour (nominal)
Up to 2,500 lbs./1,134 kg per hour
PATENTED PERFORATED DRUM - "R" Series

PROBAT R Series commercial coffee roasters are designed for high-volume roasting across the entire color-development spectrum. Flexible enough to fit any profile, this type of roaster enables repeatable and consistent roasts, batch after batch. 

The recirculating versions of our R Series roasters offer greater energy efficiency and reduced emissions. The R Series roasters include an automatic clean-out function that minimizes maintenance. All R Series models feature a double-walled roasting cylinder with a perforated rear cover. The insulated roaster housing has a solid back plate and front door to help retain energy.  

The R Series' solid roasting drum and special paddle mixer mechanism ensure optimal blending, consistent roasting and effortless scalability. A large cooling tray promotes rapid cooling to lock in flavor and aroma.

Analog dampers and burner controls allow the operator to dial in temperature and airflow rate to customize the roast. 

Constructed of only the highest-quality components, Burns R Series roasters are exceptionally durable and include numerous built-in health and safety features. All models come standard with an integrated fire suppression system for the roaster, cooler and hot cyclone, and the roaster controls include the latest safety chain design.

The proprietary perforated drum gives you a superior convective roast. 

Beans are heated by the airflow through the drum resulting in better heat transfer through the bean and a more even roast. The perforated design also means greater batch size flexibility.
PERFORMANCE
Convective heat-transfer technology for lower roasting temperatures and higher air flow
Roast times between 3.5-15 minutes
"R" Series Drum (above)
Modular design for fast installation
Space-saving footprint—significantly smaller than solid drum roasters
Batch size flexibility as low as 200 lbs / 90 kg
Recirculating system for energy efficiency
Automated Clean Out (ACO) for product consistency and minimal maintenance
Stirflex™ cooler for effective cooling
Safety features to meet local code
Environmental controls
These machines sell very quickly on the used market.
CONTACT SALES DIRECT @ 650-556-1333 to discuss getting this to your roastery!
All roastery equipment is sold as-is. Crating and Shipping not included in the listed price.