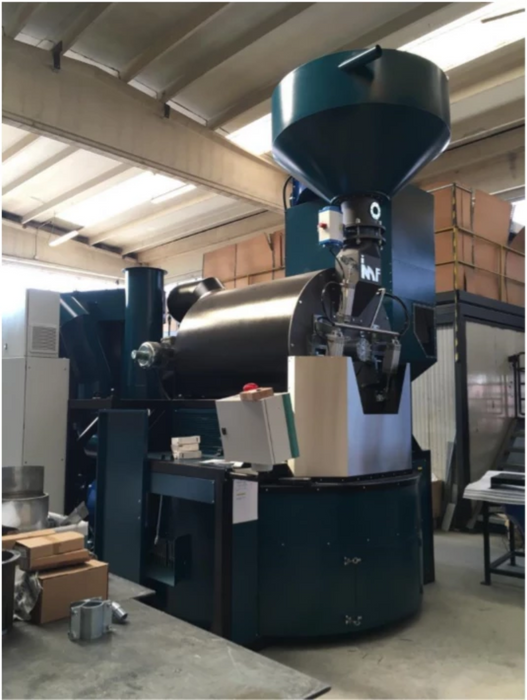 240 kilo: IMF RM-240 Roaster Fully Automatic Plant with Green Silos (New)
Sold out
Original price
$870,000.00
Current price
$599,000.00
Sorry, this item is sold out. But we're here to help! We may have other equipment that isn't on the site yet, so let us know what you need and we'll help you find it.
Contact us
, USA 800-999-1600, International +1-650-556-1333
The RM240 Roaster Plant is ready for shipping from factory in Italy. The roaster is setup for 3-phase 60 Hz as required for North America, Central America and South America plus certain other geographies. T he plant carries UL certification. This is a very high quality, fully automated plant proudly made by IMF in Italy.
COFFEE ROASTER  RM-240RAS – 240 Kg/batch - Open Model 
Fully automatic reducing labor costs
High Efficiency Recirculation System
Compact footprint
Ultra low emmissions
Superior insulation reducing heat loss (energy) and reducing noise
High quality construction and components
Ideal for real rich Italian Espresso!
12 Month factory warranty
UL certified
The IMF roaster can be operated by one or two people. You can roast tons of coffee, batch after batch, with this machine with even consistency, regardless of whether it's the first of last batch of the day. The touch-screen PLC  automatically controls every stage of the roasting process with the touch of a finger, from loading green bean silos to roasting, cooling and de-stoning. 
The secret of the machine's consistency is its unique Vortex and Equalizer roasting technology, guaranteeing precision batch roasting. With the management software, air temperature and air volume are accurately controlled by the PLC controller. To ensure consistent roasts, the Vortex system mixes ambient air into the hot airstream before it enters the roaster through an electronically operated modulating valve. The Equalizer ensures that the same volume of air enters the roaster. This feature is designed to surround the perforated alloy drum surface, giving even heat distribution across the entire surface of each coffee bean and eliminating any temperature fluctuation inside the drum. Temperature and air volume can be adjusted according to the coffee blend or individual origin using the PLC touch-screen. IMF's technology saves at least 30 per cent in gas consumption. It serves two purposes : it burns off harmful gas entering the atmosphere and heats the roaster at the same time. IMF roaster use only one burner chamber, located to the side of the roaster. As the coffee is roasted, emissions leave the roaster through a steel duct into the burner chamber to incinerate any smoke and chaff resulting in zero emissions. A portion of the heat in the burner chamber which would otherwise be released into the atmosphere, is instead ducted  through a stainless steel duct back into the roaster. Thus this is a Recirculation System )

IMF's integrated roaster, chaff collector, afterburner, destoner and loader results in the smallest footprint on the market.  This in turn makes more efficient use of space and minimizes real estate costs.
Technical Specifications (RM-240RAS)
Height  (with loader hopper): 3660mm
Width (with destoner): 2860mm
Length: 5780mm
Capacity: 240 Kg per batch
Batch Time: 12-18 min depending on degree of roast
Fuel: Natural Gas
Burner Power: 970 kW max
Electrical Power:  380VAC 3 -phase +Neutral (40 Amps) 60 Hz
Roaster Exhaust Diameter 350mm
Cooling Exhaust Diameter 400mm
Compressed Air -connections 1-1/4" -pressure 9 bar
Siemens PLC and Touch Screen
Includes:
Advance Automatic Roast Profile
Recipe Management System (in combination with Green Silo system)
Destoner to separate foreign bodies from the  roasted coffee
Chaff collection and extraction system
Vacuum loading system
Green Coffee loader with weighing system
Cooling tray cyclone (optional)
Fully Automatic Green Bean SILO (8) SYSTEM
Capacity: 2,000 Kg each.  16,000 Kg total
Includes:
Coffee Transporter for Silos with pneumatic system in aspiration composed     with blower and ejector, consisting of vacuum pump, powder filter, filling pneumatic valves.     
Hopper and electronic selection of the Silos.
Electric Distributor.
Complete Automatic PLC Control System.     
Load cell system installed on the loader hopper for blending different coffees (recipes)