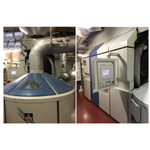 240 kilo: Used Probat R1500 Plant from 2002
Sorry, this item is sold out. But we're here to help! We may have other equipment that isn't on the site yet, so let us know what you need and we'll help you find it.
Contact us
, USA 800-999-1600, International +1-650-556-1333
240 KILO USED PROBAT R1500 PLANT FROM 2002 - This plant has just come available - as is exceptionally in perfect condition! Silos, Roasters - both Probat and Petroncini, afterburners and a lot more machinery as you can see from the photos. Both Roasters and everything that feeds the green or takes away the roasted is what needs to go. Now I realize this price is high, but I cannot get anywhere with the current owners until we have somebody that really needs these two lines. The time and expense of getting all that silo system out of there is going to be expensive - maybe 3 to 4 weeks or your crew on location to dismantle . . . so this takes a lot of work to know if this is right for you or not. Even the green coffee cleaner goes out - and it is a close to new as you can get. More details available soon - so this is the kind of plant where it is best to call and ask the questions - as the photos are totally clear. Note: The packaging lines appearing in some of the photos are NOT for sale - only the direct roasting lines. Located in Germany - easy port for shipping. Call 650 556-1333 x5 for total details.
Features:
Green Bean Entry
1 x 6 compartment bank of Green bean Silos currently used for roasted whole beans.
1 x 15 Compartment bank of Green bean Silos  This larger group has infeed system for presenting sacks of coffee with Gantry (as per photos) Includes:

1 x Suction Sack lift for placing over infeed chute.
1 x Probat Type KSD 750/1200AM Year 2006 Green bean cleaning system where beans are destoned and metal parts removed before transport to green bean silos.

Roasters
1 X Probat R1500/1 R (Gas Roaster) Year 2002 with Afterburner,
Cyclones and Destoner.
1 x Petroncini T240 BP Gas Roaster Year 1993 with Afterburner,
Cyclones and Destoner.
Both roasters feed their chaff into a separate Chaff Compactor that compacts the chaff into discs which are disposed of in discharge/waste/recycling bin.
All the equipment has individual PLC controls sited at each machine location, with duplicated PLC Controls fed back into a central office location with Roast Profiling software and controls centrally for additional oversight and control, including the controls for the chaff compactor. After the roasting process, the roasted beans for each roaster are fed either into Grinders (NOT FOR SALE) and automatically transferred into relevantly positioned ground coffee silos on mezzanine floors above that then automatically feed into one of the packing machines below. The same applies to whole beans which are transferred after roasting into whole bean silos, positioned above two packing lines for packing into bags passing through a Safeline Throat metal detector. The flow of beans into and out of these silos is controlled from the packing area that draws down from the required silos depending on what type of coffee is being packed at the time, i.e. Ground or Whole bean Roasted bean storage Silos