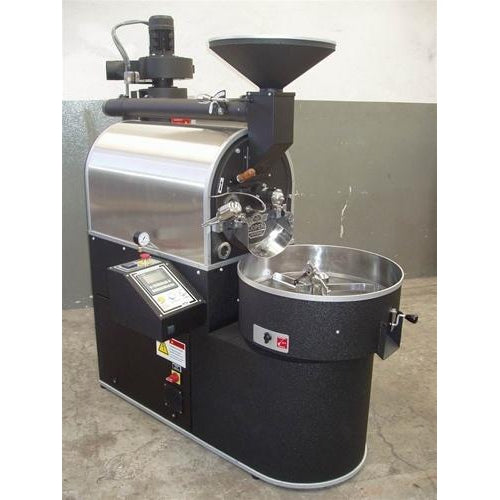 25 kilo: Joper Cast Iron Shop Batch Roaster - PLEASE CALL OR EMAIL FOR QUOTE
Sold out
Request a Quote
Request a Quote
Sorry, this item is sold out. But we're here to help! We may have other equipment that isn't on the site yet, so let us know what you need and we'll help you find it.
Contact us
, USA 800-999-1600, International +1-650-556-1333
JOPER CAST IRON SHOP BATCH 25 KILO ROASTER - The New Joper Cast Iron Roaster - the timeless tradition of the famous UG22 - improved and preserved. With great control options as well. Patterned after and improved upon The Famous UG22. Attributes similar to Probat. Cast iron construction. Roasting process uses hot air system and has cyclone separate from roaster. Cylinder is not drilled and has special blades which provides excellent movement of the beans. Complete electric control board which starts the roasting cycle and built in sound and light alarms. Two Models: Gas and Profile (Automatic)
Model BSR25 - 25 kilo Gas or Propane
Model BPR25 - 25 kilo Roast Profile System
OPTIONAL ACCESSORIES:
JOPER Destoner with same fan as in cooler roaster
JOPER Green Bean Loader
Custom Color Available. See RAL Color Chart below.
Note: Crating and freight costs are not included. Origin is Europe.
TECHNICAL BROCHURE Profile Roast Control Option
The Joper 25 kilo Roaster option with the touch screen profile control comes with a Brigus Coffee Roast Control & Log System. This was specially created to work with the BPR roasters from JOPER. Together, they are the true master of coffee roast. BRIGUS (BRE 'gos) is a new concept of coffee roasting control system.With it, attention and expertise will be concentrated on what matters: Define new profiles based on stored ones Roast based on a pre-defined profile Manual or automatic process control Roasting vs. desired profile evolution during process Register occurrences, events and notes Record all process Analyze and compare roast batches
Technical Specifications for BSR-25 & BPR-25:
Batch Capacity: 25 Kg. / 55 Lbs.
Control Design: Manual Capacity per hour: 100 Kg. / 220 Lbs.
Roasting Time: 15-18 Min.
Exhaust Air Treatment: Optional Cooling Time: 3 Min.
Type of Cooling: Air Ambient
Safety Device: Yes
Operation Type Burner: Modulating
Fuel Type (gas oven): Propane or Natural Gas
Power Requirements: 20 Amp Voltage: 380 V / 50 Hz / 3-phase or 230 V / 60 Hz / 3-Phase
Exhaust Chimney (roaster cyclone): 150 mm / 5.9 in.
Exhaust Chimney (cooler): 150 mm / 5.9 in.
Roaster weight with cooler and cyclone: 850 Kg. / 1874 Lbs.
Burner Power: 52 Kw / 177431 Btu
Roaster Fan Motor: 1,5 HP
Cooler Fan Motor: 2 HP
Drum Gearbox: 1 HP Cooler Gearbox: 0,75 HP
Roaster Fan (Normal work conditions running at 60 Hz. Damper 70 %): 587 m3/h/345 cfm (587 x .589= x 345 cfm)
Cooler Fan (running at 60 Hz): 1465 m3/h/862 cfm
Built to UL295 Standards. Learn more at: http://ulstandards.ul.com/standard/?id=295
Information about the Profile Roast Control:
Do you want to add a portable de-stoner to your roasting system??!? CLICK HERE to learn more.  Drawing Sketches
 Standard color is black with silver but you can customize it to your hearts content using the colors below. When selecting the color for your Roaster Body . . . these RAL Colors are all available - your local Automotive paint shop will also have examples of the same. Choose and it will be done! Additional charge for Custom RAL Paint Colors.
New crating for Joper.  Fully enclosed certified international wood crating - all sides and top . . . for maximum protecting during the transportation phase.
Joper Cast Iron Roaster Low-Nox Burner Control Adjustment