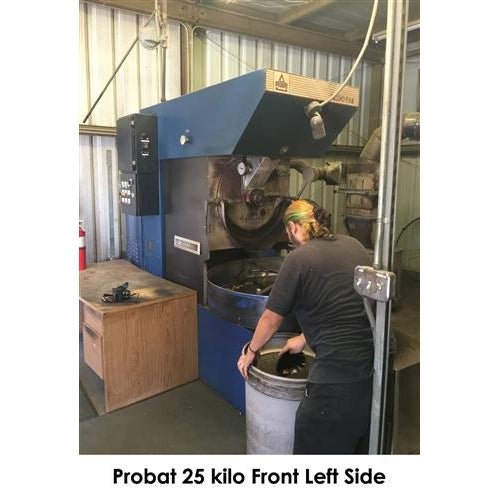 25 kilo: Used Probat and Afterburner
Sorry, this item is sold out. But we're here to help! We may have other equipment that isn't on the site yet, so let us know what you need and we'll help you find it.
Contact us
, USA 800-999-1600, International +1-650-556-1333
25 KILO: USED PROBAT ROASTER & AFTERBURNER
 Here is the story . . . owner used this from 1995 until about 1 month ago . . . as it was replaced by another machine. When I say used, it was used heavily in a full shift 5 days per week.  As you can see - they did not spend a lot of time on external cleaning although all regular maintenance was being done. Whats needed is a good scrubbing and an exterior refurbishment such as re-chroming of some parts. Remember - this is the square industrial model that Probat (a very old German company) wanted to make in order to look more "industrial".  While it will not win a beauty contest it is a very heavy-duty machine made for long, hard, consistent roasting. There is one mechanical fix that needs to be addressed soon - as the left side of the internal drum housing (inside) has some heat fatigue spots that have caused a hole. This means there is some heat loss that could and should be going to the bean development . . . so when installing this machine - it may be logical to pull the front and the drum and have a local welder person place a corrected metal piece in place. Not a difficult job if you are mechanical. We can do the job too - but then the price will go up . . . so think of this as a restoration project. The afterburner is made by Conversion Products and this is locally supported. There is not much to go wrong with an afterburner unless the burner gets nasty and wants to quit working - and if that happens it may be easier to simply install a new burner - but I would wait until its needed. Personal comment: We know this machinery really well and all of its history from day #1 . . . so "talk to me" with your questions or fears and we will find a way to make this right for your future. You really need to be a mechanical type person to do this rehab. project - and remember, this machine is ready to turn on and roast right now but it can certainly look better with some effort.
Specifications:
200,000 BTU Natural Gas - 3/4" gas line connection
208/230 V 3-phase power needed
48" Width 98" Depth 91" Height
Probably 5,500 lbs shipping weight for roaster & chaff collector
Chaff Collector: 3'4" Wide, 3'8" deep & 6'4" tall