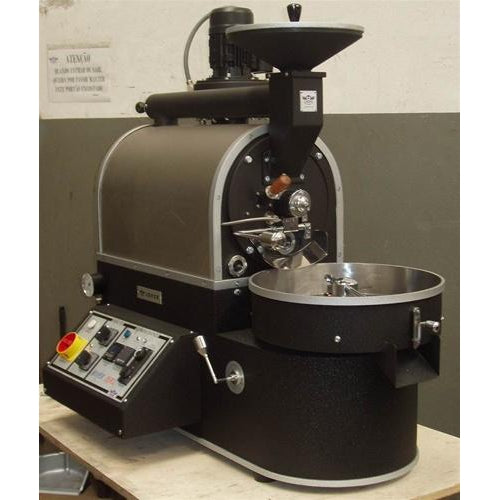 3 kilo: Joper Cast Iron Roaster - PLEASE CALL OR EMAIL FOR QUOTE
Sold out
Request a Quote
Request a Quote
Sorry, this item is sold out. But we're here to help! We may have other equipment that isn't on the site yet, so let us know what you need and we'll help you find it.
Contact us
, USA 800-999-1600, International +1-650-556-1333
JOPER CAST IRON DEMONSTRATION 3 KILO ROASTER
Designed for rugged efficient coffee, industrial style roasting. JOPER use durable cast iron and carbon steel material with insulated firebox and insulated roast chamber for a very quiet, efficient energy operation, features new low nox burner. Multiple thermometers and temperature displays give the operator the incoming air and bean temp information. Its exclusive heat connection transfer and cooling systems make the JOPER an outstanding roaster. This roaster now has on-board cooling enabling simultaneous cooling and roasting.  4 on-board motors for total control and high productivity
Model BSR 3 G - Gas Manual
Model BPR 3 G - Gas with Roast Profile (Brigus)
Model BSR 3 E - Electric:
Specifications/Technical Data
Load: 6.6 lbs (minimum recommended 2.2 lbs) or up to 26 lbs/hor
Power 12 A 110 V / 60 Hz 1-phase or 220 V / 50 Hz 1-phase
Weight 726 lbs 5 inch exhaust
Manual Model only The "footprint sizes" is 42" wide including remote chaff collector, 64" front to back including the chaff collector attached and 56" tall.
Ships at 600 pounds - in crate of 48" x 70" x 62" Note: Crating and freight costs are not included. Origin is Europe. 
Burner Power: 51,000 BTU
Options
Custom RAL colors
Stand Available - raises the roaster 36" off the floor for optimal operating height. Stand is level with the drum. Color can be selected to match the roaster
Profile Roast Control Option
Includes the advanced Brigus Coffee Roast Control & Logging System. This was specially created to work with the BPR family of roasters from JOPER. Together, they are the true master of coffee roast.  BRIGUS (BRE 'gos) is a new type of coffee roasting control system. With it, attention and expertise will be concentrated on what matters:
Define new profiles based on stored ones.
The roast based on a pre-defined profile Manual or automatic process control
Roasting vs. desired profile evolution during process
Register occurrences, events and notes
Record all process Analyze and compare roast batches
 Information about the Profile Roast Control:
Notice the sound or noise that the roaster is making? It is very quiet! Color - $300.00 Standard color is black with silver but you can customize it to your hearts content using the colors below. When selecting the color for your Roaster Body . . . these RAL Colors are all available - your local Automotive paint shop will also have examples of the same. Choose and it will be done! Additional charge for Custom RAL Paint Colors.
Front View of Roaster
Side View of Roaster