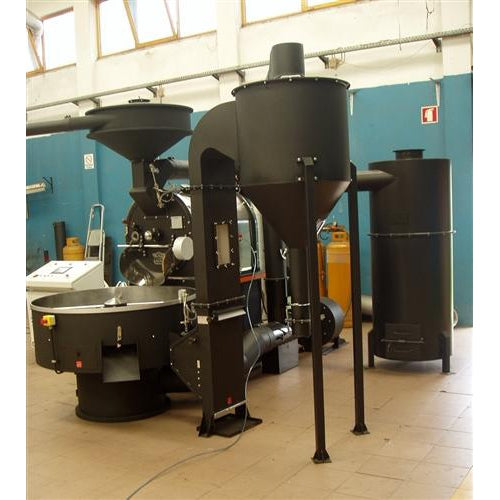 30 kilo: Commercial Joper Cast Iron CRM 30 Roaster - PLEASE CALL OR EMAIL FOR QUOTE
Sold out
Request a Quote
Request a Quote
Sorry, this item is sold out. But we're here to help! We may have other equipment that isn't on the site yet, so let us know what you need and we'll help you find it.
Contact us
, USA 800-999-1600, International +1-650-556-1333
COMMERCIAL JOPER CAST IRON CRM ROASTER 30 KILO
This is a very rugged cast iron roasting frame and roasting contact clearances with the machine.  It is just plain solid and does not move under long or extended use.  Double wall drum means that the heat is all designed to go through the center of the roasting chamber, not "onto" the drum exterior.  Total true convection.  Not only is this the same style from the old Gothot & Barth Roaster days, but even better as the shaft design so that bearings are externally mounted and additionally are air cooled for long life and trouble-free control.  Even the side panels or product flights have a longer curve positioning more product flow into the hot air stream resulting in a slightly more rapid roast with more even bean interior and expansion that frankly leads the industry.  Bottom line is this roaster simply is quieter than anything on the market. Thermal insulation with the highest quality of fiber for low gas consumption and digital temperature control.  The cyclone is separate.  The cooler, being totally separate, also has the largest air collection area of any roaster made allowing for total ambient cool coffee in 3-4 minutes or less.  Add to this package a loader or your choice of destoners and even your choice of control methods. . . See below for details.
Note: a detail floor plan of your space allows Joper to issue location and space drawings specific to your installation during the official quote listing of all options and construction estimates at the same time. 
For inquiries or to purchase call 800-999-1600 or email Sales@CoffeeTec.com
Options: 
Add Pneumatic Cylinder on all doors.
Brigus Profile System with touch screen controls and total wired internally speed controls or heat controls to follow exactly the desired profile
Add a Destoner; the same fan used in cooler
Add a Loader
Water Cooling in drum
Custom Colors are available as an option
Fan Speed can be an option on Manual models
Equipment able to be included on a master lease payment program
Specifications:
Batch Capacity: 30 kg / 66 lbs; up to 120 kg / 265 lbs per hour
Roasting Time: 12-18 Min (up to 4 batches an hour)
Exhaust Air Treatment: Optional Cooling Cyclone
Cooling Time: 3-4 Min
Type of Cooling: Air Ambient and optional water in drum
Safety Device: Yes
Burner Power: 110 kW / 375,000 Btu
Burners Manufacturer: Riello
Type Burner: BS2D-2 Stage
Fuel Type: Propane / Natural Gas / Diesel
Side of Operation: Left
Power Requirements: 240 V 3-Phase 50-60 Hz (Other configurations are available)
Exhaust Chimney (roaster cyclone): 250 mm / 9,8 inch
Exhaust Chimney (Cooler): 250 mm / 9,8 inch
Hopper Roast Chimney: 150 mm / 5,9 inch
Roaster Weight with Cyclone: 1,050 kg / 2,310 lbs
Cooler Weight: 300 kg / 660 lbs
Roaster Fan Motor: 1.5 Hp
Cooler Fan: 4 Hp
Drum Gearbox: 1 Hp
Cooler Gearbox: 0, 75 Hp
Built to UL295 Standards.
Information about the Profile Roast Control
ROAST PROFILE

Using a roasted lot, or other previously created and stored in the BRIGUS data base, it is possible to define a new profile.  BRIGUS offers all the information: green coffee beans, weight of green bean to be roasted, stored information and a graphic with bean temperature profile lines, burner power (gas valve) and fan speed (air flow). Each line has 10 anchor points. By dragging and dropping these points, you can draw desired profiles.
When roasting in manual or automated mode, BRIGUS will register bean temperature information, burner level and fan speed, each second. Consequently, when that roast is called from the data base in order to create a profile, BRIGUS designs the curves similar to the real ones, being able to be manipulated in order to fit.
 The roast master does not need unnecessary parameters such as PID controllers (Proportional Integral Derivative) or others, in order to calculate deviation or error within a measured value and the value you which to obtain in order to produce a correcting action that will adjust the process.
ROAST
Choose a desired profile for your roast. The chart will show dashed lines for bean temperature, burner and fan. After the roast is started, the solid lines evaluate, allowing the verification of the evolution of the roast process second to second. At any moment, it is possible to select what (burner and/or air flow) control in manual or automated mode.
Before, during or afterwards roasting, important information as green beans type and lot, environmental conditions, events (instantaneous and related to bean temperature), notes (free text), roasted coffee definition and color, can be introduced.
ANALYSIS
All information from each roast and their profiles will keep be kept in the BRIGUS data base, which allows a detailed analysis of the roast process, lot by lot or by comparing lots. BRIGUS helps understand coffee, eliminating unpredictable results and producing the desired cup.  
RAL COLORS
The standard color is black with silver but you can customize it to your hearts content using the colors below. When selecting the color for your Roaster Body these RAL colors are all available.   Your local automotive paint shop will also have examples of the same. Choose and it will be done!  There is a small charge for custom RAL paint colors.
New crating for Joper:  Fully enclosed certified international wood crating - all sides and top . . . for maximum protecting during the transportation phase.