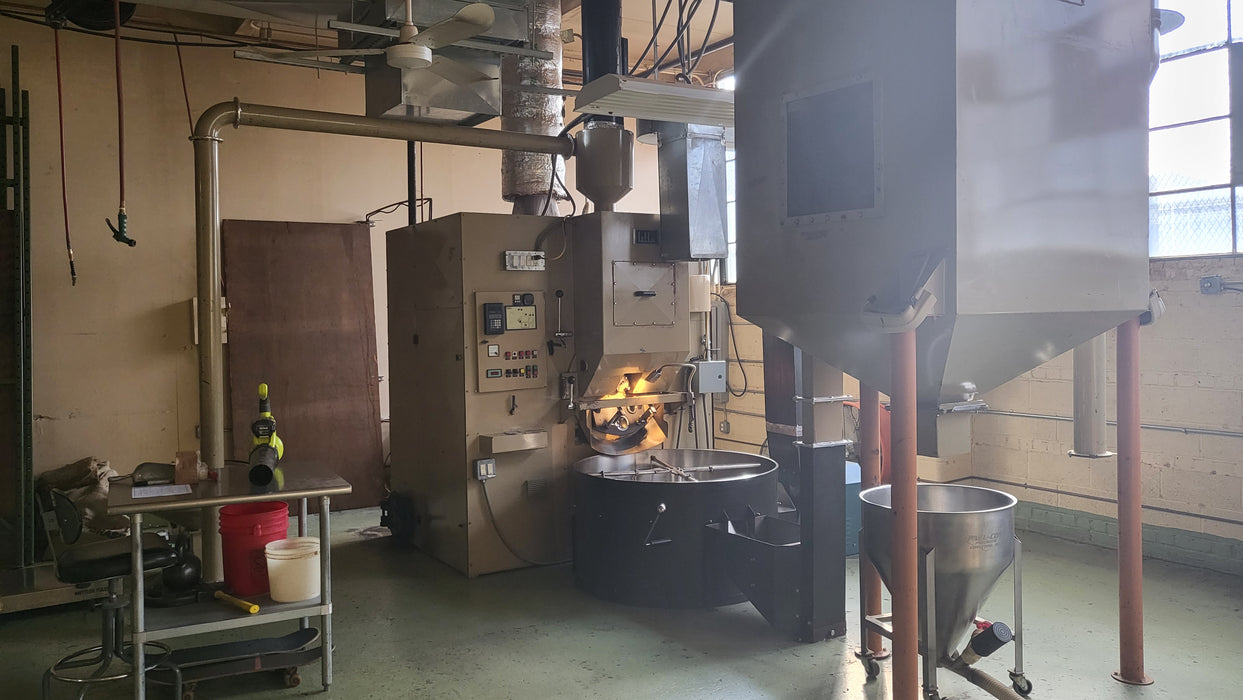 30 kilo Lilla QB30 Industrial Roaster - Great Condition - Used
Sorry, this item is sold out. But we're here to help! We may have other equipment that isn't on the site yet, so let us know what you need and we'll help you find it.
Contact us
, USA 800-999-1600, International +1-650-556-1333
30 kilo Roaster for Under $26,000!!!
And, this is a Recirculating Roaster!
Guys, This is an incredible Lilla 30 kilo Industrial roaster. (See about Lilla Roasting company below). Brazilian made, Lilla has been around for over 100 years and is known for industrial roasting systems. This machine was built in 2000-2001 timeframe.
Important note: Lilla QB series machine are recirculators. Which means the hot roast air recirculates through the roasting chamber for additional consistency, greater energy efficiency, and reduced emissions - ALL ADDING UP TO INCREASED SAVINGS IN YOUR ROASTING PROCESS.
We at CoffeeTec met the Lilla reps at the recent SCA show in Boston. They are great people and have USA presence for parts and service. This same machine is being manufactured and sold today!
Lilla Rep contact from 2022 SCA show:
Vanderlan Souza
305-290-0278
vascafeexport@terra.com.br
The original Lilla machine is designed to water-quench which is why the original cooler is smaller. This machine has a custom enlarged cooler allowing typical bean cooling with no water.
Lilla's don't need afterburners due to recirculating technology and quenching. Extremely efficient. Uses a Riello domestic burner to fire. Gas requirement is minimal. Has extra parts on hand that go with the deal. Bearings, electrical components, etc.

Owner acquired this machine when purchasing business from a friend who started it. Has ran it for about 10 years on a typical roast schedule. Last roast was beginning of April 2022. Now being decommissioned and disassembled due to shutting down the roastery and getting out of the business. Meaning, it's ready for shipping to your roastery, NOW!
The current owner will train buyer on its use and roasts.

CoffeeTec has contacts for conversations about this machine as well as techs that have installed and serviced Lilla Roasters.
Runs on Natural Gas, Powered by 220v / 3 phase. Ships from New York. 
CONTACT SALES DIRECT @ 650-569-0011 to discuss getting this to your roastery!

All roastery equipment is sold as-is. Crating and Shipping not included in the listed price.
About Lilla
https://www.facebook.com/Lilla-Roasters-308462433204631/
100 years providing the best roastings in the world.
Always keeping focus in new discoveries and in the development of new technologies, Lilla reached some technological landmarks, in 1968 launched the first roaster with no cooling, based in sheer heat transfer by convection, yielding a noticeable reduced roasting loss of roasted coffee.


Then it came the ecological roasters with hot air recirculation system to eliminate smoke, optimized energetic efficiency and performance, and continuous self-cleaning to avoid cleaning maintenance costs.

In 1985 we launched the Opus roaster with roasting time reduced by half. There were the following evolutions:

Opus 2G in 1990, Opus 3G in 2005and Opus 4G in 2015.

This has been our trajectory on these 100 years of life; always researching, innovating and searching for the state-of-the-art technology.
State-of-the-art technology, with global presence in 60 countries and in more than 1,000 roasting plants in the globe.
Lilla roasters are a reference for performance, low fuel consumption, efficiency in reduced roasting loss and customization, always meeting each client specific needs.
Inspired by the philosophy to always push forward, Lilla, that by that time supplied exclusively internal market, in 1982 started exporting its equipment to United States, which became a significant market for the company. Many other countries followed this trend: Japan, England, Switzerland, Italy, Germany, among others. Today we are present in different continents, 60 countries use in their production line the proven Brazilian technology from Lilla. In Brazil, Lilla marks presence in more than 1,000 roasters plants of high standards of quality.