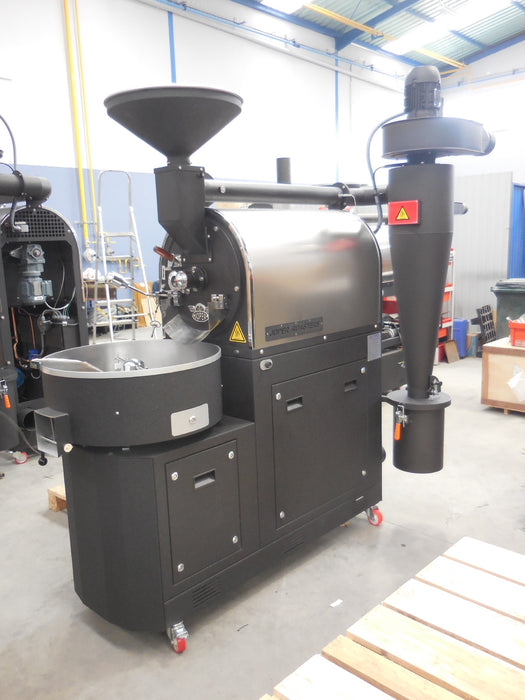 5 Kilo: Joper Roaster Model BPR 5 with Advanced Profiling System - READY TO SHIP NOW
Sorry, this item is sold out. But we're here to help! We may have other equipment that isn't on the site yet, so let us know what you need and we'll help you find it.
Contact us
, USA 800-999-1600, International +1-650-556-1333
JOPER Roasters are made with High-Quality CAST IRON components and hand craft individually for best Roast quality, control and consistency.
Roasting drum with double wall and special mixing paddles to ensure optimal movement and mixing for excellent roasting results.
Great roasting consistency, which allows high uniformity in the grain.
Advanced Roasting profile software BRIGUS.
The flow of hot air, that allows the beans to be roasted via convection is controlled and adjusted by manual damper or automatically with the roasting profile software BRIGUS.
Simultaneous roasting and cooling using separate suction of the cooling and roasting fans.
Pressure transducer to control the gas pressure from the PLC controller.
Adjustable flame modulation of gas burner 0-100% controlled automatically with our roasting profile software BRIGUS or manual control via touch panel.
Adjustable airflow controlled automatically with our roasting profile software BRIGUS or manual control via touch panel.
Drum bearings in cast iron housings remotely mounted away from the hot roaster wall for extra-long life. All bearings and seals are SKF brand.
Separate cyclone with high Efficiency of separation and easy emptying of the bin for chaff.
4 separate Premium Efficiency IE3 motors. All direct drive for quietness and low maintenance: Drum drive, cooling pan stir arms, roaster fan and cooler fan.
Cooler with large surface, one discharge door, agitator with separate drive and high-pressure fan to quickly cool the beans to the required temperature to lock in the aroma.
Easy operator control with sight glass to see how your beans are flowing inside the drum.
Sampler trier, temperature digital controller is provided to enable the roasting process to be monitored all time.
2 thermocouples: Bean temperature and exhaust air temperature.
Atmospheric gas burner with low emissions (Low NOx) with complete gas train and all safety accessories.
Fuel Type: Propane gas (LPG) or natural gas (LNG).
Fully insulated with high temperature insulation blanket making the roaster very quiet and high energy efficient.
Electric control panel to check and control the roasting process, with temperature digital displays, emergency button and all security components.
Gas and electric safety devices.
Hand crank for emptying the drum roaster in case of power outages.
Designed and developed for low maintenance.
Side and rear doors to simplify access to the interior of the roaster, during normal maintenance and cleaning of the various components.
Service Hours counter included with maintenance information and  warning system.
Simplified installation and setting–up.
Operating side standard: Left.
JOPER roasters are built for long haul, one can run with them multiple shifts, 7 days a week.
 Color  is Anthracite Grey (RAL 7016) in the body of roaster and with silver details (RAL 9006) in the cooler and hopper ring. 
Cover Plate Squared

Angle Iron Chromed
Specifications
Green Coffee Batch Capacity (Max)
5kg/11lb
Batch Capacity (Minimum Advised)
2.5kg/5.5lb
Capacity per hour (Depending of type of coffee) 
20kg/44lb
Operation Control Type
Manual and/or automated by BRIGUS
Airflow control
Manual (Damper) and/or automated by BRIGUS 
Roasting time
15–18 mins
Temperature sensors (2)
Bean and Exhaust Air
Cooling time
3 mins
Type of cooling
Air Ambient 
Safety device
Yes
Operation type burner
Manual and/or automated by BRIGUS
Fuel Type*
Propane Gas (LPG)
Burner power LPG (G30)
21.5kW/73,361Btu/hr
Burner power LNG (G20)
27.5kW/93,834Btu/hr
Inlet Pressure LNG
20mBar/8"WC
Inlet Pressure LPG
37mBar/14.9"WC
Inlet gas supply connection
½" Female NPT on roaster
Voltage (*) 3 Phase
208V 60Hz
Dimensions (L x W x H)
82"x46"x83"
2075x1160x2090mm
Net Weight (Roaster + Cyclone)
450Kg/992lb
Shipping crate (L x W x H) 
 in 1950x1350x1830mm
77"x54"x72"
Total Shipping Weight
610Kg/1345lb
*Can be converted for Natural Gas operation 

BRIGUS - Coffee Roast Control & Log System is a new system concept for roast control.
Attention and expertise are concentrated in what's really important.
FEATURES
A new system concept for roast control. Attention and expertise are concentrated in what's really important:
Defining new profile based one previously stored ones.
Roast base under a pre-defined profile.
Rate of rise (RoR).
Manual or automated process control.
Roast vs. desired profile evolution during the process.
Registering occurrences, events and notes.
Allow a new generation of roasters to benefit your roastery.
Analyzing and comparing roasted coffee lots.
DEFINING ROAST PROFILE:
Using a roasted lot, or other previously created and stored in the BRIGUS data base, it is possible to
define a new profile. BRIGUS offers all the information: green coffee beans, weight of green bean to be roasted, stored information and a graphic with bean temperature profile lines, burner power (gas valve) and fan speed (air flow). Each line has 10 anchor points. By dragging and dropping these points, you can draw desired profiles.
When roasting in manual or automated mode, BRIGUS will register bean temperature information, burner level and fan speed, each second. Consequently, when that roast is called from the data base in order to create a profile, BRIGUS designs the curves similar to the real ones, being able to be manipulated in order to fit.
The roast master does not need unnecessary parameters such as PID controllers (Proportional Integral Derivative) or others, in order to calculate deviation or error within a measured value and the value you which to obtain in order to produce a correcting action that will adjust the process.
ROAST:
Choose a desired profile for your roast. The chart will show dashed lines for bean temperature, burner and fan. After the roast is started, the solid lines evaluate, allowing the verification of the evolution of the roast process second to second. At any moment, it is possible to select what (burner and/or air flow) control in manual or automated mode.
Before, during or afterwards roasting, important information as green beans type and lot, environmental conditions, events (instantaneous and related to bean temperature), notes (free text), roasted coffee definition and color, can be introduced.
ANALYSIS:
All information from each roast and their profiles will keep be kept in the BRIGUS data base, which allows a detailed analysis of the roast process, lot by lot or by comparing lots. BRIGUS helps understand coffee, eliminating  unpredictable results and producing the desired cup.
CONTROL:
BRIGUS controls the on and off switch allowing to identify the roast batch, client, origin, profile type. Furthermore, it offers results such as color, roast time, environmental conditions register of events as first and second "crack", as well as other notes. The program will also control the burner manually or in automated mode, flow of air through the fan, roasting time, bean and air temperature and roaster maintenance record. Each profile could be registered in memory and requested on demand.
MAINTENANCE:
BRIGUS comes equipped with a function which allows maintenance programming and control thus reducing unproductive time, and directly improving the way your roaster works with only a click of the following functions:
Point of intervention (fans, reducers, burner, bearings, etc)
Type of Intervention (cleaning, filling, lubricating, checking)
 Notes (i.e. type of oil, spare parts brands)
Elapsed time
Remaining time
Limit time