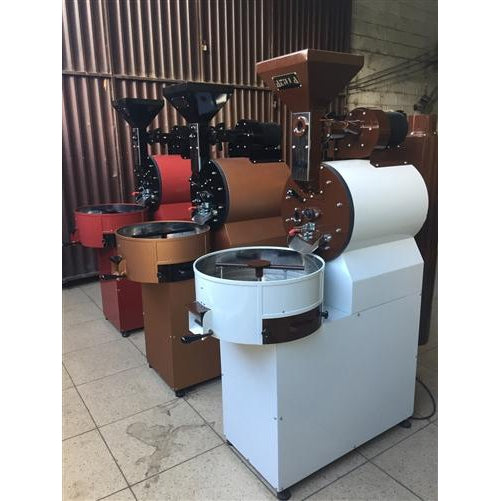 5 kilo + Other Sizes: Atilla - the NEW Import Coffee Roaster
Sorry, this item is sold out. But we're here to help! We may have other equipment that isn't on the site yet, so let us know what you need and we'll help you find it.
Contact us
, USA 800-999-1600, International +1-650-556-1333
5 KILO + Other Sizes: ATILLA - the NEW IMPORT COFFEE ROASTER Brasil Imports made by a long term coffee family in Southern Brasil - very well built featuring all WEG motors and speed controls. All items used to control these roasters are locally available in the US and this roaster is built better than any other budget-style roasters. They have done their homework and made them strong and reliable. Feel free to call and discuss - as we are only just beginning to build this site. Allow 90 days for importing and delivery.
5 Kilo Roaster
Batch Capacity: 5 kg /11 lb
Roasting Time: 15 min.
Dimensions: 1.8 meter | 70.8 in Height: 0.9 meter | 35 in Length: 1.8 meter | 70.8 in
Production per hr: 20-25 kg
Gas Consumption: 0.8 kilo/hr
Cooling Time: 60 seconds
Fuel Type: LGP
Gas Flow Reader: Yes
Burner Power: 11000 min/ 200000 max BTU
Number of Motors: 4
Voltage/Freq/Phase: 220 V / 60 Hz / 1
Power Requirements: 1.2 kw
15 Kilo Roaster
Batch Capacity: 15 kg/33 lb
Roasting Time: 15 min.
Height: 1.9 meter | 74.8 in Height: 1.1 meter | 43.3 in Length: 2 meter | 78.7 in
Production per hr: 320 kg
Gas Consumption: 2 kilo/hr
Cooling Time: 60 seconds
Fuel Type: LGP
Gas Flow Reader: Yes
Burner Power: 11000 min/ 200000 max BTU
Number of Motors: 4
Voltage/Freq/Phase: 220 V / 60 Hz / 1
Power Requirements: 1.2 kw