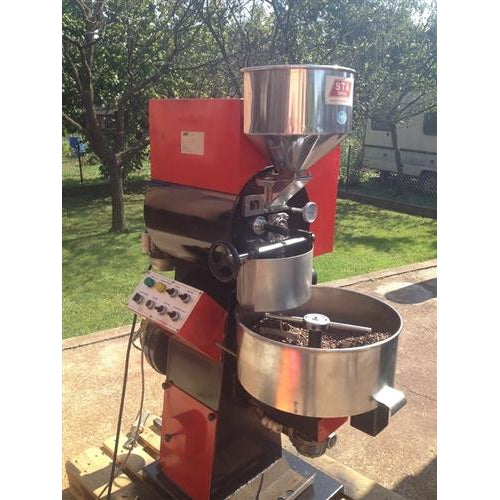 5 kilo: STA RE-5 Roaster - Used
Sorry, this item is sold out. But we're here to help! We may have other equipment that isn't on the site yet, so let us know what you need and we'll help you find it.
Contact us
, USA 800-999-1600, International +1-650-556-1333
SALE PENDING
5 kilo: STA RE-5 ROASTER
Sitting in a crate, waiting to be shipped to your roastery!
The current owner purchased this unit over a year ago, never uncrated it. Plans changed, and this roaster is ready to roast again!
This is a really solid, top-level roaster - especially friendly to blends as it creates a very even roast with no tipping or scorching. This is a brand that is more known in Italy - but the STA roasting group has a history of principals with lots of roasting machinery background . . . thus their changes are more technically advanced and not so much for cosmetics.
SPECS:
Roaster capacity: 5 standard 7 max to kilos per cycle
Indicative roasting cycle: 9-20 minutes
Installed power: 0,9 kW
Thermal power: 10 kW
Weight: 170 kg
Dimensions: 850 mm (34") L x 1150 mm (45") W x 1530 mm H (60")
FEATURES:
Single-phase
Four motors
Automatic gas burner
Two Fans (Cooling and Chaff Collection)
Chaff Collection Chamber
Capacity is 20 kg per hour.
Excellent for roasting typical Italian espresso coffee!
HEATING CONVECTION SYSTEM:
Patented system by STA Impianti. This system allows for shorter and homogeneous roasting time:
By convection of hot air flowing through the coffee in the drum.
By conduction (limited amount only) due to the heated air hitting the perforated roasting drum.
By radiance from the grate located between the flame and the roasting drum (infrared rays).