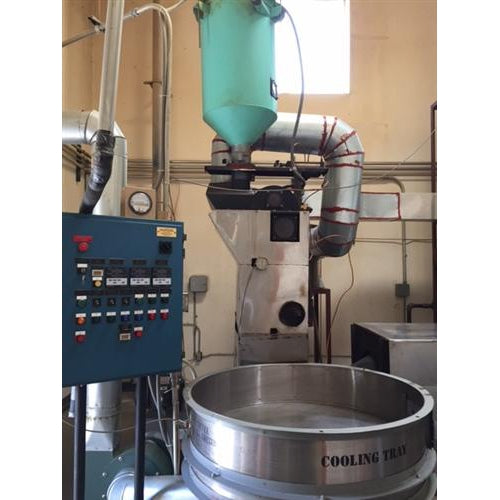 60 kilo: (1 bag) Sivetz Roaster System - Upgraded -please call or email to complete purchase
Sorry, this item is sold out. But we're here to help! We may have other equipment that isn't on the site yet, so let us know what you need and we'll help you find it.
Contact us
, USA 800-999-1600, International +1-650-556-1333
60 KILO: (1 BAG) SIVETZ ROASTING SYSTEM - UPGRADED
An original Sivetz 1 bagger with upgraded controls installed - probably the last control panel built by Sivetz and much better than the original. Also, the afterburner is the new version - and supplied at the same time with the new control panel . . . Super clean installation that has obviously been maintained in a preventative manor. This is the type cleanliness that makes us happy to see . . . and we trust you as a new owner would do the same. Here are some specifications that will help your thinking Built at the end of 1990's and upgraded the electrical about 5 years later. Michael did not assign Serial Numbers to his big roasters as there were not that many made. If you know/knew Michael, you will smile and not your head. Great guy with a distinct personality. Batch Size - always 1 bag of coffee and made sure the air adjustment is correct for the bag you are doing. These machines are make for repeated roasting and not for changing batch sizes. Maxon Burner for Afterburner - Ambient Atmospheric burner to feed the roaster - fitted with air inlet control as well. (good improvement) Space allotment - 14 long 16 deep 12 tall Includes 12 of triple wall pipe. Your installation may be different as the piping can be modified to work in your setting. Natural Gas - 1,200,000 BTU for the Roaster Maximum setting, but you will balance according to heat input required. Afterburner requires 1,200,000 BTU, but will normally run at 750-800,000 but the capacity of the burner will go higher to the max if ever needed. 3-phase power.  You should be willing to come and help dismantle - as as to know how best to re-install. Then we have to work out all the details of loading and shipping which may or may not require some crating - depending on how you are managing the shipping - so we will need to discuss. jay@coffeetec.com 650 556-1333 x5.