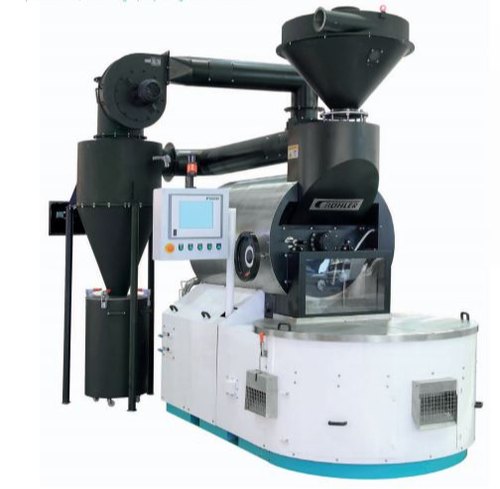 60 kilo: Buhler Coffee Roaster - New
Save

Liquid error (snippets/product-badge line 32): Computation results in 'NaN' (Not a Number)

%
Request a Quote
Request a Quote
60 Kilo: Buhler Roastmaster
Every coffee manufacturing application requires individual roasting processes for optimized flavor and bean properties. This roaster adapts to your needs and offers a maximum of process flexibility. It inspires your product innovations with traditional and with more sophisticated multi-step roasting profiles.
The proven drum roasting technology of this roaster ensures a reliable, efficient and safe roasting operation. The optimized degree of roast, the roasting time and the roasting profile must be precisely reproduced for consistently high quality coffee products. The multistep process of this roaster allows for optimized flavor creation for any coffee blend and varieties and ensures excellent consistency.
The user-friendly operating panel includes a Siemens PLC and a Windows panel PC with 12.5 inch touchscreen for full process automation and easy operation.
Features:
Fully automated roasting operation
Full recipe management
Automated start and stop procedures
Various login-levels for customized allocation of permission rights (operator, engineer, etc.)
Open system (non-recirculation)
Open airflow system Gas / (diesel*) burner
Data transfer via Ethernet (option)
Cooling unit in control cabinet (option)
Recycle system
Recirculating airflow system (up to 30% energy savings compared to open systems)
Gas / (diesel*) burner
Data transfer via Ethernet (option)
Cooling unit in control cabinet (option)
Hot air system: Air recirculation or non-recirculating open system
Heat generation: Fully variable LPG burner (Weishaupt) or 2-step diesel burner
Batch size: 30 kg to 60 kg (max. 70 kg/batch)
Hourly capacity: Up to 240 kg green beans/hour
Service centers are in Switzerland, Italy, USA and India
Optional Features
Pneumatic feeder
Pneumatic destoner/discharge unit
Afterburner Price: $180,000
Note: optional configurations could change price between $170,000 - $190,000 - call for discussion.
Also Loader, Destoner, and Afterburner would cost extra. Pricing available with quote.