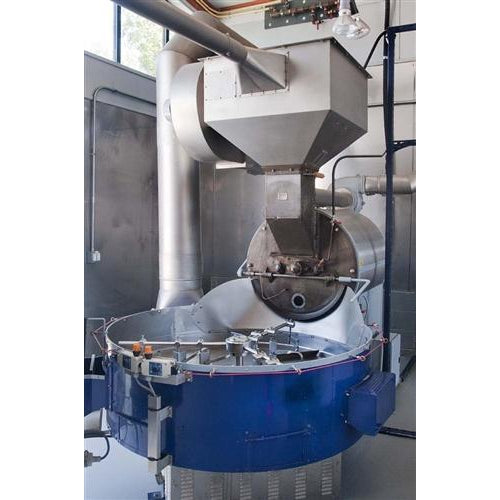 60 kilo: Samiac Cast-Iron Roaster (Complete System) - please call or phone to complete purchase
Sorry, this item is sold out. But we're here to help! We may have other equipment that isn't on the site yet, so let us know what you need and we'll help you find it.
Contact us
, USA 800-999-1600, International +1-650-556-1333
60 kilo: Samiac Cast-Iron Roaster (Complete System) 
Here is a most unusual 60 kilo Roaster that has come up. This is a close to new as you will ever see - as it has been used sparingly since new in 2008 and it is now going to be removed to make way for a plant remodel.  Samiac was a great maker of Cast Iron Roasters - Double Drum too. Everything in the roaster is "off the shelf" and the fact that Samiac is no longer around is a non-issue as all of the components like motors, controls, switches, burner are all either US or Canada supplied and are all UL, CSA, AGA  etc.  Perhaps you get the idea that I like this roaster. Study the photos (taken end of May 2016 . . . and you will see how clean this machine really is.  It is totally cleaned every day of use (not used every day either) as part of the shut down - there is never even a speck of crud left on this machine, ever.  I know of no other plant that is kept this clean.  We could eat off this machine - totally super clean!  Depending on how you lay out the parts - the machine takes up 6' 8" x 10' 6" side and 22' 6" from to back - but notice that within that measurement that the chaff collection and afterburner all go outside. Also in this installation - extra loader tubing was used to load the coffee from the other side of the room - so remember, that the loader can go anywhere you want.
Features:
5.8 Kw/h electrical - 220 V, 60 Hz 3-phase - 30 amp breaker.
Natural Gas
Includes:

Loader,
Roaster Cooler,
De-stoner,
Dual Chaff Collectors including incinerating style collector,
Afterburner . . . all
Automated controls from your control panel.
This is extreme industrial in every way. Note: the color on all exterior surfaces looks new - the front panel of the roaster has be left "natural" showing the grain of the cast iron - this was done on purpose - as engineering and the original owner wanted to oil the surface in order to demonstrate the texture of the cast iron. Sort of a high-tech appeal. Available  now - in Northern California. Will require dismantle and moving.