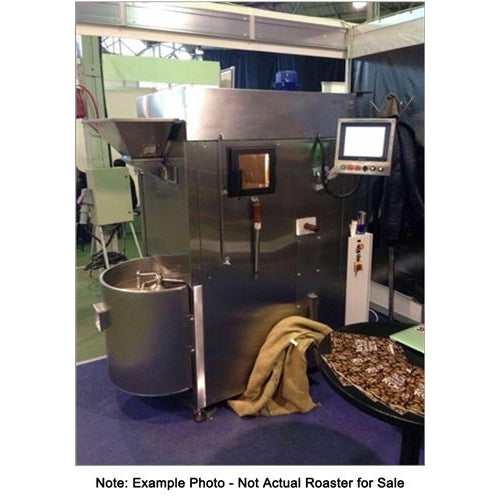 8 kilo: Typhoon "Fluid Dynamic" Air Roaster - Slightly Damaged
Sorry, this item is sold out. But we're here to help! We may have other equipment that isn't on the site yet, so let us know what you need and we'll help you find it.
Contact us
, USA 800-999-1600, International +1-650-556-1333
8 KILO: TYPHOON "FLUID DYNAMIC" AIR ROASTERSLIGHTLY DAMAGED - REDUCED PRICE! Here is what happened . . . This machine arrived in US for the Trade Show - and it arrived in 380 volt 3 phase . . . so, when we had it shipped from the Show - there was some cosmetic damage to the cooler undercarriage - but not interfering with the operation. So we got it working by changing the voltage to 240 V 3 phase and it appears all is well. Computer programming needs to be organized to your preferences - might take some communications with the actual programmer. So, here is what needs to happen: Somebody who knows computers and controllers - take over - make it work - buy it cheap as it is more easy to discount it than to send it back to the manufacture . . . this is in our way and we want to just get it into a new home that has the time and talent to mess with it. Talk to Max@coffeetec.com - here in our office . . . as he is the man in control of this machine and the factory support. Take this machine out of our building as we need the room - you save big time as it was listed at $29,000 and now you can get it for $13,000 and we are clearing the space. Attractive lease/rental options available so call to discuss. TYPHOON: noun typhoon \tī-ˈfn\ An extremely large amount of air, powerful, but used for coffee roasting. This fluid dynamic air roaster may be the most advanced roasting technology available to the small batch specialty roaster. Variable batch sizes allow you to roast 4 kilos to 8 kilos with perfect profile control. Separate cooling chamber means faster cycle times and better throughput. If you are looking for advanced fluid hot air roasting. For clean flavor profiles with even roast and full bean development meet TYPHOON. (Search compare: 4 kilo, 5 kilo, 8 kilo, neuhaus neotec, sivetz, sonofresco, air roasting, coffee, nuts, seeds) Price: $13,000 - special price from slightly damaged machine from the SCAA Trade Show.