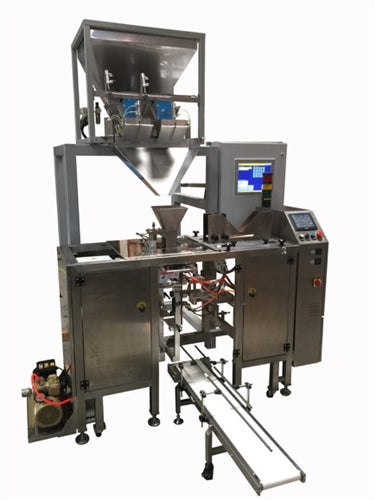 Automated Poucher Machine
Save

Liquid error (snippets/product-badge line 32): Computation results in 'NaN' (Not a Number)

%
Request a Quote
Request a Quote
Automated Poucher Machine for
Pre-made Bags or Pouches Any Style
It opens the bag, talks to the sealer above it, closes the bag and seals it. All automatically. Your production speed depends upon the filling device above which could be anything from a 1 lane, 2 lanes, 3 lanes, or even a 10-14 scale head in a radial design to fill your bags up to 120 bags a minute.
Pre-Made Side Gusseted & Zipper Pouch
Automatically Opens Holds for fills seals in place
Operating Speeds 10-15 BPM
Economical Small Footprint
Simple to Operate
No Bag to Fill
Load Bags while Running
Easily Adjustable
Low Operating & Maintaining Costs
Features
BAG LOADING The process starts with up to 50 empty pouches being placed into the adjustable magazine. Bags can be loaded while the machine is in operation
BAG DETECTION Multiple bag detection switches are used at various points in the cycle to ensure correct bag placement and full bag opening. Should a reject bag be detected it is ejected from the machine and the process continues. Rejected bags can be inspected by the operator and re-used if good.
BAG OPENING Pouches are individually removed from the cartridge with a unique combination of vacuum and pneumatic actuators. They are rotated/transferred to the fill area and opened.
TRANSITION CHUTE Doubling as a timing bucket, the product enters the transition chute while the bag is being opened below. Upon pouch detection, the Chute/Funnel enters the bag and opens the gate. The product is dispensed immediately, without spillage and protecting the seal from contamination. The difficult product that easily bridges is dispensed into the pouch directly from the filler, through the "open-gate''
FILLING During filling, pouches are held in place with our positive-hold gripper system. This allows for heavyweights and shock loads without altering bag Position
SEALING Digitally controlled ribbed or flat constant heat seal bars give an integral attractive seal. Pouches are sealed ''in place" eliminating wrinkles, folded corners, and non-aligned seals
MACHINE CONTROLS System controls are fully solid state using a commercial Programmable Logic Controller [PLC] and pneumatics. Indicator lights signal all cycle processes for easy monitoring.
Specifications
Bag Width:150 mm- 280 mm
Bag Length: 150 mm-320 mm
Power: 220 VAC 20 Amps
Air: 7.0 CFM@80 PSI
Includes: Machine, Scale Stand (2 x 2 or 3 x 3  material with levelers) Transfer Funnel, SMC Pneumatic Components, & Hot Stamp Printer - Date Coder
Accessories
Take Away Conveyor: (304 SS)
Heavy Weight Supporter (required for weights above 3 lbs)
Zipper Opener (opens closed zippers before filling) slows speed down