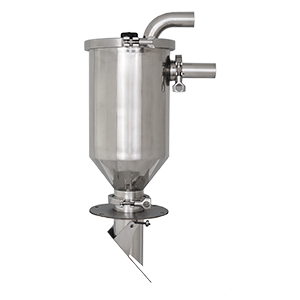 Coffee Loaders Designed Specifically for Roasters - NEW
Save

Liquid error (snippets/product-badge line 32): Computation results in '-Infinity'

%

No more climbing up to the top of your roaster to load! No more injuries or falls!
Most roasters do not have a staff to support the roasting process. Many times jobs that are better suited for two people have to be done by a single person. We design our loaders with a single operator in mind. The lid is very lite, only a few pounds with the screen for whole beans. The single center lid latch prevents reaching around for clamps. Loader for whole beans have no filter in the chamber.

And, there is no filter to clean above your roaster.
UP to 3000 lbs. p/hr.
Convey up to 450 ft.
Reduce injuries and fatigue
Food-safe stainless steel
Very quiet operation, under 76db
Reduce dust in your roastery
Automatic operation
PLC Control or simple start switch
HEPA air filter for safety
Adjustable to match any roaster
Reduce coffee spillage

FEATURES
Very quiet, under 76 dba
Standard variable speed control
Minimal damage to whole beans
Dust-free operation
Screens that don't clog
Floor level maintenance
Plugs into standard wall power, 110/3/60 15 amps
Custom lids to match roaster or filler
Easy installation, video tutorial
Loaders include a round roaster hopper lid that supports the loader. No nuts or bolts that can fall into hopper and made out of 15 gauge stainless steel. Comes with a 6" extension also made from stainless steel with a standard flange on top and bottom.
Take your loading to the next level! Include a digital scale bean hopper for accurate measuring and contained bean area. Connects direct to this loader. CLICK HERE to hop over to this product on our site. No more tilting Brute containers or mess!
NOTE: Loaders for Roasters over 100 lb. batches need to be quoted separately. They are larger and more powerful.
Freight not included. Typically ranges from $250-$500 in USA
Vacuum Chambers are Class 3A food-grade stainless steel
Coffee loaders use vacuum chambers made with polished stainless steel that meets the Class 3A standard. You may not need that today but tomorrow you may want a certification that requires it. Class 3A means that it will be easy to clean with smooth edges that won't trap material. The chambers clamp together making the easy to clean and point the inlet in any direction. They are also dust-free! Unlike other loaders, you will not get dust all over your roaster.
Remote Vacs are quiet and easy to access
RemoteVacs are so quiet you may not know when they are running. They are on floor level, you won't have to climb up on your roaster to clean the filter. When the filter bag is full, just put it in the trash. The filter bags are inexpensive. You will only need to change them a few times a year. They are very small, only 13 inches in diameter. You can hang it on a wall, out of the way. There is no need for special electrics, you can plug them into any wall socket. RemoteVacs are the best solution for coffee loaders.
RemoteVac PLC Control
The RemoteVac coffee loader control automatically keeps your hopper full. The magnet switch senses when you need more material then starts the loading process. Once the hopper is full it stops. Before each load, it pulses a short pulse of compressed air to clear any particles from the material valve. After each load, it pulses compressed air to keep the fines separator clean. Green bean software loads your roast with a single push of a button. When you are ready push the green button and the loader will automatically cycle as many times as needed to fill the roaster. It will not start again until you are ready.
The fines separator helps remove fines from beans.
RemoteVac coffee loaders have fines separator that allows fines and small particles to pass to the Vac removing them from the beans. The beans remain in the vacuum chamber. A fines separator requires little or no maintenance. Unlike a felt filter you will not need to climb up on the roaster to clean it. Some customers with felt filters claim they need to be cleaned every few hours.