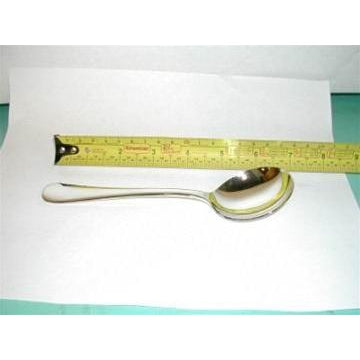 Sorry, this item is sold out. But we're here to help! We may have other equipment that isn't on the site yet, so let us know what you need and we'll help you find it.
Contact us
, USA 800-999-1600, International +1-650-556-1333
COMFORTABLE SILVER PLATED CUPPING SPOONS
Silver-plated cupping spoons, come as traditional "Long-Spoon" style. Round bowl, flat handle (very comfortable in the hand and easy to tilt back and forth for olfactory analysis), 7" long, 1.75 rounded bowl .spoon. Most people prefer the "long-spoon" style.
Friendly to the Lips
These spoons are ideal for cupping coffee or tea. Silver-plated is more friendly to touching the lips - as it does not overheat like stainless.
Oh, and it doesn't tarnish like the silver
One dozen is minimum order
Cleaning Hint
Additional cleaning hint for anything Silver or Silver Plated
Take a little pan or plastic or glass baking dish. Add about a quart of hot-hot tap water . . . then sprinkle into that water a tablespoon of salt and add a tablespoon of water softener (always in the laundry section of the supermarket) and stir around till dissolved.
Now the magic
Take a piece of sheet that will cover the bottom of that container and place it into the water all mixed up with the added salt and softener and if your container . . . place your spoons (or any silver type item) into that water - wait about 10 seconds and all the tarnish will be gone. Now, that sure beats rubbing and polishing. Try it - you will feel like a magician !!!
If you need more or deeper water - just keep the same portion per quart and you can clean any silver item in this way. Really huge - then use your bathtub.
Fun stuff and all this is thank to Haley's Helpful Hints and me . . . as I have cleaned a lot of cupping spoons and always want the easy fastest way possible.