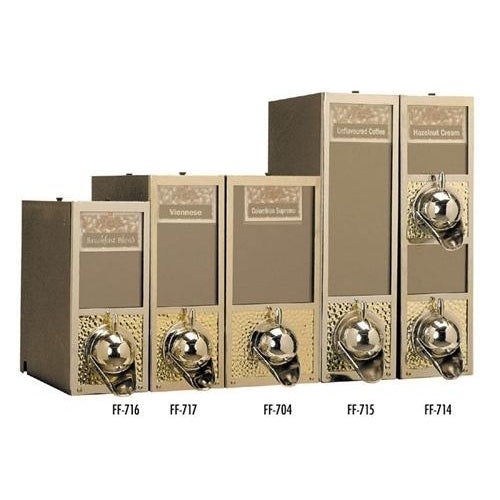 Free Flow Coffee Dispenser - 700 Series Plastic Bins
Sorry, this item is sold out. But we're here to help! We may have other equipment that isn't on the site yet, so let us know what you need and we'll help you find it.
Contact us
, USA 800-999-1600, International +1-650-556-1333
700 SERIES FREE-FLOWING PLASTIC BIN COFFEE DISPENSER
Plastic bin storage dispenses through the cast dispenser ball.
Hammered metal look with food-grade styrene and radiused metal frame.
These display bins or silo bins are totally new in concept and design.
We were the fathers of the original "brass and glass" bins when we imported and later made the German bins here in San Francisco during the old Probat days . . . so, as those molds wore out and the production stopped - this mechanical and plastics group came in to create something really happening: combining stainless steel ridged frames with cast aluminum dispensing valves and creating a food-friendly cleaning method and even a ball valve that does not break and never gets sticky and clogs up.
The interior is polystyrene that is super cleanable . . .but the big news is a .060 cast polycarbonate liner that you can see through but will not allow the beans to touch the front window - so you always get a fresh live look at the product and it's level without the ugly oil smudges of past years and models.
Visible Info Sheets
Product branding or info labels go between the liner and the exterior window - so the info sheet is always visible.
Back to that dispensing valve - notice that it is an "up-down - forward-backward' motion inaccurate control of the product flow. There are even catch trays available that allow you room for a stand up 1 pound bag - great for a clean operating area.
The lid and all other food contact parts are polystyrenes - the same thing that your water bottle caps are made from. When you set these units on a shelf - notice a notch in the section - 12" back from the front - for a piece of molding in order to lock the bins in position and not slide off during use.
Standard - Model 700 SpecificationsModel Information
MODEL FF-704:
Single Variety Bin
10-12 lbs.
Capacity
8" W x 16" H x 14"
Hammered Back Plate: Gold or Silver
MODEL FF-714:
Double Variety Bin
12-14 lbs. capacity
6" W x 21" H x 14" D
Lower cavity holds 60% of the beans while the upper cavity holds 40%
Hammered Back Plate: Gold or Silver
MODEL FF-715:
Single Variety Bin
12-14 lbs. capacity
6" W x 21" H x 14" D
Hammered Back Plate: Gold or Silver
MODEL FF-716:
Single Variety Bin
5-6 lbs. capacity
6" W x 14" H x 14" D
Hammered Back Plate: Gold or Silver
MODEL FF-717:
Single Variety Bin
7-10 lbs. capacity
6" W x 16" H x 14" D
Hammered Back Plate: Gold or silver