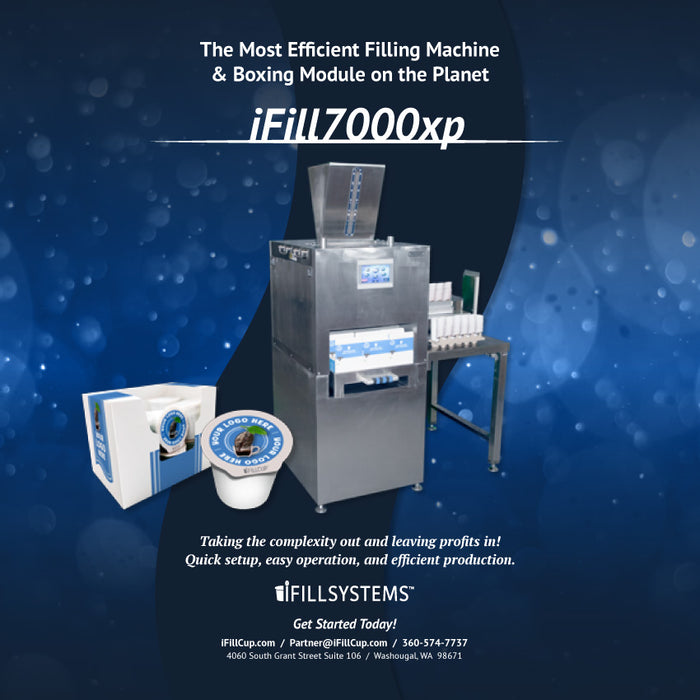 iFill K-Cup All in One Sealer Model 7000XP
Save

Liquid error (snippets/product-badge line 32): Computation results in '-Infinity'

%
iFILL K-CUP ALL-IN-ONE SYSTEM
MODEL 7000XP (1200 c/per hour)
Now with a digital touch-screen!  A factory rep will be on hand to assist with install and training as this is built into the cost. US Based, iFill International Headquarters is located in Vancouver (Portland Airport) Oregon. A family owned business with several engineers doing all sorts of products and advanced development in the food serving industry. These machines come with a full one year warranty parts and labor that can be extended up to 10 years of security and peace of mind.
Expandable upgrades possible . . . in the event that you are starting small and getting larger. After all, this group is a printing company that happens to have a machine, instead of the other way around.
Want to Color Coordinate the K-Cups? Not a problem with an order of 250,000 cup systems in each color . . . nice feature, but you may do the same with with lid identity as well.
Factory Installation for models 7000 through 9000 and available even for the 800 series, although the video installation is pretty clear and straight forward. This especially applies to the optional Nitrogen back flush installation and balancing - less than 2% oxygen remaining in k-cup with nitrogen injection in hopper via an interior chamber with an air foil curtain for oxygen elimination during loading procedures. We are talking about super freshness factor.
Model 7000XP has cup output speed up to 3,600 pods/hour (7.5 million a year). Uses & Fill Weights Instant digital adjustments » Coffee up to 15.0 grams depending on grind and roast level » Tea/Chi/Matcha up to 8.0 grams » Cocoa/Latte/Mocha/Apple Cider up to 30.0 grams. Hopper Capacity 15 lb. included. Optional 35 or 40 lbs.
WATCH THE IFILL MACHINE IN ACTION (Recorded live at 2022 SCA show in Boston)
FEATURES
Dimensions: 24"W x 36"D x 60"H.
Power: 110v electricity.
Machine: Stainless steel exterior with Red or black finish options.
Pods: 100% recyclable materials. 
Nitrogen System (Optional): Built in O2 monitor and display for filling chamber.
Plug 'n Play: Power up and it's ready to produce.
Air: No noisy air compressor or expensive plumbing/remodeling required.
Auto Clean Feature: Eliminates purging and excess waste.
Turnkey Solution: We provide design services for custom branded lids, boxes, and all materials for packing your coffee, tea, cocoa, and more!
Training & Warranty: On-site training available. 

One year parts and labor standard warranty.
Extended warranty service programs also available.
If keeping your brand quality is important, this is the K-Cup filling machine for you. Second to no other for quality brew from a K-Cup.

CONTACT SALES DIRECT @

650-569-0011 

to discuss getting this to your roastery!