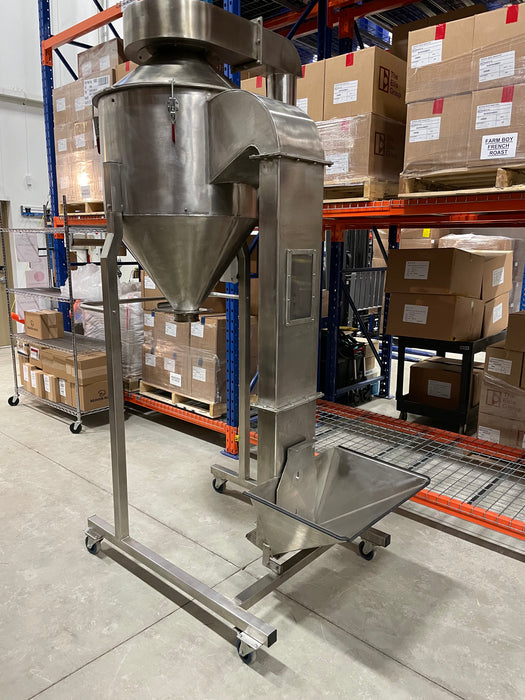 Joper DP35-30 Destoner - 2013 Model - Excellent Condition - USED
Sorry, this item is sold out. But we're here to help! We may have other equipment that isn't on the site yet, so let us know what you need and we'll help you find it.
Contact us
, USA 800-999-1600, International +1-650-556-1333
Joper Roaster's DP Model Destoner

Here's a solid Joper built destoner designed for a 35 kilo batch machine. Fully operational with no issues. Used typically 30 hours a week since purchased new in 2014.
Take a look: This is the stainless steel version and is equipped with stainless steel brake wheels.
Has had weekly cleaning and full maintenance / calibration along the way. 
All electric / 110/120v.
This machines goes for approximately $13,000 new from Joper plus International shipping.
FROM JOPER:
JOPER destoners built in carbon steel plate come equipped with suction system with a fixed or separate fan to be connected to the roaster. Designed to mainly remove stones which might still be mixed with the coffee beans, the destoner will efficiently separate other foreign matter such as metals, pieces of plastic and other small size residues.
Model DP is incorporated in the roaster and is specially made for industrial roasters.
DETAILS:
The DP-35/30 was changed to DM 25-30, the equipment is the same currently.
The hopper is of 450mm (17.7") high with a diameter of ∅750mm (29.5"), silo with maximum capacity of 30 kgs of roasted coffee.
From the tests that Joper carried out with their 25kg roaster, it takes around 2 minutes to transfer to the destoner silo.
From our long 9 year experience (Beaver Rock), the DP35-30 can easily process 15 KG every 5 minutes, so applying the math, we are comfortable that it can process about 180 pound per hour.
Regarding the cost of the full stainless steel version destoner, it is estimated the cost would add +/- 25%, considering the exchange (Euro to $US) that would mean a new one would be $12,500 plus shipping from Portugal.
The DM25-30 now includes a variable speed converter (VFD) with a single-phase 110V, 60 Hz power supply.
An upgraded version is available with a 3-Phase fan motor (208 Volts) - 1.5 hp and requiring a dedicated 25 Amps breaker circuit.
SPECS:
Airflow damper height - 74.8"
Inlet discharge hopper - 22.8"
Outlet of slide gate - 44"
Free width between legs - 34.2"
CONTACT SALES DIRECT @

650-569-0011 

to discuss getting this to your roastery!
All roasters are sold as-is. Crating & Shipping not included in the listed price. 
ABOUT JOPER
JOPER is a Portuguese company with almost 60 years and very proud of their family tradition of 3 generations united for the same motivation: manufacture the true/real coffee, cocoa and dried fruits roasters and equipment for the food industry, planning and implementation of industrial facilities/roasting plants, upholding the principle of old school cast iron with the advanced technology.

We are one of the best brands in the world precisely because we work with high professionalism, quality, honesty and we captivate our clients also due to our experience, kindness, and well-known Portuguese tenacity.
We are different from the others!

JOPER roasters are proudly handcrafted in Portugal by master craftsmen, out of traditional high-quality durable materials such as cast iron and carbon steel.

Cast iron is proven to be the fundamental material for building coffee roasters – proof of that is the durability of the old roasters from several brands that used cast iron and the low quality of those that are recently built.

Cast iron has thermal inertia and an exceptional radiation capacity for heat retention. As a result, the heat is more even and stays longer than in any other material. Some of the cast iron properties make it the ideal material for making coffee roasters: its melting point is relatively low, has good fluidity, excellent machinability, resistance to deformation, wear, destruction, and weakening by oxidation. Therefore, it is perfect for building strong, robust, and durable roasters.

Obviously, they become much more expensive equipment economically, but JOPER is firmly committed to the construction of cast-iron roasters. JOPER is also the only one to manufacture the main bearing supports on the drum also in cast iron, precisely for the excellent efficiency and durability.

The result of almost 6 decades, and continuous improvement, JOPER roasters combine time tested traditional highly durable materials with the best industrial quality modern burners, motors, fans, and controls to produce an easy to use, flexible, quiet, low maintenance, energy efficient roasters capable of running 24 hours per day.